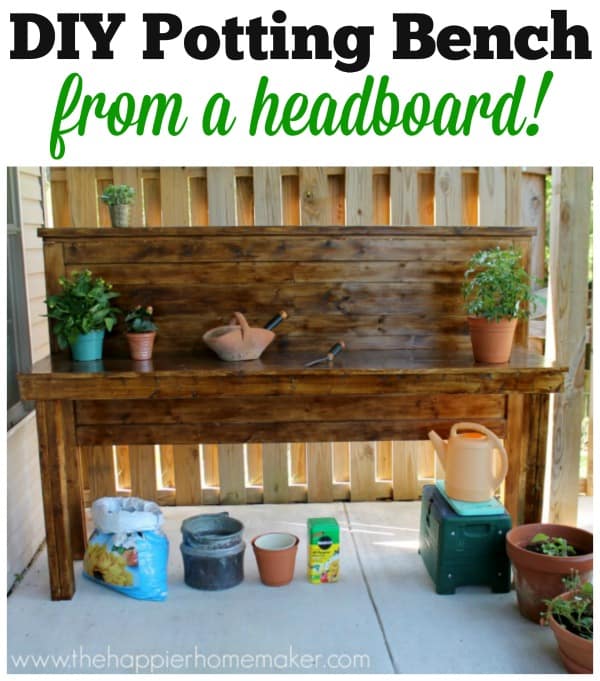 I started this blog over three years ago when I was pregnant with my third son and my husband was doing a year long deployment in Iraq. At first, it was just a place to share the preschool activities I was doing with my two older boys who were 3 and 4 at the time...over time I discovered the amazing world of DIY blogs and I slowly started to do my own projects.
When my husband came home at Christmastime in 2011 I asked him to please teach me how to use some of his power tools. I had found the amazing Ana White and wanted to build! He agreed and together we built a headboard, with him patiently showing me how to use the circular saw, drill, and some woodworking basics. The results were pretty fantastic and it ignited my love of building!
(Picture from the old house last year)
Fast forward a few years and while I still loved my headboard it wasn't really meshing with the look I've been moving towards with my master bedroom. The headboard is more rustic than the rest of our decor and it's been nagging at me. When we moved I told my husband I didn't want to put it up in the new house. I briefly listed it for sale on craigslist but we were both a bit emotionally attached and we decided to upcycle it into a potting bench instead!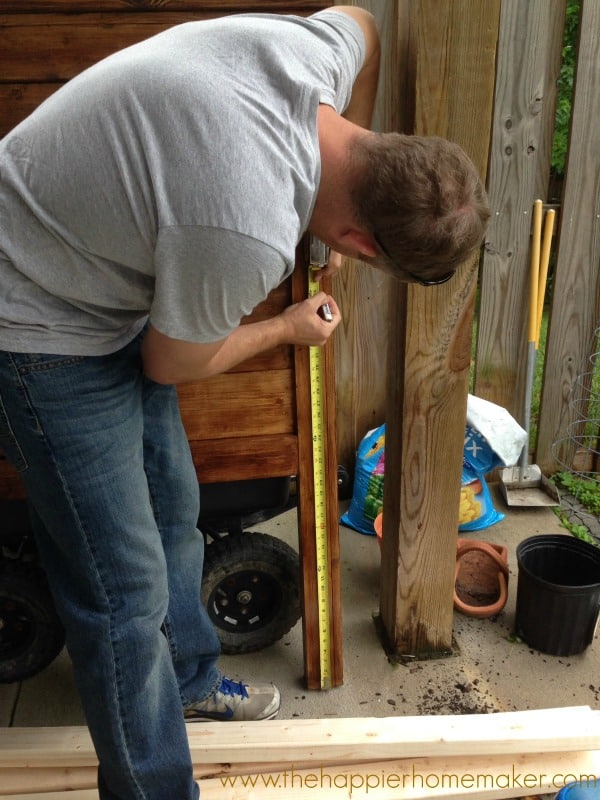 We started by taking measurements of the headboard and I decided I wanted the work surface to be three feet high. My husband framed out a box to support the tabletop and front legs.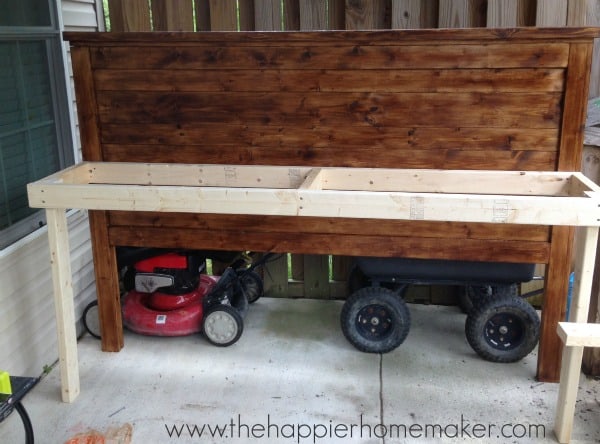 We decided to mimic the varying widths of the headboard in the tabletop as well, using both 1x4s and 1x5s.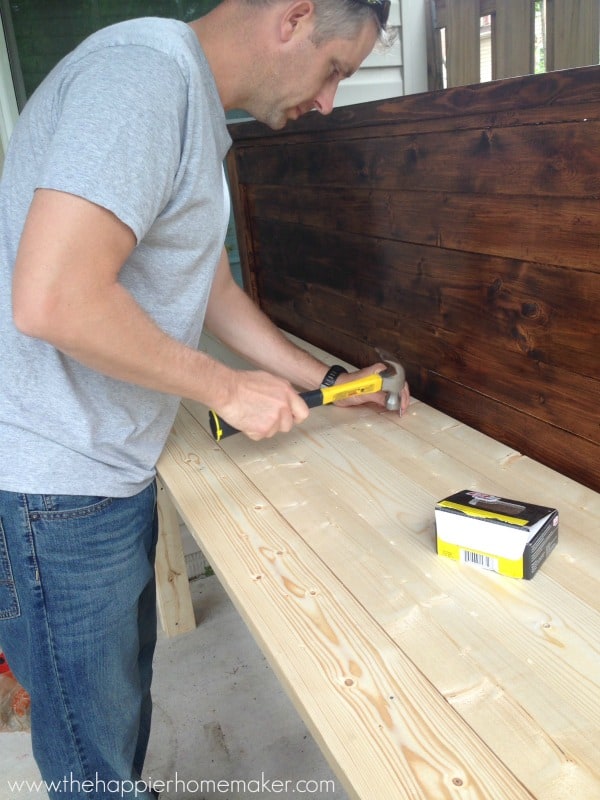 We spent about $40 for the wood in addition to some scraps my hoarding self managed to bring along on the move! After we finished the build I conditioned the wood with
Minwax Prestain
then used
Minwax Polyshades in Mission Oak
, which was the same stain I used on the original headboard and one of my favorite colors I always keep in hand. I did two coats-I love the Polyshades because they already have polyurethane in the stain so you cut out an extra step!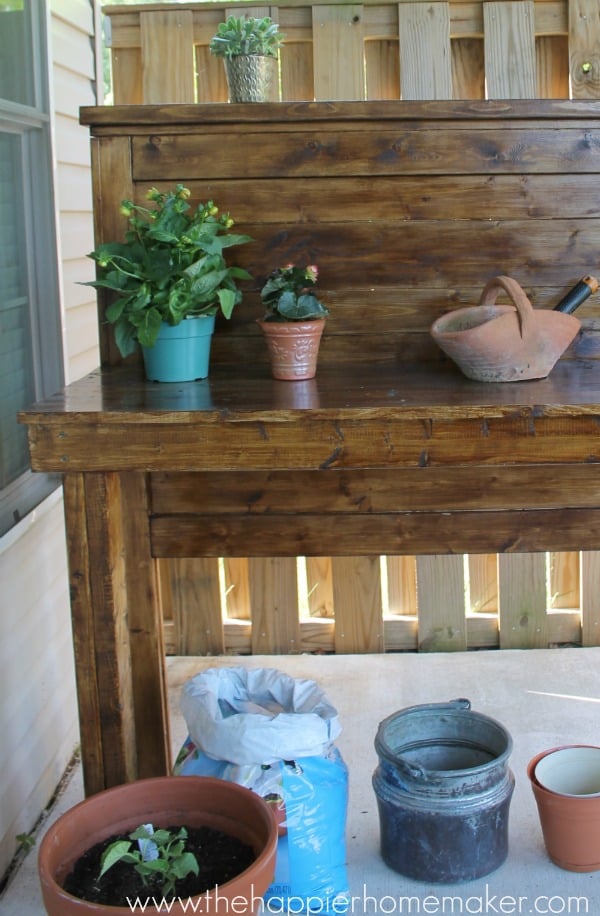 I really love the way the potting bench turned out! It was pure torture not to garden all spring in preparation for the move and I've been planting things left and right since we got unpacked at the new house, it's great to have a place dedicated to one of my favorite hobbies!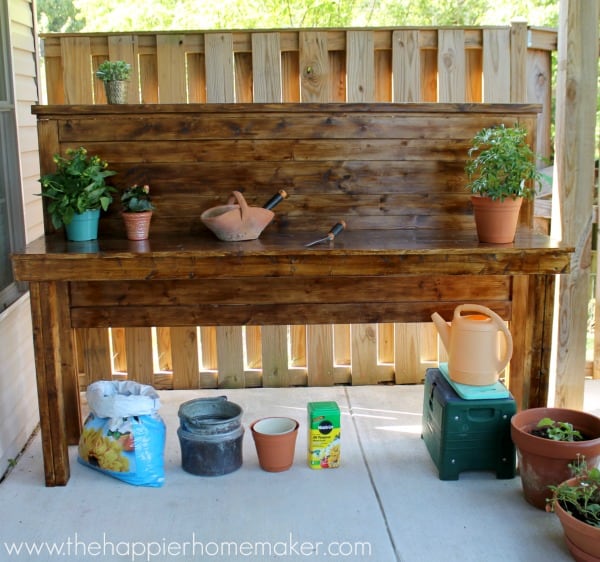 As an added bonus it provides a little cover to an area of the patio where we'll be installing hooks to hang out bikes and store some things that won't quite fit in the garage!
What do you think? Upcycling genius or waste of a headboard? I'd love to hear your thoughts!
Oh! And be sure to pop by tomorrow for my Summer Home Tour with All Things Home! They're getting started today over at Worthington Court!