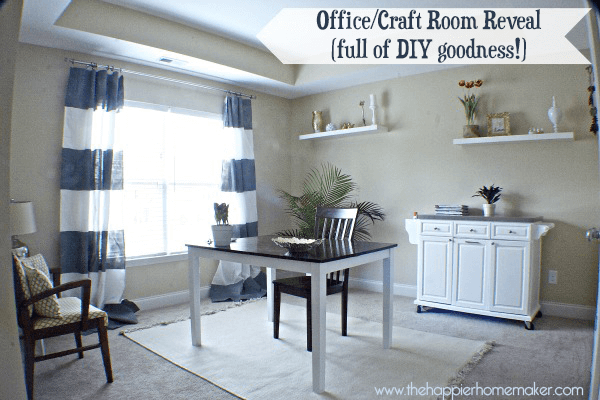 Are you ready? I am sooooooo excited to share my final office reveal with y'all today!  First, lets see what I started with, do you remember when I posted about my sons deciding to share a room and being left with this blank slate?
Isn't the transformation awesome? Let's take a look at that picture of the room again and break down what went  into the makeover: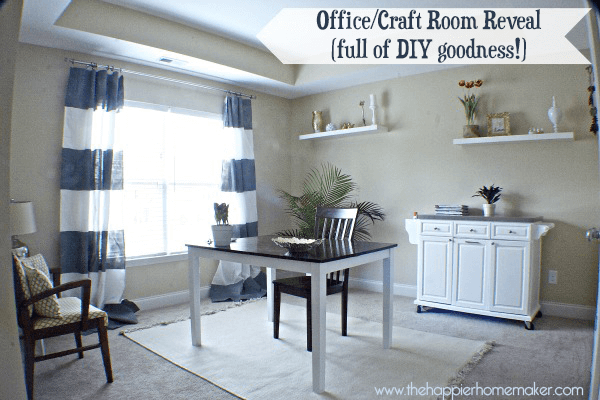 The first thing I did was raid the house for unused items that fit my "vision" of a beautiful, neutral, but feminine space.  I used our old kitchen nook table to make my desk.  My hubby didn't want me to paint it so I transformed it's look with Contact Paper (one of my favorite DIYs to date!) I found an off-white rug in the garage to help define the area around the desk.
I had a distinct vision for the curtains inspired by a West Elm shower curtain.  I painted my own striped version with IKEA curtains and paint samples-another one of my favorite recent projects.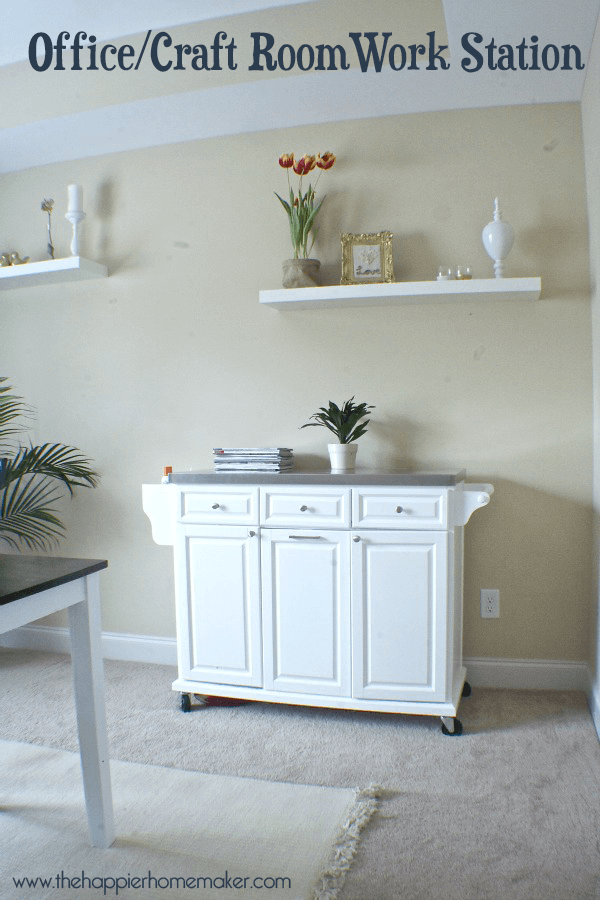 I found a great deal on a moveable kitchen island at Big Lots and decided it would be perfect for a crafting space. I love that the top is stainless steel and I can move it around the room if I need to while working on various projects.  The middle cabinet also pulls out to hold the trash can-yay for keeping it pretty!
I bought two IKEA Lack shelves for $16 each last week during my trip to Charlotte.  Up on the shelves you can see my Vintage Button and Jute Love Frame, my Dipped Votives, and  DIY Faux Brass Birds.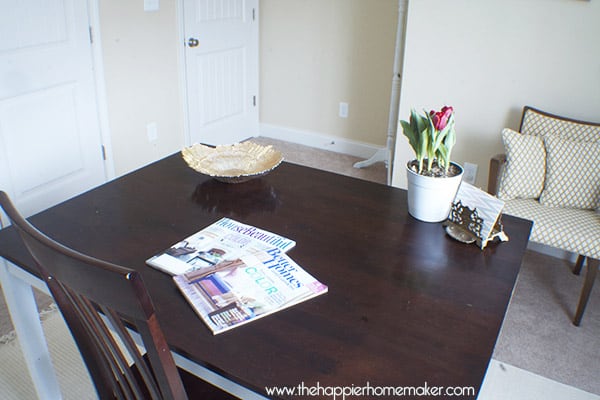 On the desk are a few great finds-an antique brass letter holder from the ReStore, and that amazing gold and silver bowl was just $10 on clearance at TJ Maxx! You'll notice the room has lots of flowers and plants too-I love the touches of green and it helps me dream of spring just around the corner!
My reading nook is in front of the desk.  I found this awesome vintage chair at the ReStore a few weeks ago and snapped it up immediately-It's in pristine condition, and I didn't even have to change the fabric, it fit perfectly with the room.  You might recognize the side table as my converted old chair! Oh, and how gorgeous is that metallic lamp I found for only $30!! It's sitting atop some of my favorite DIY books-Design Sponge and Young House Love-perfect for DIY inspirational reading!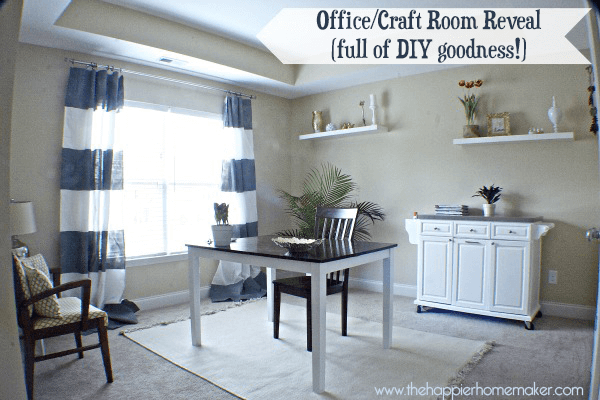 I know...it's a little obnoxious to post the same overview picture a third time in one post but I had to do it {forgive me?}