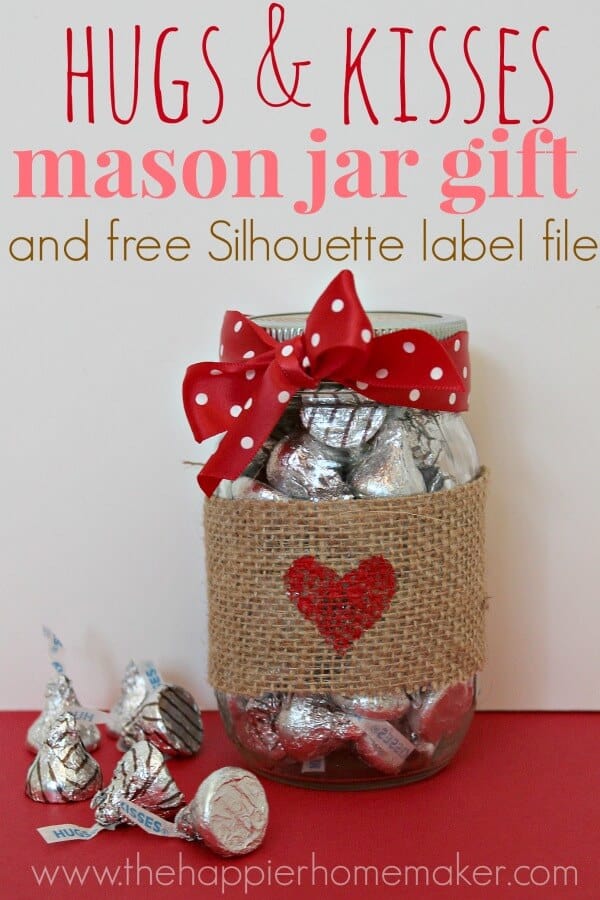 The power of Hershey's Hugs and Kisses is strong.
It's hard to resist those tiny bundles of chocolate joy-as my two year old can attest. You see, he saw me putting together this little Valentine mason jar gift the other day and as always when I was finished in my office I shut the door. The door complete with child-proof doorknob cover to prevent little fingers from getting into Mommy's projects.
But he didn't let some little doorknob cover deter him from that sweet chocolate heaven that awaited on the other side of the door. That little stinker pulled his little chair from his room to my office (they are side-by-side) and somehow used his uncannily strong for a toddler strength to send the doorknob cover into oblivion-I found it about 8 feet down the hallway in two pieces. When I returned from my excursion in the laundry room (doesn't that sound nicer than "switching out the laundry loads?") I found him covered in chocolate with the tinfoil remains of at least fifteen Hershey Hugs and Hershey Kisses surrounding him.
I can't blame him.
I've since replaced the doorknob cover and have taught him to "help" me with the laundry to avoid future mishaps and you'll be pleased to know that he didn't ruin the little Valentine Gift I am sharing today-which I'm so thankful for because it's such a cute and easy Valentine's Day gift!
To package my Hugs and Kisses I simply wrapped some burlap around my jar and secured with hot glue on the back. (Hugs are just like Kisses except the chocolate is "hugged" by swirls of white chocolate in case you were wondering!) I used red craft paint to freehand a little heart on the burlap-don't you just love it?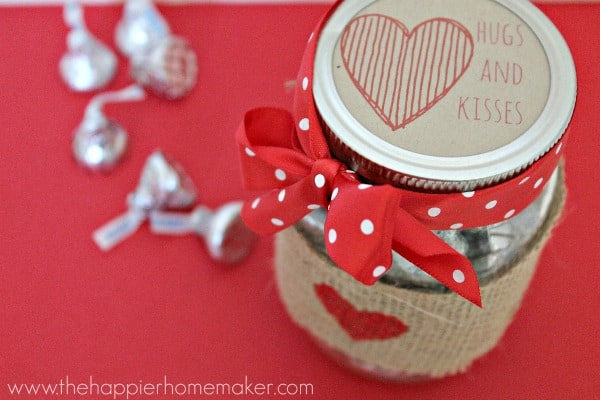 I used PicMonkey to make the label for the top and my Silhouette to cut it out perfectly. You can download the print and cut file for yourself here!! If you don't have a Silhouette you can download a pdf copy of the label here. I printed mine on Kraft cardstock. A pretty little polka dot bow finishes the gift, and I think just about anyone would be happy to receive this jar full of goodness on Valentine's Day, what do you think?