Learning how to keep roses fresh is key to making your flower arrangements last longer. These tips and tricks can help you keep your cut roses looking their best for a week or more!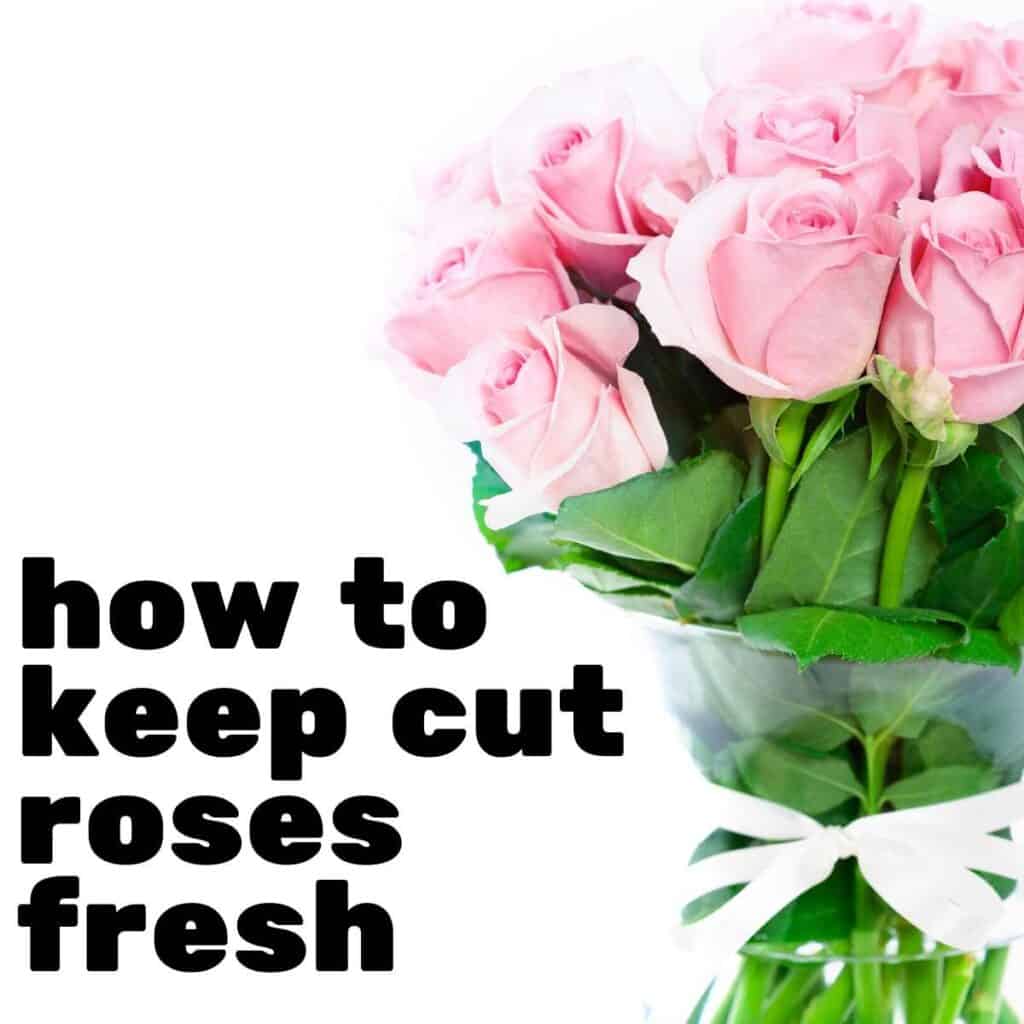 I almost always have a vase of fresh flowers in our home. There's something about it that just makes home feel a little bit better.
Over the years I've shared some tips before for how to arrange grocery store flowers, how to keep tulips from drooping, how to keep flowers fresh, and how to make hydrangeas last longer but today I wanted to share 5 tips to help you make cut roses stay fresh longer.
It's worth the read, because when you can make a bouquet last two weeks instead of one it really helps to justify the small indulgence of keeping fresh flowers-right?
How to Keep Roses Fresh
1. Pick the right roses
Try to check the stems and make sure the roses are healthy before buying them-don't buy flowers with discolored or molding stems or flowers that are beginning to wilt. Choose roses that have not yet opened their blooms if possible.
2. Prepare the Water
When preparing your vase use lukewarm water and mix in the floral food packets that most bouquets are sold with. If you do not have floral food you can substitute lemon-lime soda or make your own with one teaspoon each of bleach and sugar and two teaspoons of lemon or lime juice. Be sure to prepare your water before trimming the stems.
3. Trim leaves and thorns
Remove any leaves that will be below the water's surface once in the vase. Leaves in the water increase the amount of bacteria in the water which impedes water absorption.
Also remove any leaves that appear to be loose or will fall off soon, including the leaves just under the bloom if necessary.
If you would like to remove the thorns for easier handling, use an inexpensive dethorning tool. (affiliate link)
4. Cut the Stems
First remove the flowers from the wrapping and make sure your vase is ready with water. Then recut the stems at an angle-this ensures the stem isn't "scabbed over" and can absorb water-the angled cut also gives it a greater surface area for the water to be absorbed. Cut the stems by at least one inch.
5. Recut and change water every other day
Every other day, recut the rose stems under running water and replace the water (with food or food substitute.) Keeping the stems freshly cut and water clean is key to making cut roses stay fresh for weeks!
Keep your flowers away from direct sunlight and remove wilting flowers from the vase-they will make the entire bouquet wilt faster if you leave them. To further extend the life of your roses, you can opt to place the vase in the fridge at night (trick learned from florists!
This post was originally published in February 2016 and updated with new information in May 2020.