Cruising is a great family vacation idea but it can be stressful-use these ten tips for cruising with young children to make the whole family have fun!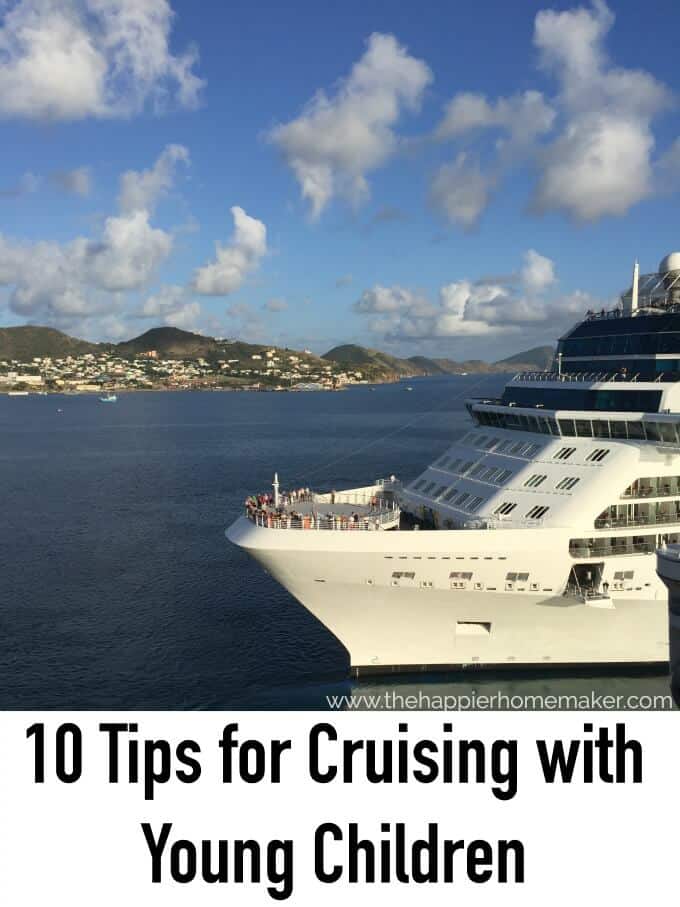 Cruising with Children
If you've followed along with me on Facebook or Instagram for a while you'll know that our family LOVES to go on cruises. I'm a beach girl at heart and nothing is so fun and relaxing to me than cruising away to the tropics with those I love the most!
We just returned this past weekend from our fifth family cruise and it was our best one yet-and since we're starting to feel like old hands at this cruising thing I thought I'd share my top 10 tips for cruising with young children so the entire family has a great time!
See also What to Pack for a Cruise, Clean Eating on a Cruise, and Gifts for Cruise Lovers!
10 Tips for Cruising with Children
Choose Your Cruise Line Carefully
We went on our first cruise four years ago just after my husband returned from his third year-long deployment. Our boys were 5, 2 (he turned 3 on the cruise!) and our youngest was just ten months.
We wanted a nice relaxing vacation that we could enjoy with our children and thought a cruise would be our best, most cost-efficient option. We did a lot of research and eventually decided on Carnival Cruise Line. Carnival is very family-oriented which we loved and had great kid's "camp" options for our boys.
Disney is another big family cruise line option but our boys are also not huge Disney fans so that area of appeal was not a big attraction for us and the price was overall higher-if you have huge Disney fans in your household it might be worth the extra cost!
Know the Childcare Policies When Cruising with a Toddler or Baby
As I mentioned, part of our reason for choosing to cruise is the included childcare. If you plan on taking advantage of this perk be sure to research the childcare rules of the cruise line you choose.
We researched Disney cruises before choosing Carnival but they had hourly childcare fees for children 3 and under which was a big downside for us.
Carnival will take children who are not potty trained in their children's camps while some other cruise lines will not-be sure to know beforehand!
Also, on Carnival the childcare is not open the first day/evening of the cruise until after 10pm (and you pay hourly after 10pm) so it's good to know that so you can plan family options for that evening-we love catching the "dive in" movies by the pool with popcorn and calling it an early night so we can be well-rested for the first full day of vacation!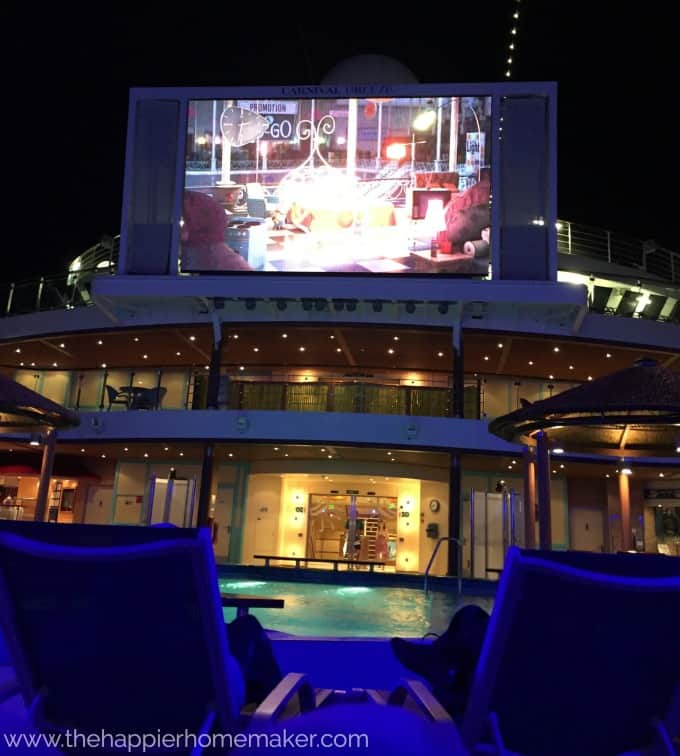 Pick a Family-Friendly Room
On our first cruise when our son was too young for "camp" we knew that we'd be spending quite a bit of time in our room at night after the kids went to bed. Because it's no fun to sit in a tiny room in the dark whispering so they don't wake up, we chose a balcony room for that trip. We were able to put the kids to bed then enjoy ourselves out on the balcony in the evenings.
Fast forward to our subsequent cruises and ever-increasing mischievous and rambunctious boys and the thought of them in a balcony room gives me heart palpitations! Now we always choose oceanview rooms-the window helps us keep on a proper day/night schedule and gives lots of great views without the worry about a kid going overboard!
On the cruise we just returned from on the Carnival Breeze we were also very excited to get one of their Deluxe Oceanview rooms that had two bunk beds along with a couch that turned into a bed and a king bed and more storage than a standard room-it was perfect for our family of five.
It also had two bathrooms-one with a toilet, sink and shower and one with a small tub and sink which was immensely helpful with getting everyone bathroom time in the morning and evenings!
*Updated in 2019 to add that as our boys grow (currently 12, 11, and 8) and we continue to cruise we now book adjoining rooms so that the kiddos can have a room for three and we can have our own space. The cost is surprisingly not much more than a room for five and it helps with space!
Research Ports Ahead of Time
Research the ports you'll be visiting ahead of time. We neglected to do this with our first cruise to the Bahamas and ended up wandering around aimlessly at both of our ports and not really maximizing our time in port. Now we use resources like Cruise Critic to see the "musts" of each port as well as how accessible various attractions are from the cruise terminal.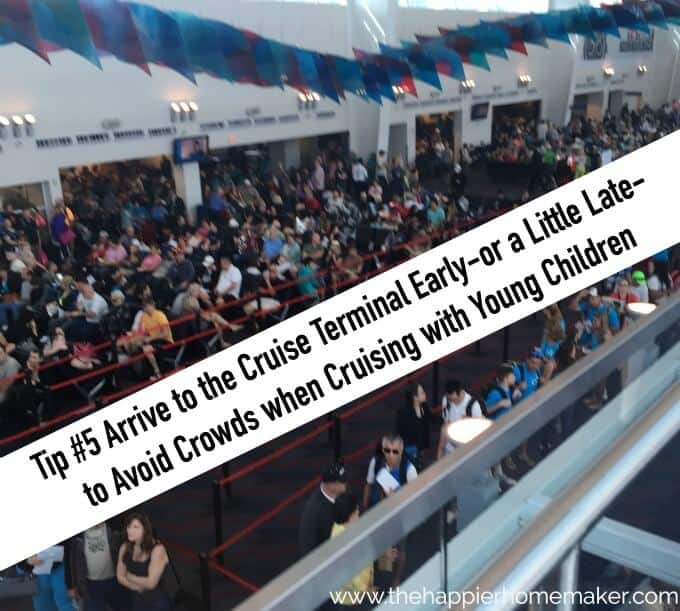 Arrive Early-or a little Late-on Embarkation Day
**This tip can vary depending on the port you are cruising out of and the cruise line. It was originally written in 2016 and updated in 2019 referring to Carnival cruises out of Florida ports.**
Our boarding passes always advise arriving at the cruise terminal at 12:30 for our cruises. Usually, the ship pulls out at 4 pm and everyone must be on board by 3:30. We learned early on that arriving right at 12:30 was a recipe for disaster. Cruise terminals get very crowded at that time, usually with standing room only crowds...not so fun with little ones!
On our past two cruises, we have chosen to arrive early-around 10:30 am. We know that we will have to wait a while to board but arriving early lets us avoid waiting in long lines to check-in and ensures there are seats available to wait in. I make sure to have money for the vending machines and fully charged Kindles for my kids to amuse themselves quietly during that time.
This method lets us be among the first to board once boarding does start and we're usually on the ship around noon having a delicious lunch and enjoying the pool! (Bonus hint-carry on your swimsuits and any "floaties" for the kids so you can swim even if your luggage hasn't made it to your room yet!)
If you can't arrive early, try arriving a little later-around 1:30 or 2. We've taken this approach too and have walked right onto the ship as well without the waits. The only drawback to this method is less time to enjoy the ship before the crowds!
*Updated in 2019 to add that at some ports Carnival now has an appointment system in place for boarding. Guests choose a thirty-minute time window to arrive at the port and if you arrive in your designated time you can pretty much walk right on. Guests arriving outside of their designated time face long lines, so be sure to get your timing right!
Choose Excursions Carefully-or Not at All!
Some ports are great for doing excursions as a family-we, in particular, loved swimming with dolphins in Tortola with our oldest son and taking the entire family to the sea turtle farm in Grand Cayman. Make sure to pay attention to the length of time of various excursions and weigh carefully the ability of young children to be "on" that amount of time and time in the sun, etc.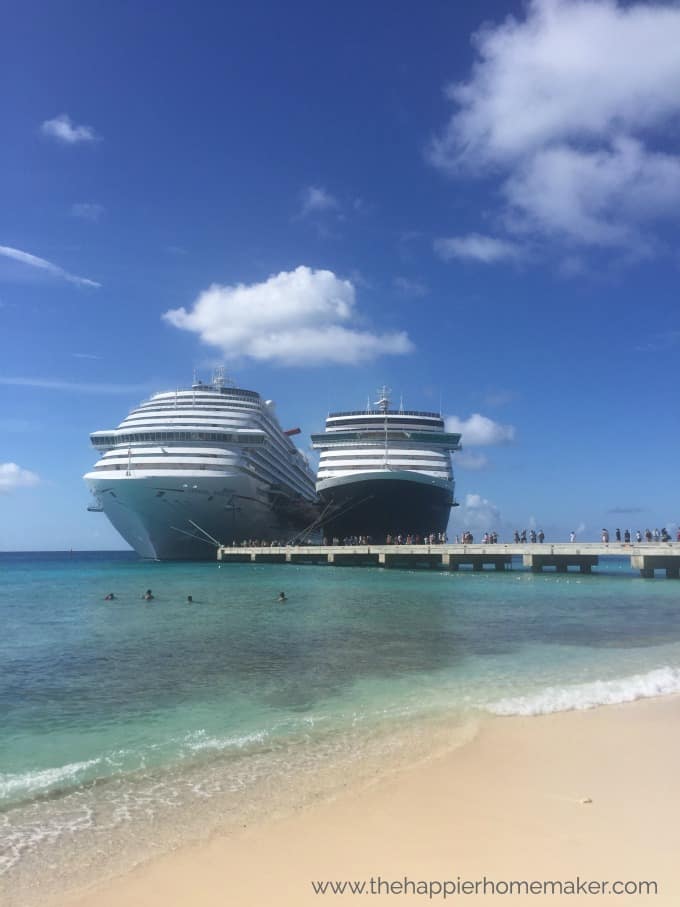 One of our favorite family activities to do on in port on a cruise is actually not an excursion at all-three of our cruises have passed through Grand Turk where a free public beach lies at the end of the dock-it's less than ten minutes off the ship and costs nothing!
In fact, on our last cruise, we took the kids out to play and snorkel, went back on the ship for lunch and a rest, then came back out in the afternoon. It didn't cost us a dime to snorkel and build sandcastles and it was the kid's favorite stop on the trip!
Don't Go Overboard on Childcare when Cruising with Toddlers and Young Children
My husband and I learned this lesson the hard way. We were so excited when our youngest was finally old enough to go to camp that we overdid it on "grownup time" and it led to a cruise full of tantrums and meltdowns.
Just this last cruise I saw it happening over and over again with other families-crying children and frustrated parents who just wanted some alone time. It doesn't make for a happy vacation for anyone!
We learned our lesson and have found a great balance that keeps everyone happy on our past few cruises. We try to balance a few hours in the morning of camp time with an afternoon for family time then the kids head back to camp for kid's dinner and fun afterward until bedtime.
It's the best of both worlds-the kids don't get burned out and I get some nice alone/relaxation time with my husband.
Psychological Warfare!
I'm not apposed to using full up psychological warfare when it comes to getting my kids amped up for camp. I never tell them they "have" to go-I do my best to get them to where they want to go on their own.
Even my four-year-old will get excited when I read him the camp schedule and tell him how lucky he is to get to do the fun activities and how much I wish I was allowed to go too.
I'm also not opposed to bribery once and a while-a promised trip to the arcade or ice cream cone after being picked up from camp has worked magic many times!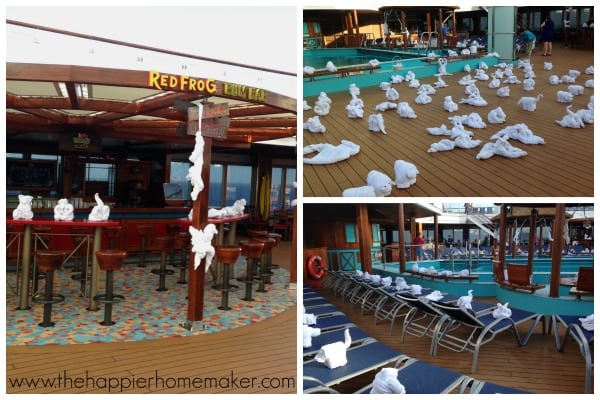 Know Your Ship
There are certain features I look for when choosing a ship to sail on-they are not all created equal! One of the biggest things I look for because I have younger children are splash pad areas.
Every cruise line I have known has policies forbidding children from using pools unless they are potty trained-even with swim diapers! While I've heard that they aren't supposed to use waterparks either I've never seen a little one turned away from the splash pad areas.
It's also a lot easier and less stressful to watch kids play in a waterpark area than in a crowded pool!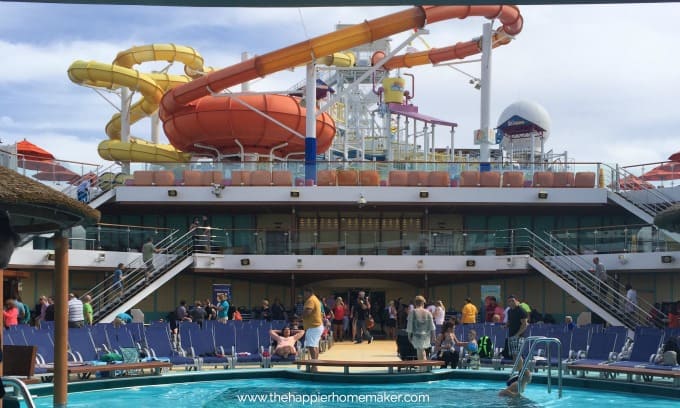 Another not so well known secret on cruise ships are the libraries if they have them. Every library I've found on Carnival ship has been stocked with board games even the youngest kids can enjoy-it's never crowded and a good quiet place to have some downtime together.
Again, do your research ahead of time-choose your ship based on the amenities that will work best for your family!
Relax the Rules
I used to be a stickler about schedules and junk food even on vacation but eventually, I learned it's best to relax a little on our cruises. Ice cream every day? Why not! Late bedtimes? Of course!
Bending the rules helps my boys feel like they're on vacation and gives incentives for good behavior on the trip. Just be careful to balance junk food with real meals to prevent upset tummies and late bedtimes with quiet time in the day so you don't get meltdowns!
Have you been on a cruise before? What tips for cruising with toddlers and young children can you add to my list?