Good morning friends. Today I wanted to share with you one of my favorite pastimes lately: walking the yard. Whoever landscaped our home (we purchased last summer) had a passion for gardening like I do. There is always something in bloom in our yard, even through the winter. My husband and myself really enjoy spending time outdoors and a big part of our choosing to buy this house was the beautiful outdoor space.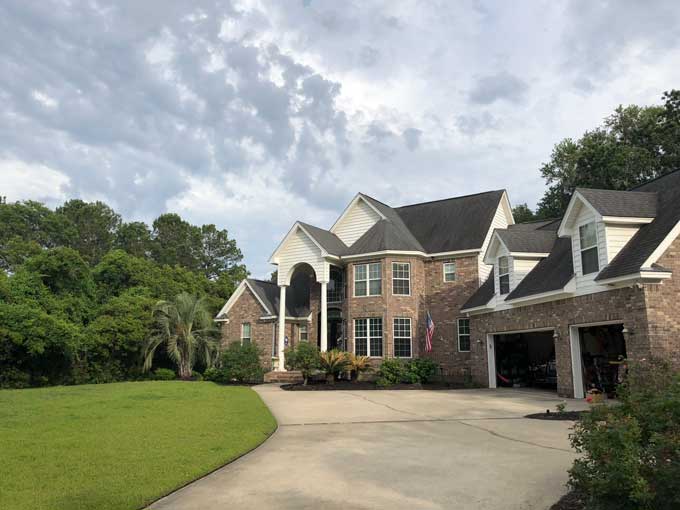 Most afternoons and weekends you'll find us here, garage open, putzing about the yard. It's a very private yard with wooded areas along the sides and back filled with trees, camellias, tea olives and delicious smelling Confederate Jasmine vines.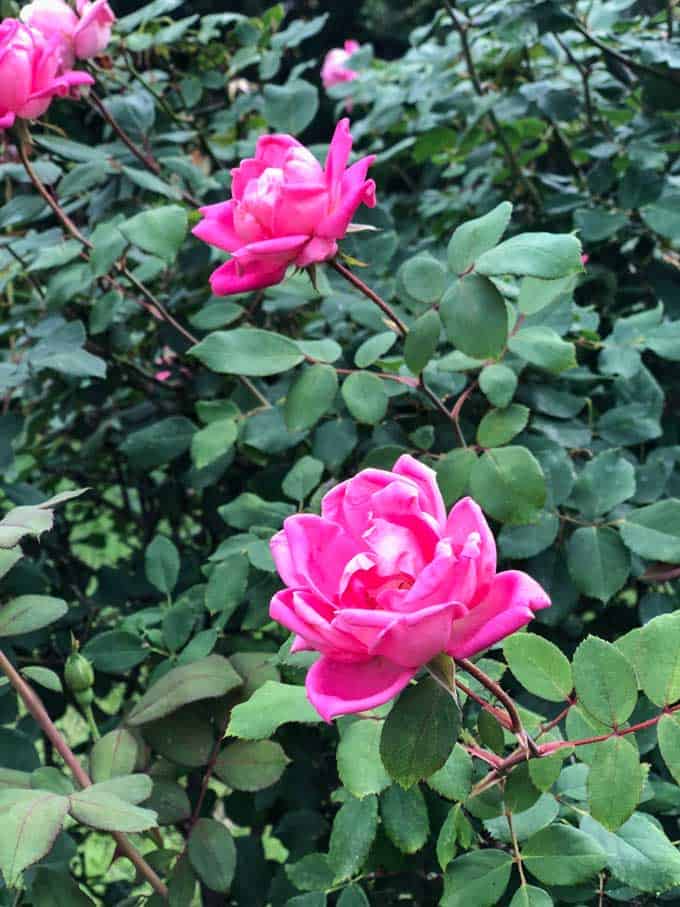 There are a grand total of 9 roses in the front yard put in by the previous owners. Five are knockout roses like above, and the rest are heirloom roses.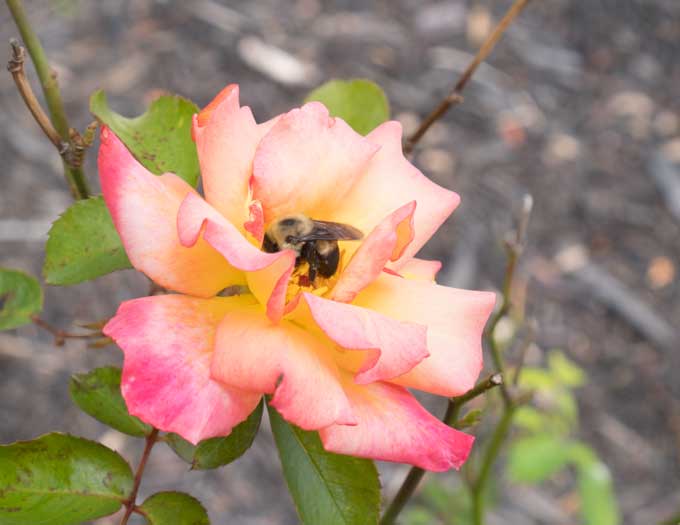 I've been researching and learning as much as I can about roses since we moved here and really enjoying tending to them. (As you'll see when we move into the backyard!)
I shared a sneak peek of my square foot garden along the side of the house on Instagram the other day, are you following along over there? I am planning an entire update post about the square foot garden soon.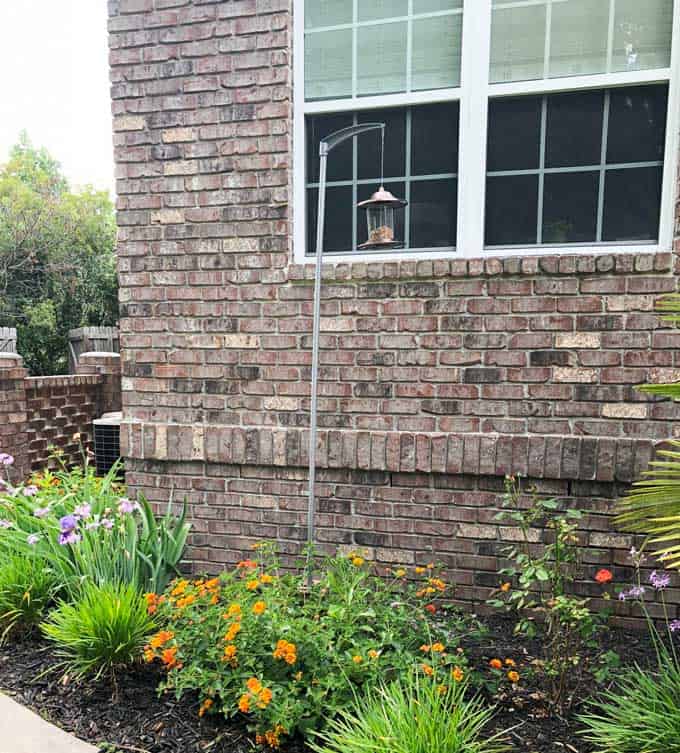 Continuing to walk around to the backyard there is a lovely butterfly garden. That's my office window and I love watching my bird feeder as I work. (As does the cat who has a little perch right there at the window sill!) We have a large community of cardinals who visit along with finches and the occasional painted bunting.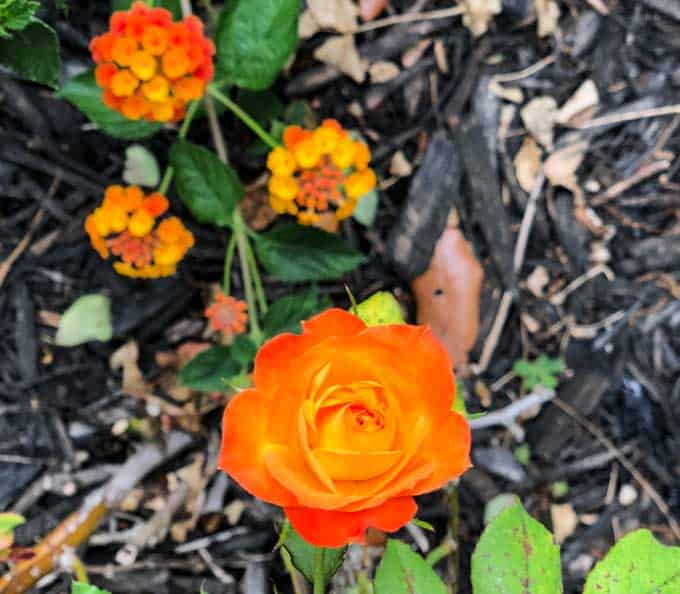 This is another rose that was already here at the house when we moved in but poorly neglected. It's flourishing so far this year!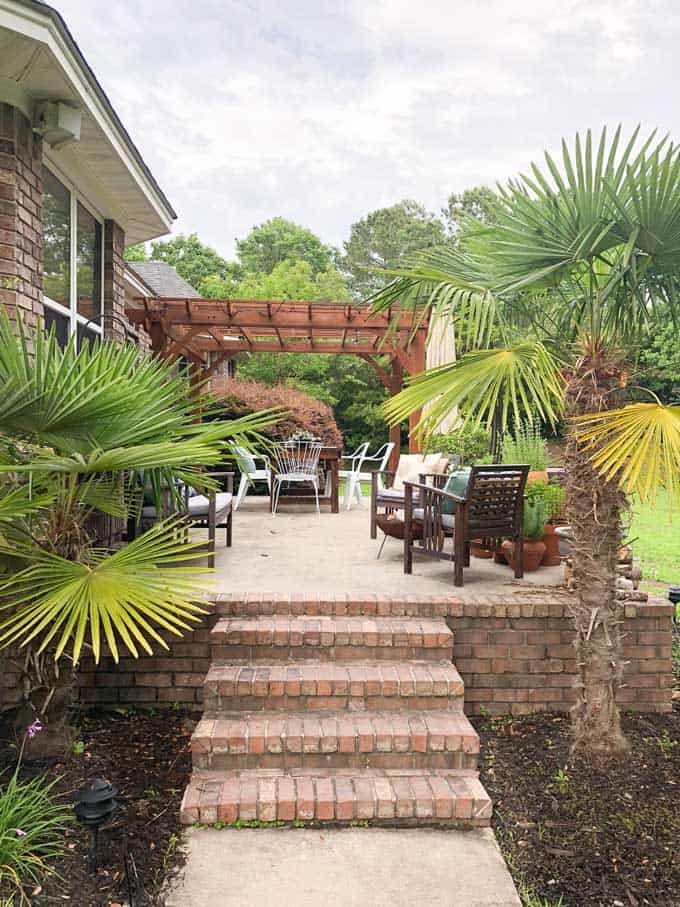 To the right of the butterfly garden is the back porch where I spend a lot of my time. (I shared the challenges of keeping this area weed free in my Homemade Weed Killer post!) We built this pergola just a few months ago and I absolutely love it! (And of course by "we" I mean mostly my husband Randy!)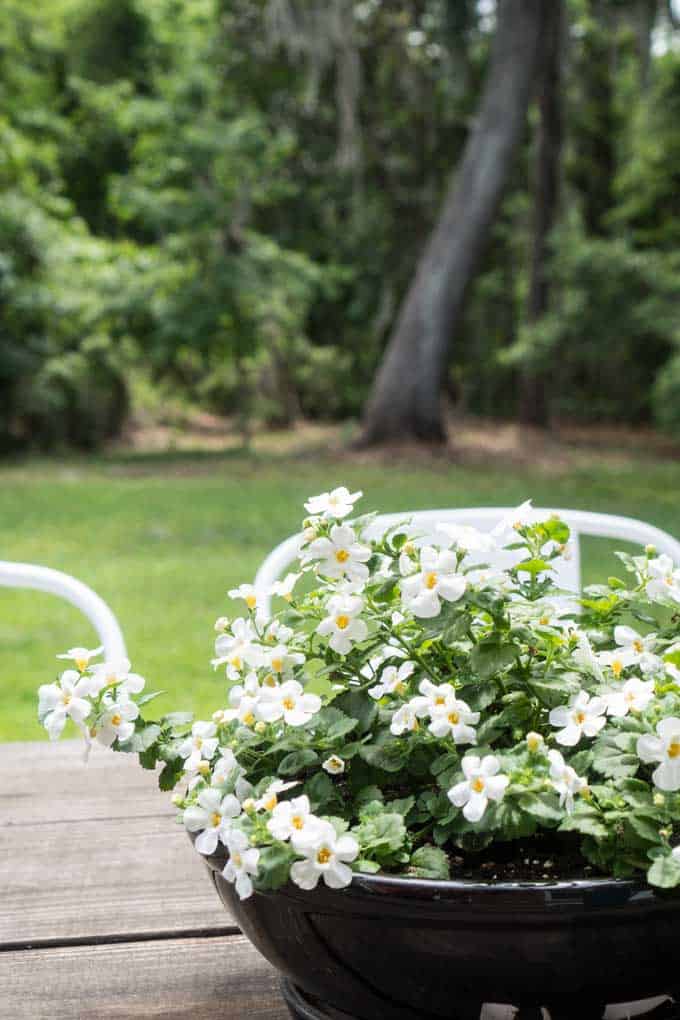 At two of the edges of the pergola we've planted climbing roses.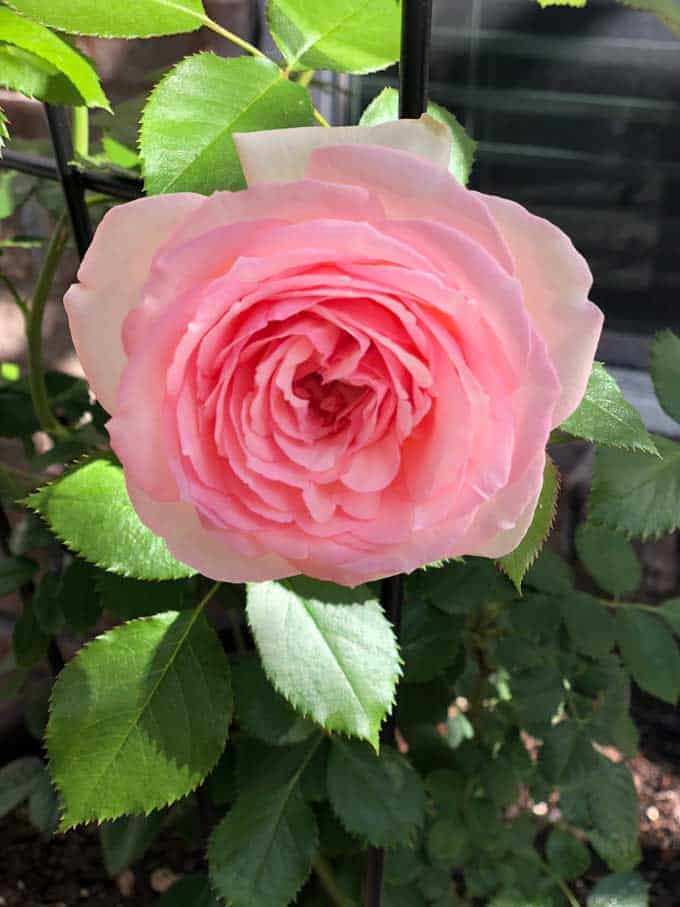 We chose a rose called Pierre de Ronsard (Eden Rose in the US). A cottage we stayed at last spring in France was covered in it and I knew I wanted to add it to our "forever home" one day. It's quickly making it's way up the pergola and we just had our first bloom last weekend, isn't it gorgeous?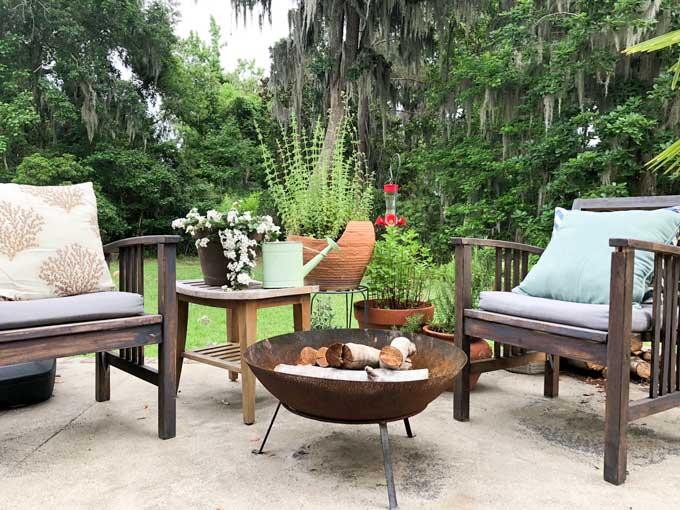 I love spending time here on the porch reading or having coffee (maybe a glass of wine in the evening!) It's also where I keep my kitchen herb garden with oregano, mint, rosemary and thyme. Do you see that oak dripping with Spanish moss in the background? It's my husband's favorite part of the yard! I laughed when I edited this picture because I realized the throw pillows on the chairs were ones I had thrown there when cleaning out the garage last weekend-I shared them in one of my very first blog posts on this blog back in 2011!
We get a lot of these guys catching some rays on the porch to the delight of my three boys.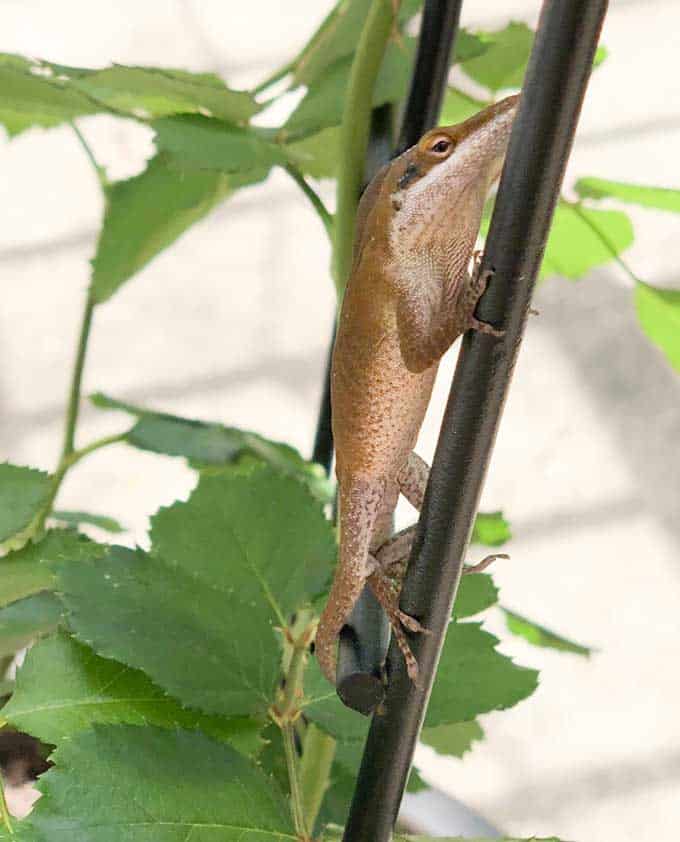 We also get a lot of snakes here in south Georgia, which we don't love so much. Along with deer, rabbits, and the occasional armadillo.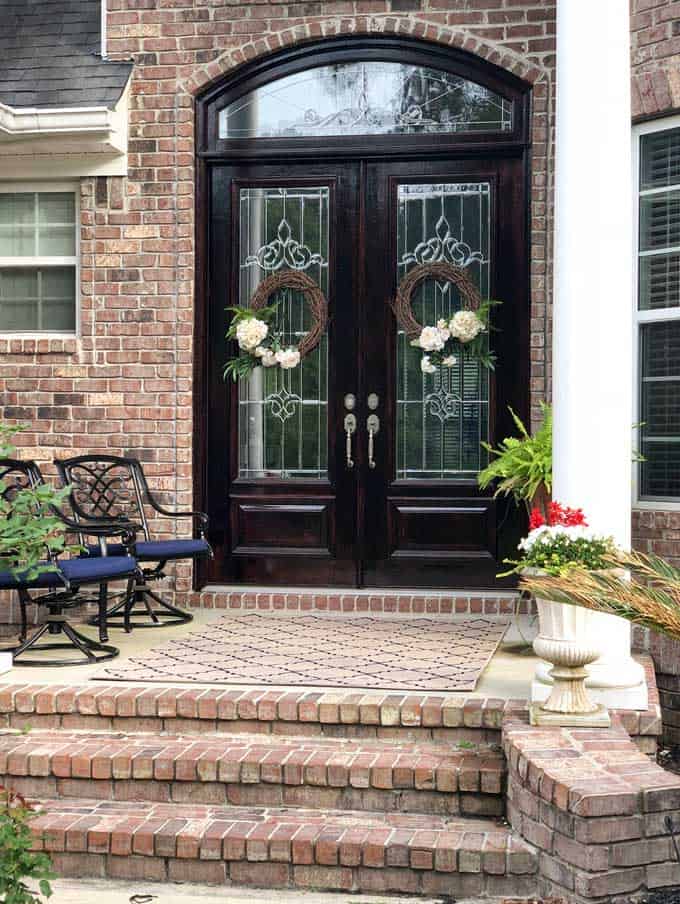 And since I had the camera out taking pictures, a quick peek at the inside.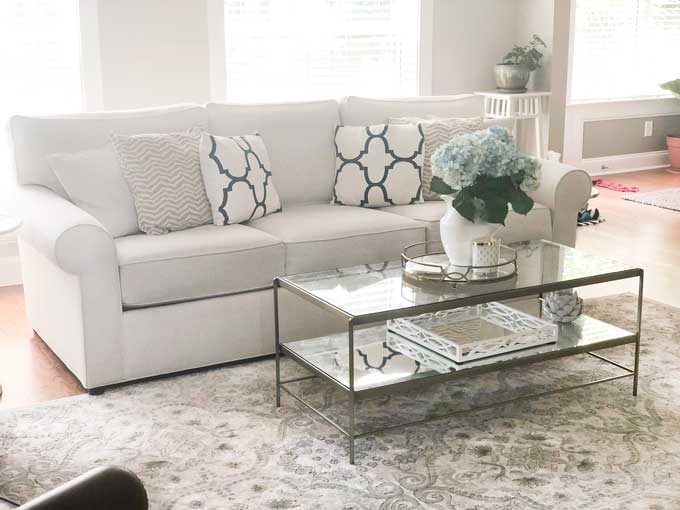 The white couch is surviving the three boys and new puppy so far!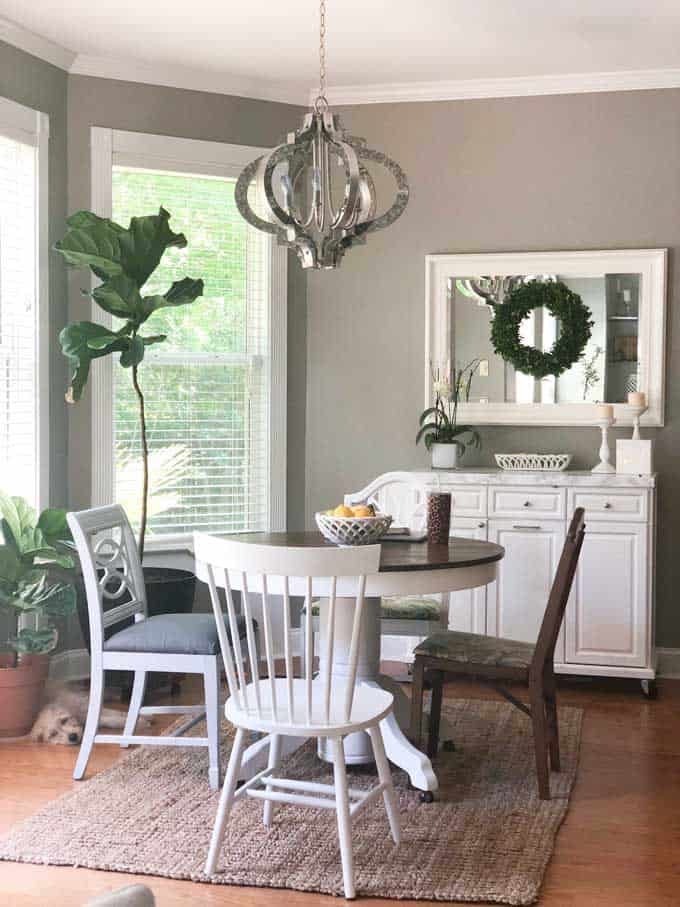 Speaking of the puppy, can you spot Maisy here? She has her own Instagram account with the cat if you need a quick cuteness fix!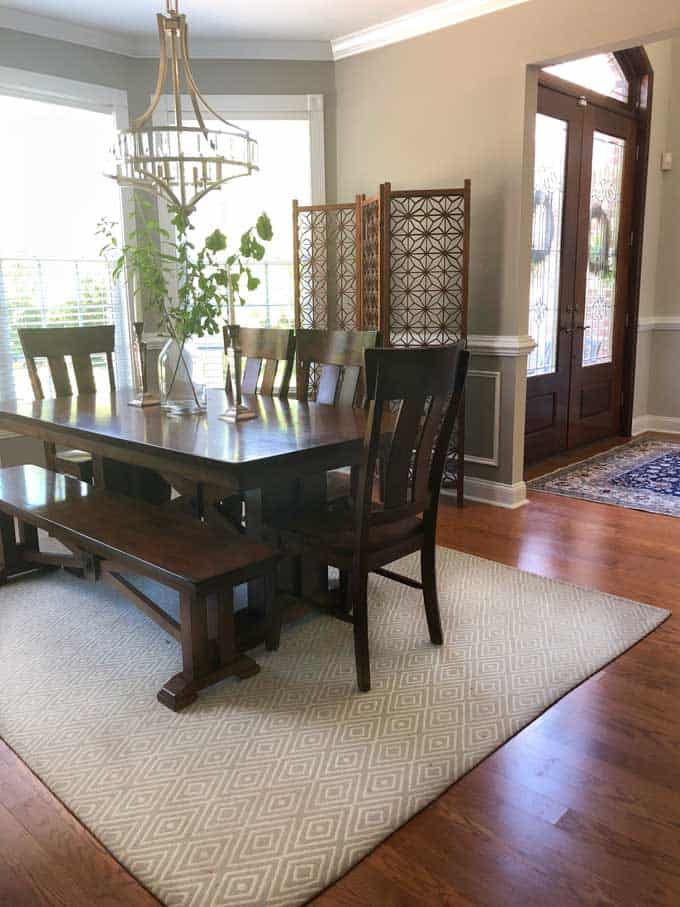 As always the house is a work in progress and I'm constantly tweaking the decor and moving things around.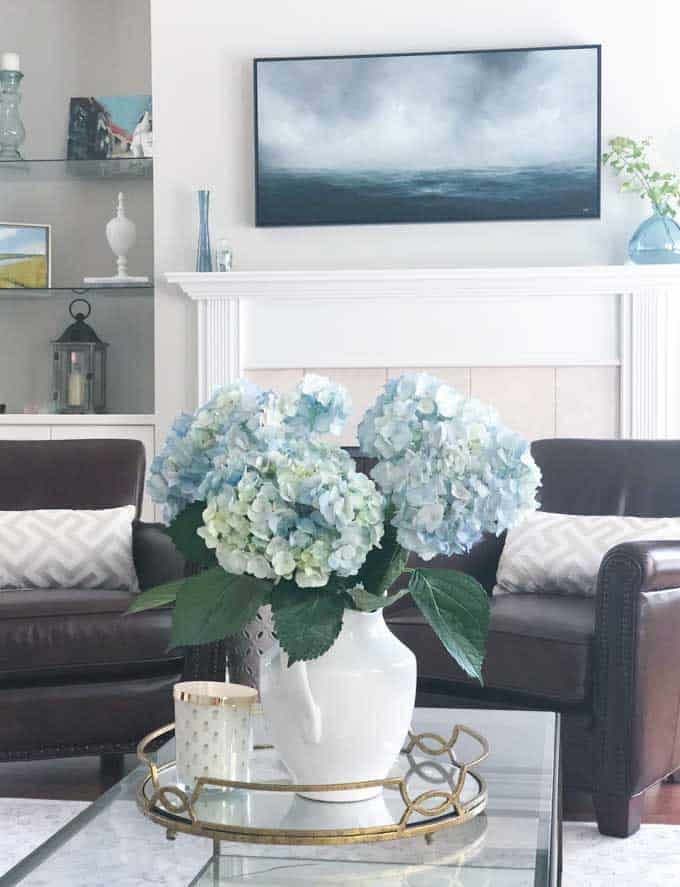 I'll leave you there friends, just wanted to share the things around the house that make me smile. be sure to follow along on Instagram for more snippets of daily life!