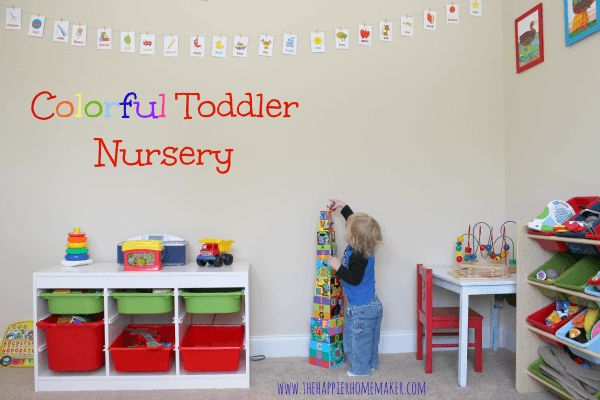 When we first moved into our house last April I shared my youngest son's nursery with you. I designed it using Montessori education as inspiration-we have always used a floor bed instead of a crib with Tommy, and I had purchased some IKEA Expedit shelving to keep things low at his level. I was very happy with the nursery at first but over the past few months I knew I needed to make some changes now that Tommy is almost two.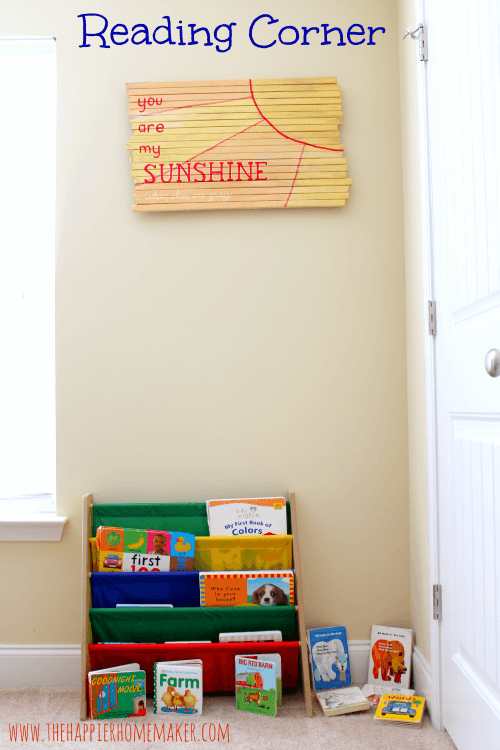 I kept the same DIY wall decor I had previous posted with the exception of adding my upcycled You Are My Sunshine sign over his new reading corner. (I made it from an old baby gate!) He also still has the floor bed with IKEA bedding and leaf canopy (which I love!) The big change was removing the old black Expedit shelving and replacing it with some more colorful storage I snatched from the older boy's rooms. Oh yes, you'll be seeing their room transformation soon too-it's going to be a good one!!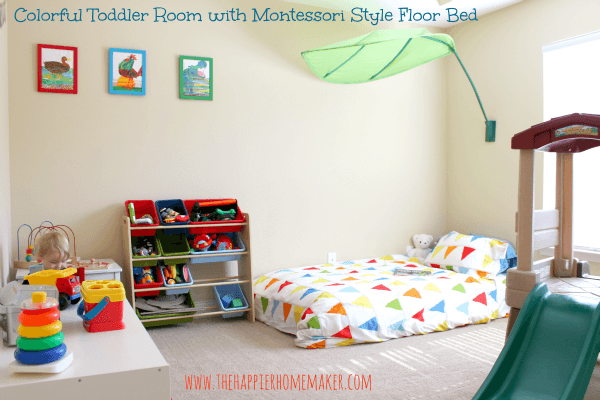 The wall art in the picture above was made with $1 frames and pages from a used Eric Carle book! I really love it! You can also see that over the winter I bought him a little slide set to help channel his climbing in the rest of the house! I'm on the fence about putting it outside now that the weather is nice or keeping it inside indefinitely.
Oh, and that table in the corner...yeah that was the table I had "transformed" into Nash's black pirate table last year. Now it's right back where it started-red and white!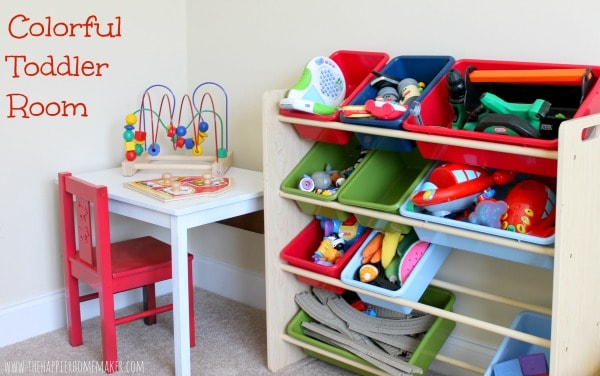 I'm so happy with how the room is looking but as with everything it's a work in progress. I think I'd like to build a cornice over the windows but it's no where near the top of my to-do list!! What do you think of his nursery? I think it's so bright and cheerful!
Click here to see the original nursery post, as well as the spray paint nursery update, and upcycled sunshine sign. To see how we do our version of Montessori, and do it on a budget, click here.