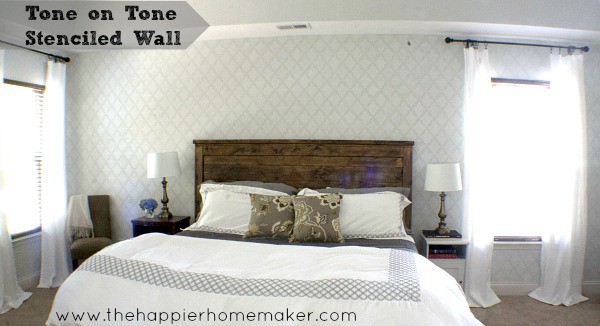 A few weeks ago I was contacted by Cutting Edge Stencils about doing a review and giveaway and I was over-the-moon excited! If you have not yet heard of Cutting Edge Stencils you are missing out big time-they have an amazing selection of on-trend stencil designs that you just can't find anywhere else. (And not just large wall stencils-they have smaller craft-sized stencils and stenciling supplies as well!)
My hubby and I had been planning on painting some tone on tone stripes on one wall in our Master Bedroom per our eDesign with Amber of Simple Dwellings but Amber thought the stencil would work well too so we decided to go for it using the Turkish Tulip Allover wall stencil.
When I received the stencil I was really pleased to see that not only was the large wall stencil in the package, but it also comes with a smaller piece for edging as well as a single of the design (which I of course had to craft with and will show you soon!). Last Tuesday while hubby was working I decided to start. Enter life and three sick kiddos and seven days later I finally finished! This might give you a little hint of why it took me so long!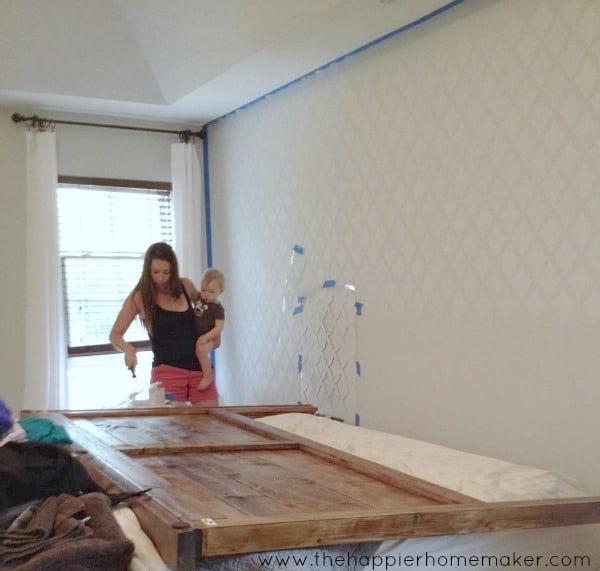 While I may have said a few choice words during the process I am in love with how it turned out. This was my first time stenciling and if I can do it, anyone can! Here are a few tips and things I learned along the way:
I highly recommend using Cutting Edge Stencil's clip-on stencil level if you are doing an all-over design like the one I used, it was so helpful.
A dense foam roller and stencil brush are must-haves as well to get a good end result.
Cutting Edge Stencils has a wealth of info on their site including tutorial videos. These people do this for a living-take advantage of their suggestions and watch the tutorials before you begin!
Don't freak out if you think the stencil doesn't look perfect as you are painting-this isn't wallpaper and it is not going to be exactly perfect but you won't be able to notice at all once its finished-believe me! This was such a cause of concern for me during the process and once the wall started filling up you couldn't tell at all where those tiny imperfections were. I actually prefer the slight variations in the paint over the flat look of wallpaper.