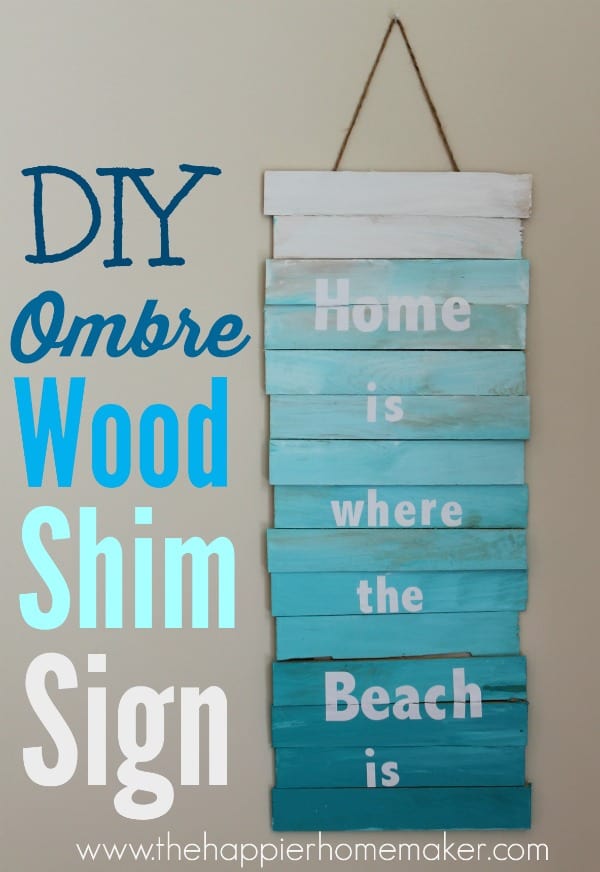 Just over a week ago we went to Virginia Beach to celebrate my middle son's birthday with family...I grew up between there and Charleston, SC and it was nice to go back and visit and be near the beach again! When I got home I was inspired to make this easy DIY wood shim sign and share the tutorial with you!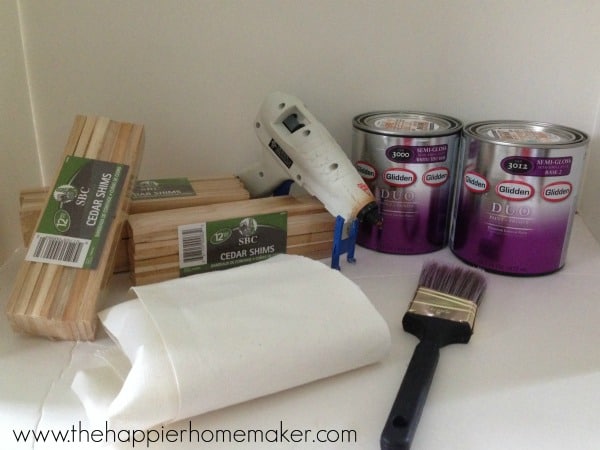 Supplies:
wood shims
Glidden® paint in White on White and Marine Blue
paintbrush
scrap fabric slightly smaller than finished sign dimensions
hot glue and glue gun
white vinyl
Silhouette cutting machine
8" jute twine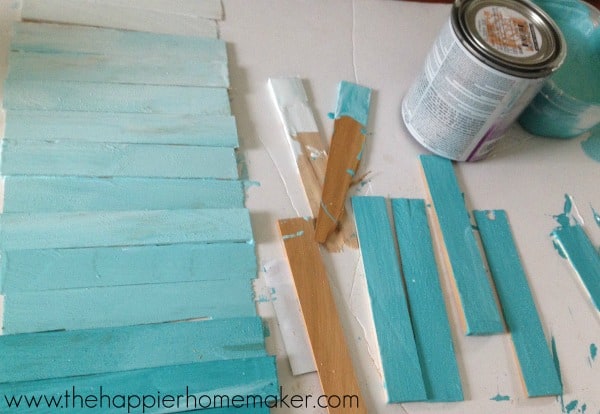 In a small disposable container add a few tablespoons of white paint and a few drops of blue and paint a wood shim. Continue adding blue a little at a time and painting shims until you have reached almost full saturation of blue. Paint at least 15 shims, I painted some extra as well so that I could find just the right progression for my ombre sign.
Allow the shims to dry fully and arrange 15 shims from lightest to darkest.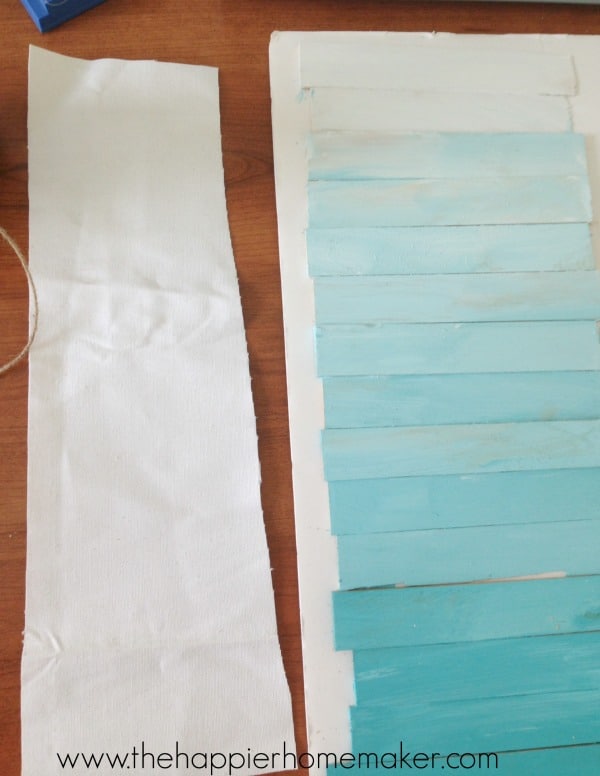 Cut your scrap fabric slightly smaller than your finished sign dimensions.
Glue the fabric to the back of your top shim, placing the ends of the jute twine between the wood and fabric as shown.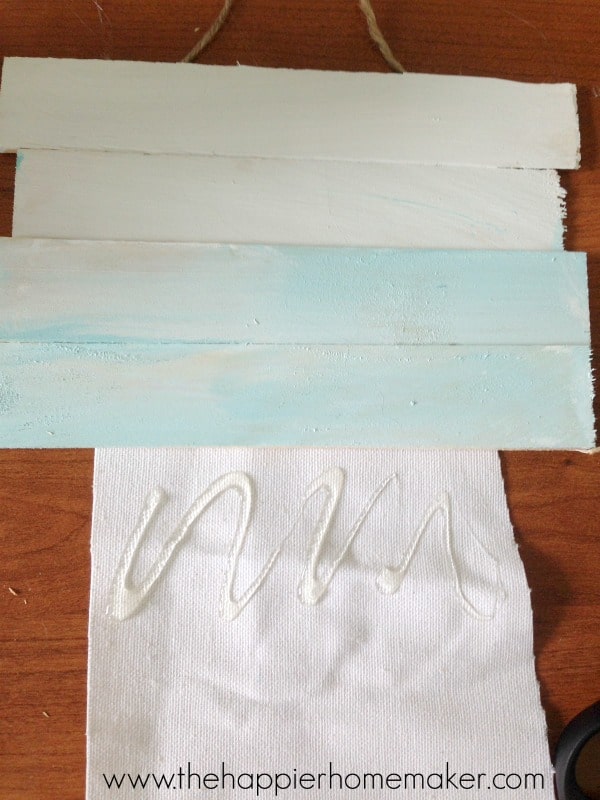 Continue gluing your shims to the fabric being careful to position them snug against one another to minimize fabric show through. I glued mine two at a time.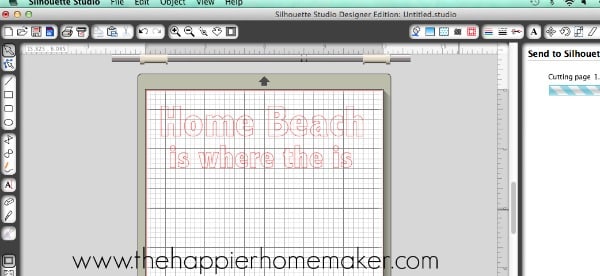 Use the Silhouette design software to create your letters. I made "home" and "beach" slightly larger than the other words. If you don't have a Silhouette you could always purchase precut vinyl lettering.
Adhere the vinyl lettering to the wood, pressing down firmly.
If your letters go over the space between two shims use a craft knife to carefully cut the letter over the crack.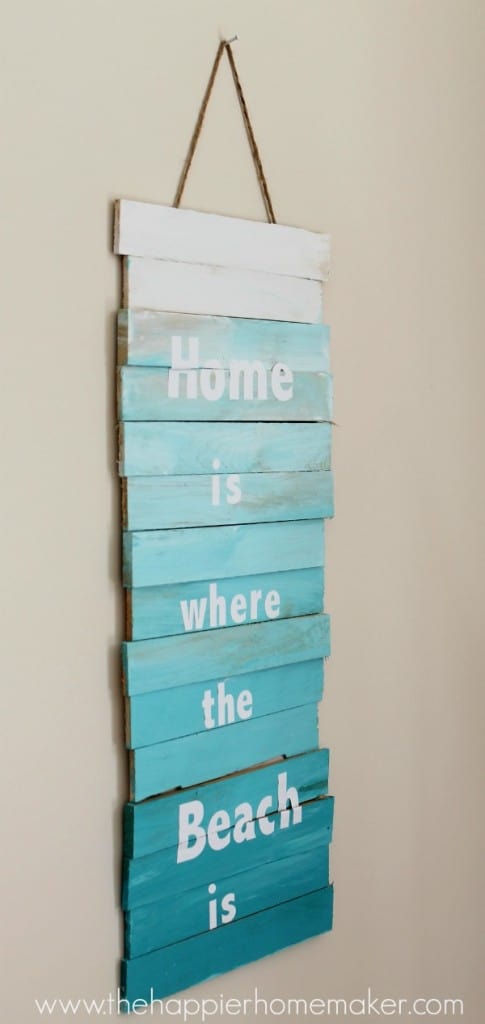 That's it! I am in love with my finished sign, aren't the colors gorgeous? Be sure to use Glidden Duo paint-it contains a primer in it...wouldn't this make a great gift for any beachy loving friends as well?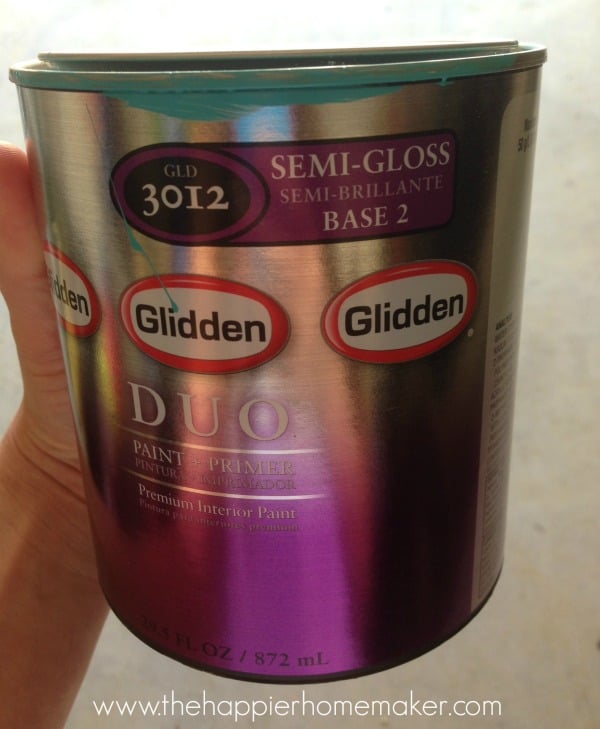 Disclosure: This post was sponsored by Glidden Paint trough their partnership with POPSUGAR Select. While I was compensated to write a post about Glidden Paint, all opinions are my own.