Happy Thanksgiving week! I have finally finished piecing together my winter decor and am very excited to share my winter home tour with you all today. I love trying to change up my decor each year and its fun for me to be able to look back on the blog and see all the years past. We were traveling the past two years for Christmas, on a cruise last year and then in Scotland the year before, so I'm very much looking forward to being home this year. I wanted the decor to be cozy and fun. Let's get started with the Christmas decor home tour! (Get ready for picture overload!!)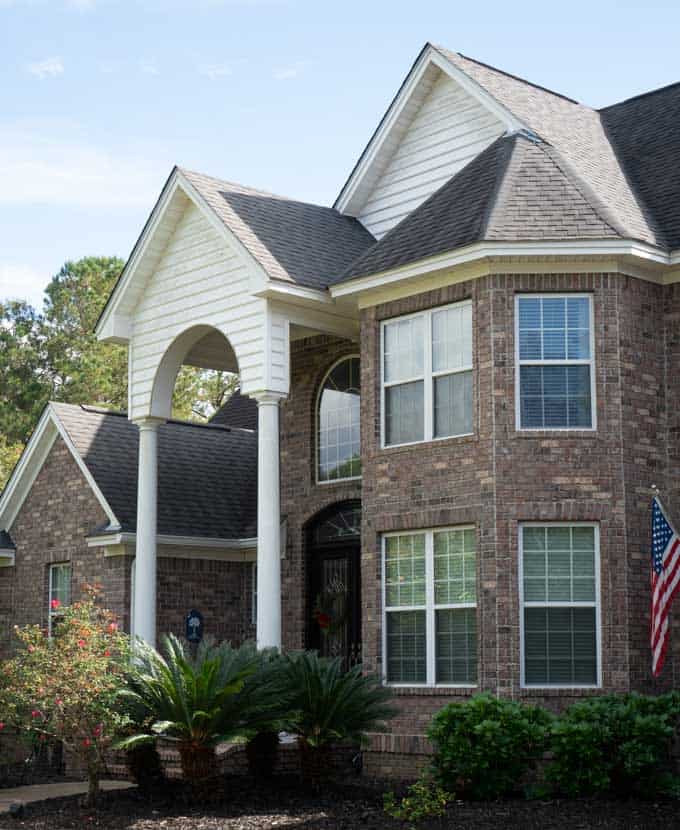 First I have to give full disclosure, we're in south Georgia so it's not cold and snowy here like in much of the country. We're at a balmy 71 degrees as I write this. It works for me, I'd rather deal with the sweltering summer than the cold, sorry!!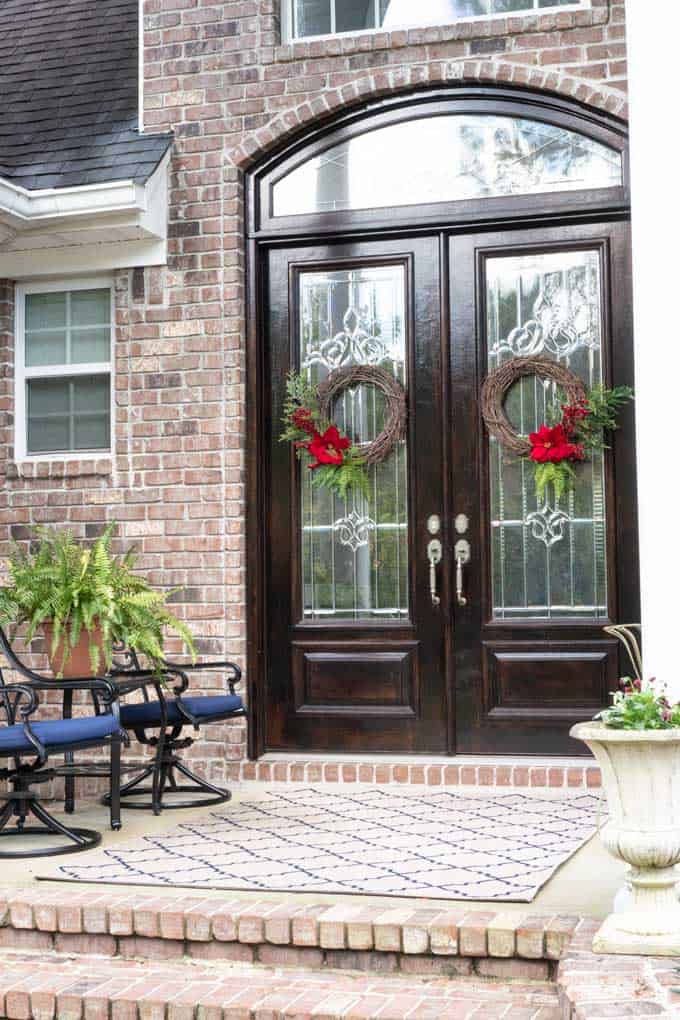 Out on the front porch, I just this past weekend switched out the urns from salvia and creeping jenny to some pansies and dusty miller. I'm excited to see how they grow over the next few months.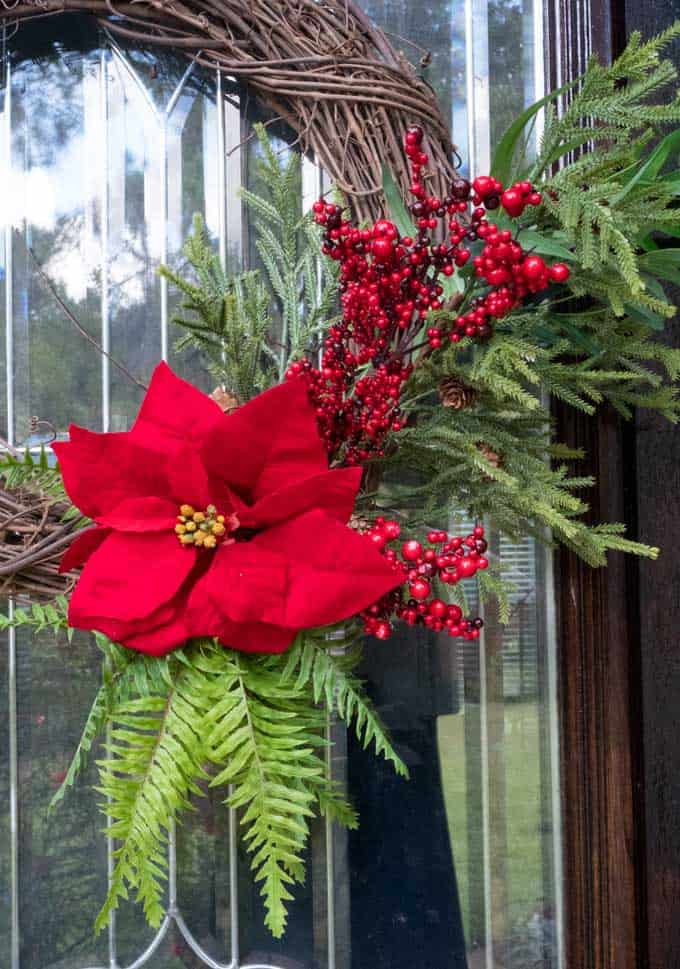 I transformed my Summer Hydrangea Wreaths into winter mode by removing the white flowers and adding in some Christmas picks that were on sale at Micheals. I was doing all of this on my living room floor and in the process, two little lizards who had apparently made one of the wreaths home popped out and scared the you-know-what out of me! Luckily my three boys corralled them outside and I got to finish my wreath construction on the porch!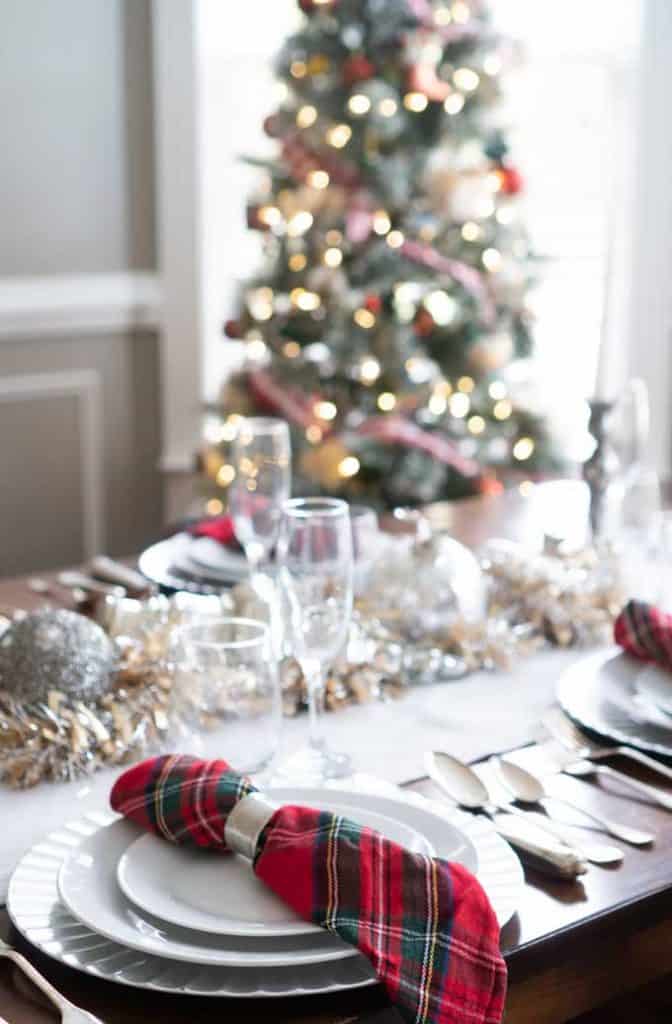 Inside I decided to do two trees this year. The first is in the dining room at the front of the house. I wanted a tree in the living room but I also love being able to see the tree through the front windows so this seemed like the perfect compromise. I had purchased this inexpensive flocked tree the year we lived in England.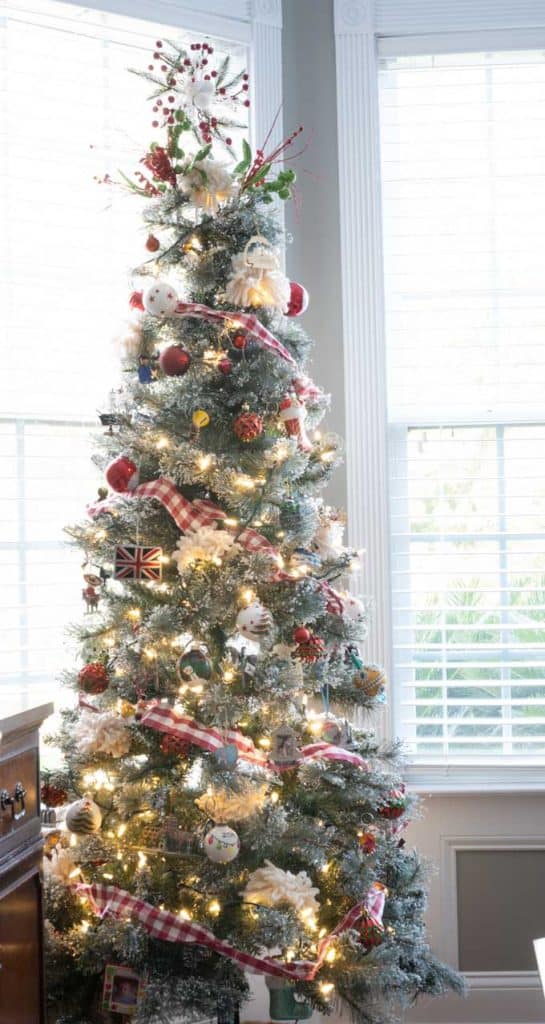 I chose to put all of our sentimental ornaments on this tree. We always buy an ornament when we're traveling so there are a lot of memories on this tree! I also hung it with my husband's childhood ornaments that his mom passed down to us, so that's special as well. If you've been around for past home tours there are quite a few recycled elements on this tree. The "ribbon" is actually cut strips of fabric from my Buffalo Check Christmas tree and the yarn pompoms are from my Giant Pompom wreath. If you look closely you'll also see the DIY Fingerprint Ornament I shared in 2014, I love seeing those little fingerprints now that my boys are growing so big!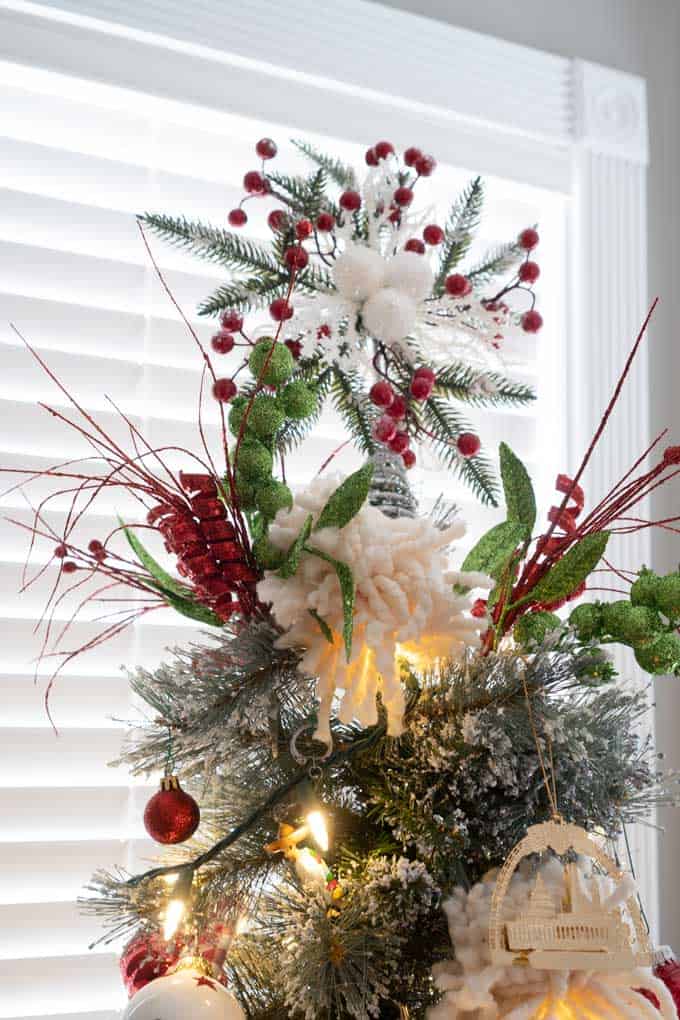 I used the tree topper and picks from last year's traditional tree and they fit perfectly! (Very inexpensive from Walmart last year.)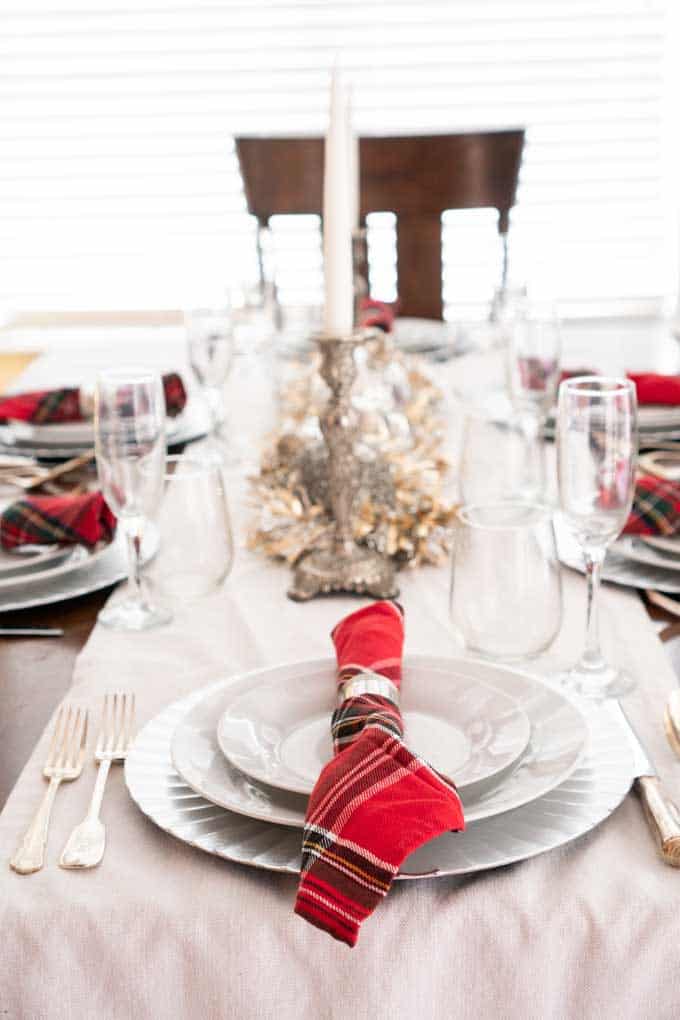 I have been experimenting with the dining table for Thanksgiving this week and excited to have a nice fancy table for our family and friends joining us. It's the first time in many years it hasn't just been the five of us, so I'm looking forward to a full house Thursday.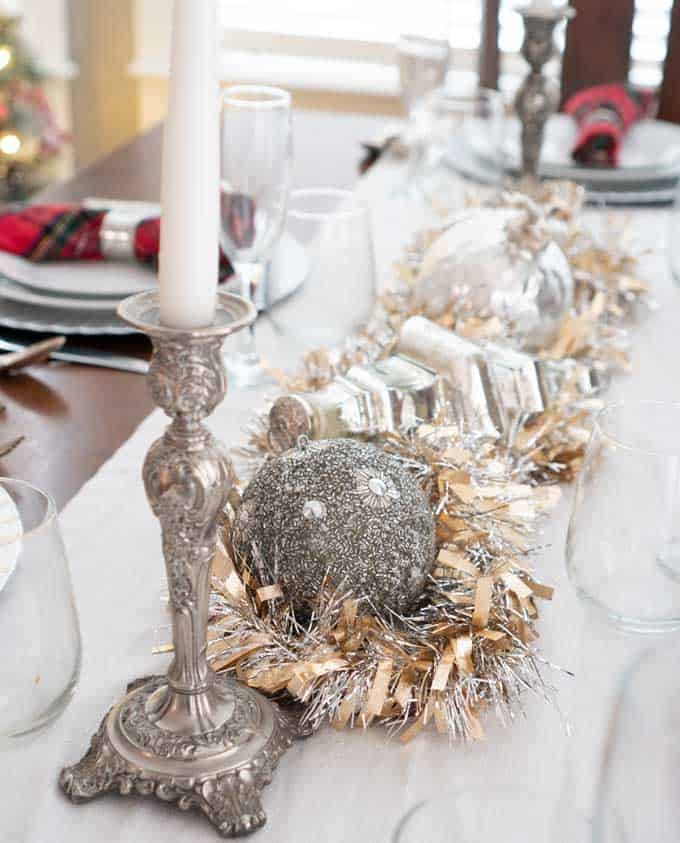 The centerpiece will, of course, need to be moved during our Thanksgiving meal but I love how simple it is, just tinsel and oversized ornaments. It makes it easy to see across the table at dinner.
Last year we did a LOT of traditional color in the living room, this year I went back to my more neutral roots. I can't help it, I'm a huge fan of metals and white and playing with texture instead of color!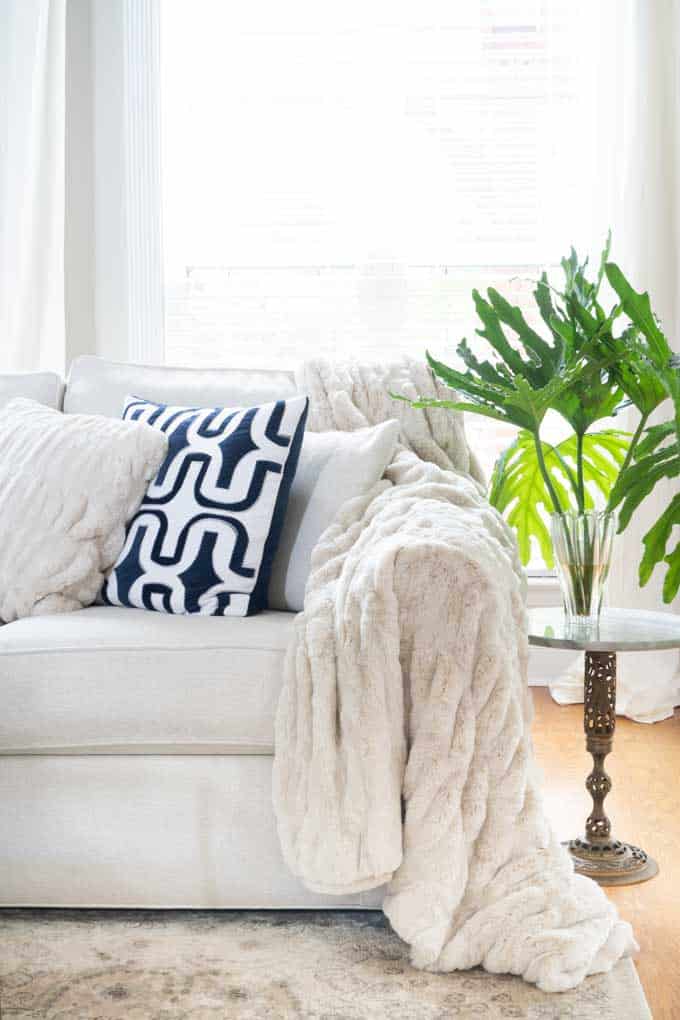 Speaking of texture, I splurged on this ruched faux fur throw from Pottery Barn when it went on sale a few weeks ago and I literally live bundled up with it. I bought the matching pillows as well.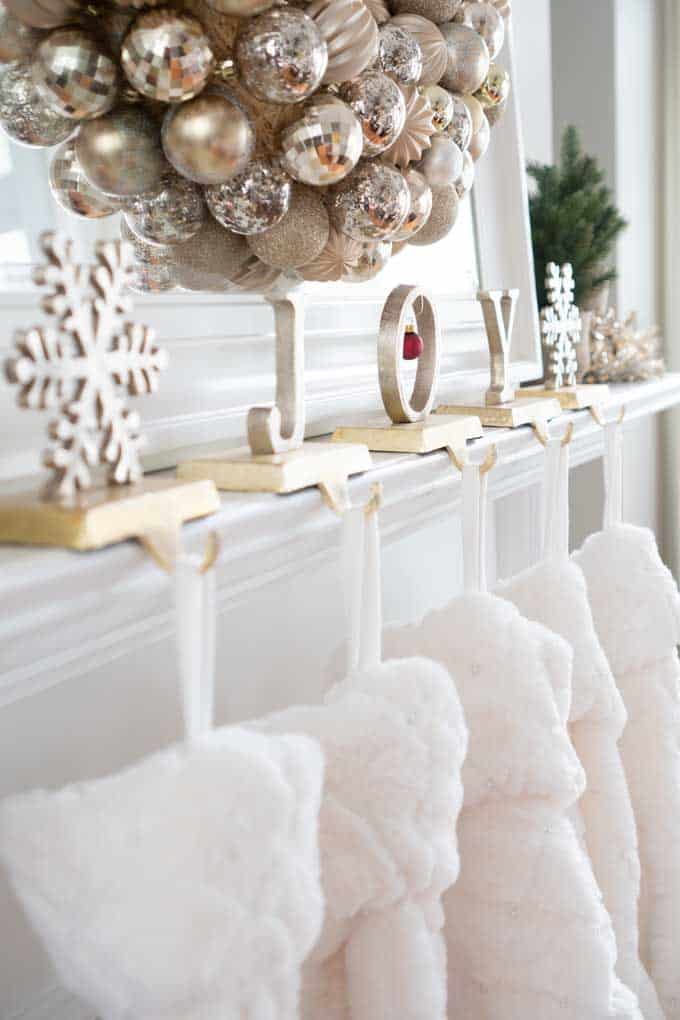 I also found these plush stockings at Homegoods for a bargain. We've not updated stockings since my 7 year old's first Christmas and our old ones were falling apart. I plan on having these embroidered with our names at some point. Oh, and I made a video tutorial of that ornament wreath just a few weeks ago, you can find it on YouTube or in this DIY Ornament Wreath blog post.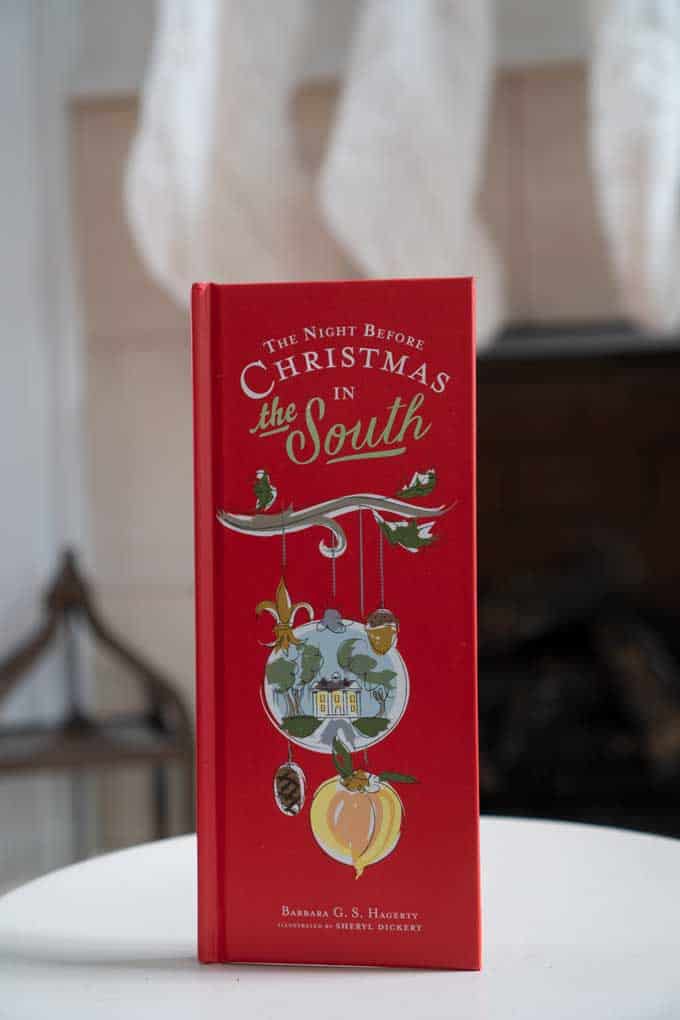 Also isn't this book the cutest? A friend from high school sent me this last year and it's too funny to read. On to the second Christmas tree....
This year's tree theme was inspired by plaid. Most of the decor and wrapping paper I actually picked up at IKEA a few weeks ago. It was easy to incorporate the hunter greens, navy blues, and burgandys in with decor we already had on hand.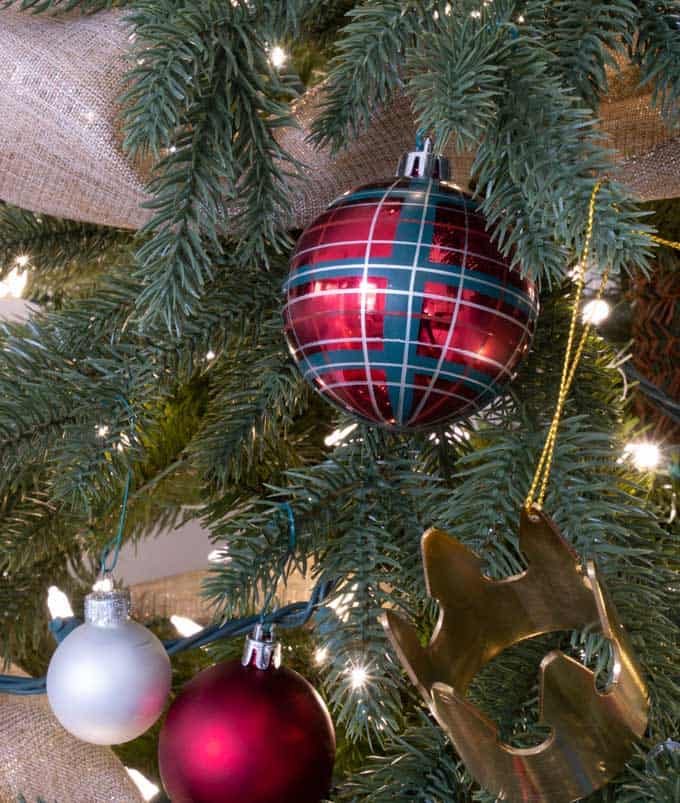 In all honesty I had originally planned on a blush pink tree but the husband has been complaining lately about the house getting a little too feminine so this was my answer to that! (Can you imagine that he actually has an opinion on such things??!)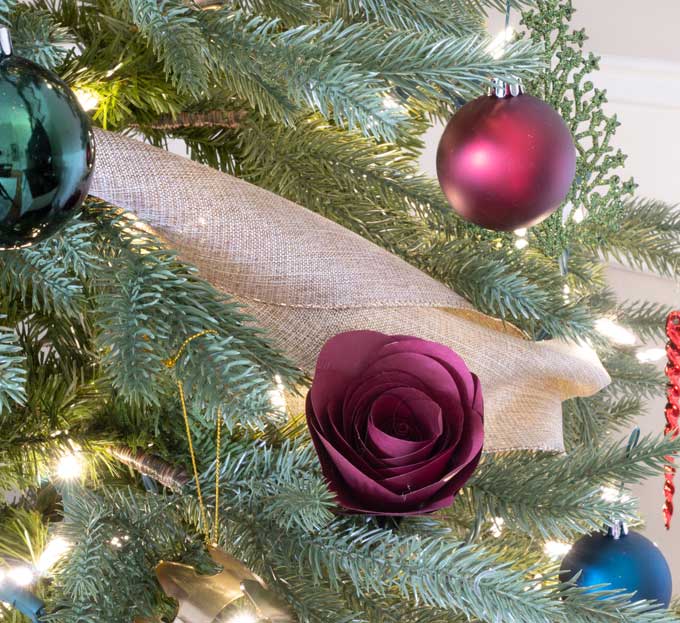 These pretty clip on paper roses might be my favorite part of this tree, they are so pretty!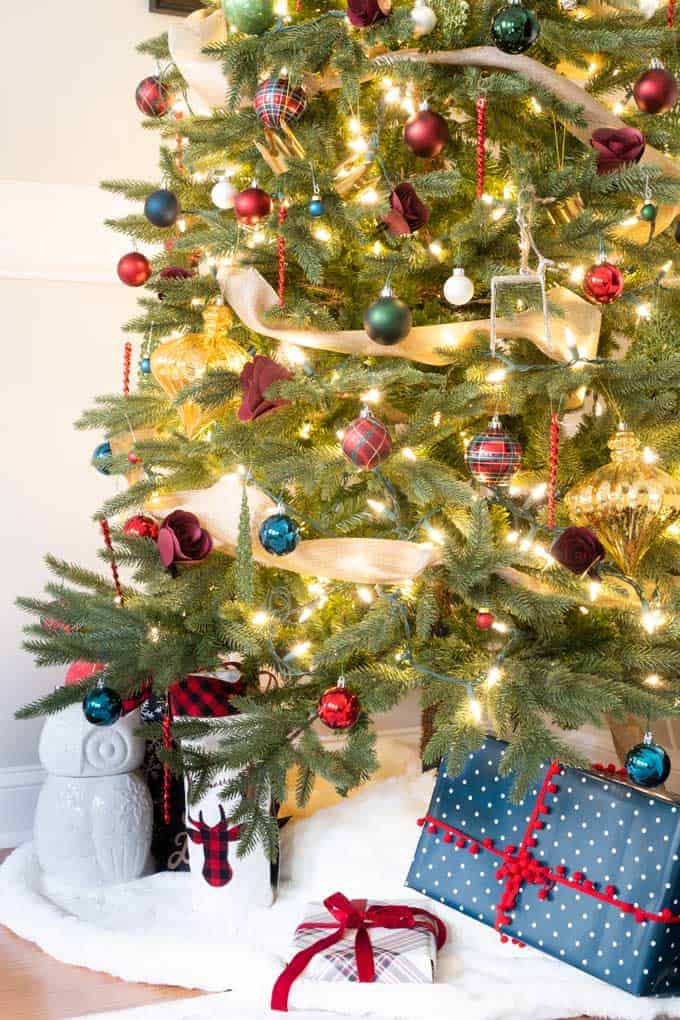 I love that the navy on the tree let me leave my navy pillows on the couch too. And really, who doesn't love a good plaid?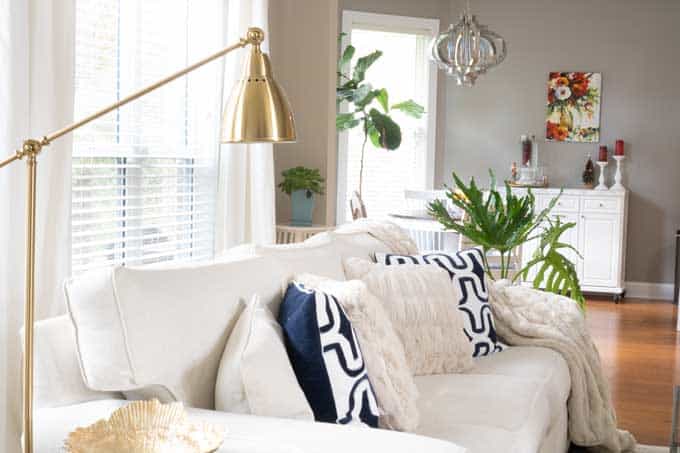 I don't do much decorating in the kitchen ut I did set up a drink station in the eat in kitchen area. I love infused waters and it helps me to drink more water during the day if I have some on hand. I froze cranberries for this one and it kep the water nice and cold!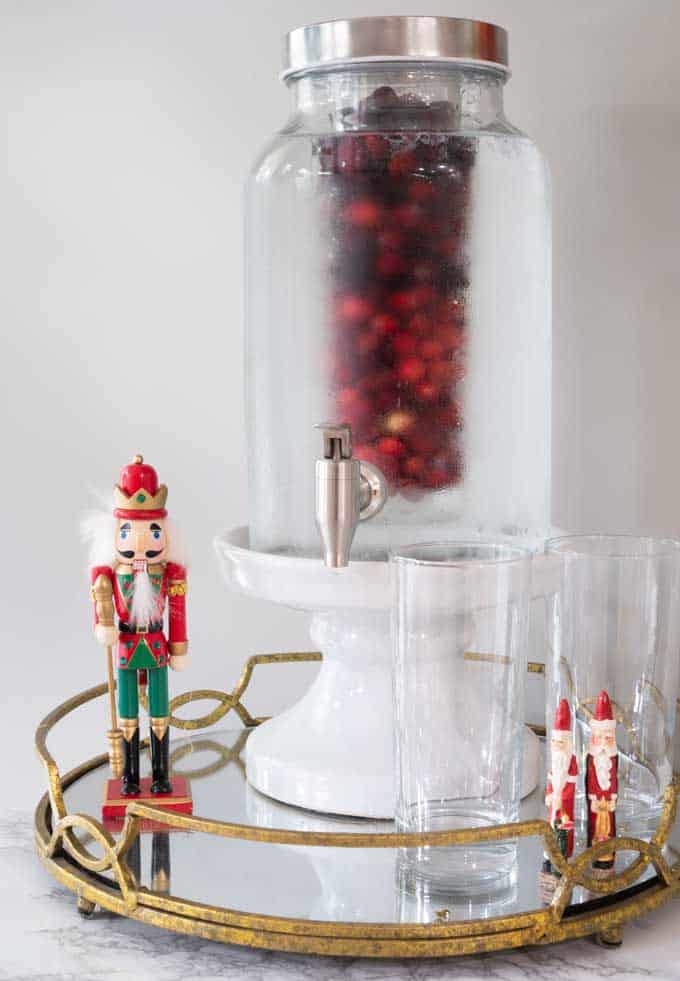 The drink dispenser and stand are also a recent Pottery Barn purchase, and are on sale if you're looking for one!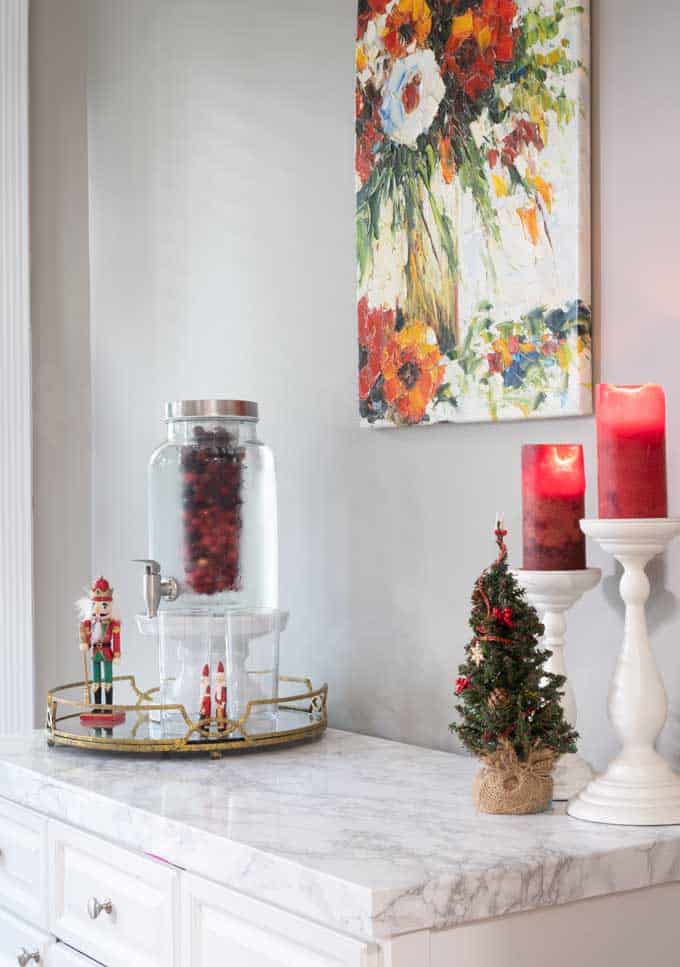 That little tree is one I sent my husband when we were newly married and he was in Afghanistan that Christmas. It makes me think of how many servicemembers are separated from their families every time I see it, something I think it's important to remember all year but especially around the holidays. Oh, and that "marble" top is actually contact paper you might remember from this tutorial.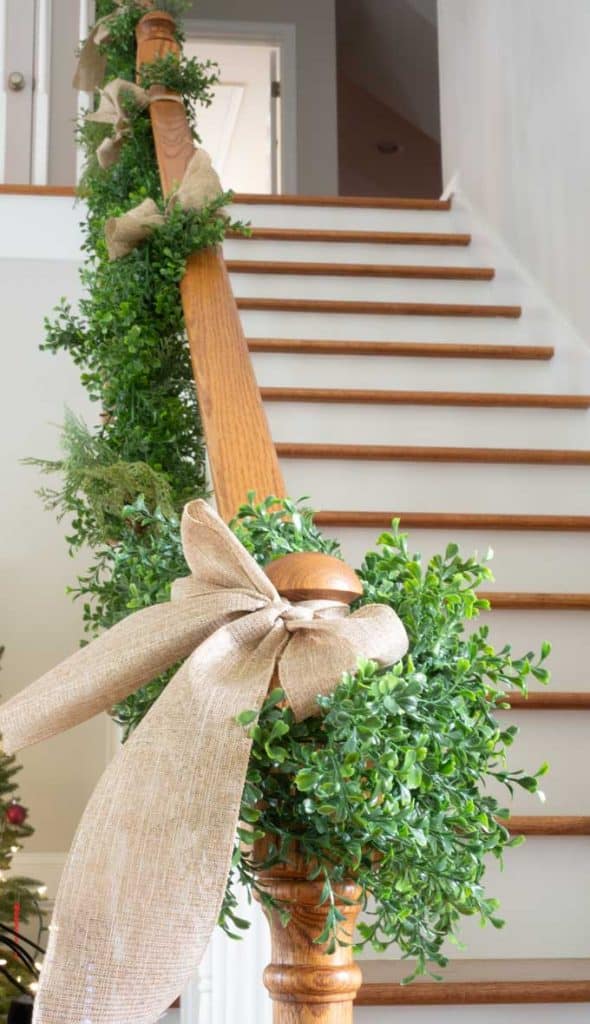 Finally some faux boxwood and pretty ribbon on the banister finish off the decorating. This year's decor took me a little longer than normal to get just right but I'm very pleased with it now.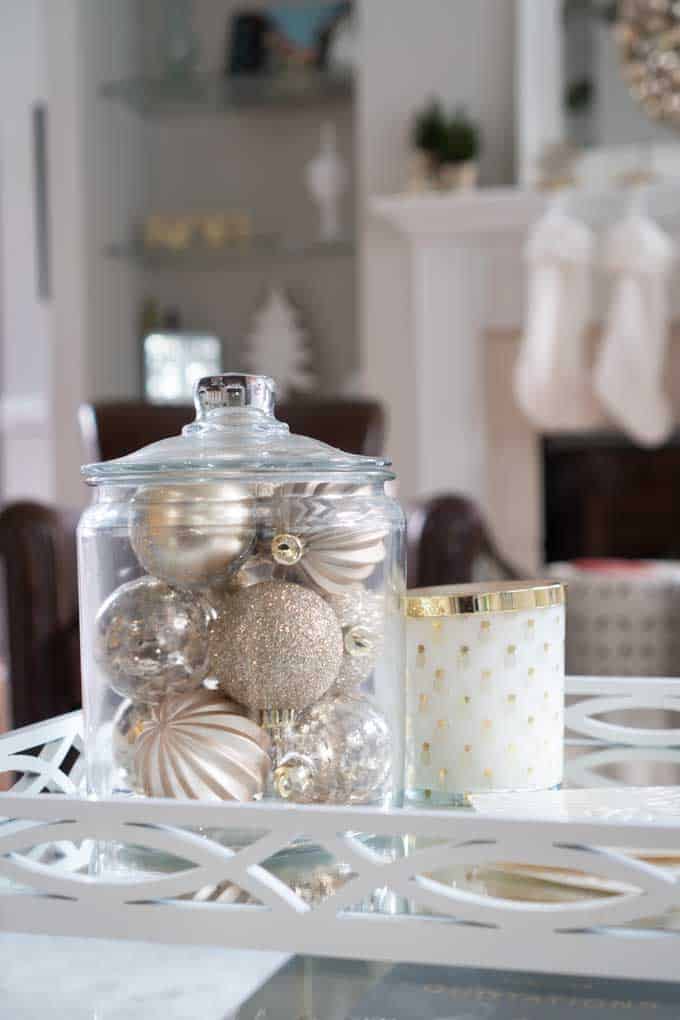 Have you started your decorating yet?
To see Christmas decor I've shared in the past check out these blog posts:
2017 Traditional Christmas Decor
2016 No tour-we were living in England and traveled to Scotland for the holiday