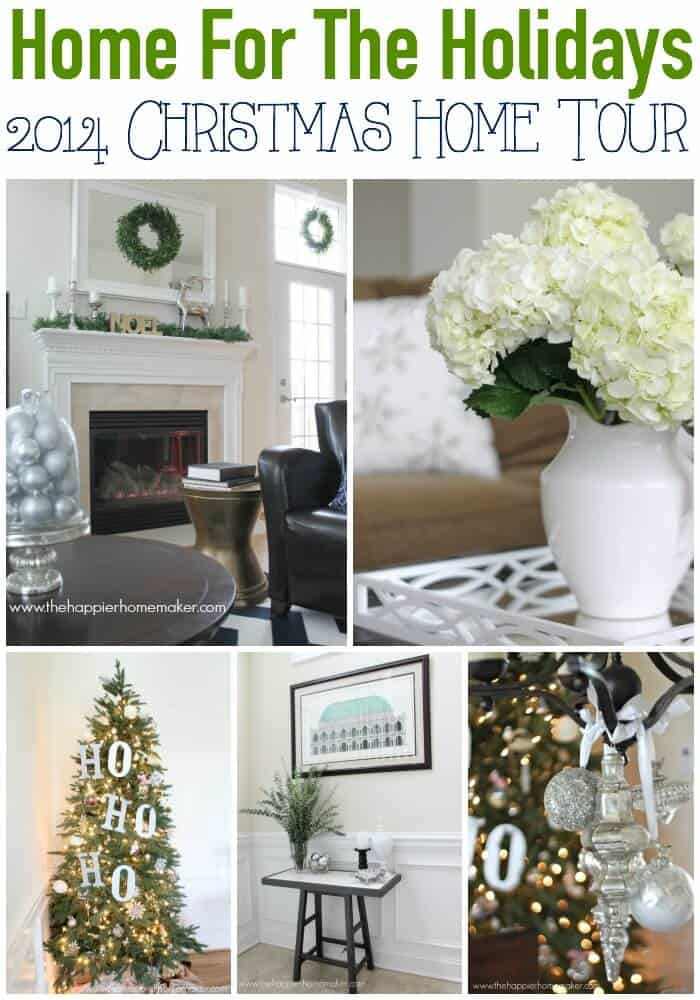 I've been so excited to share the Christmas Home Tour this year on the Home for the Holidays Blog Tour (scroll to the bottom for the complete lineup-you won't want to miss the amazing blogs I'm lucky enough to join with this week!) We've made a lot of changes to the house since our last home tour-moving a lot of furniture around and rearranging to adjust to our new space as we get comfortable here (can you believe it's already been 6 months since we moved?)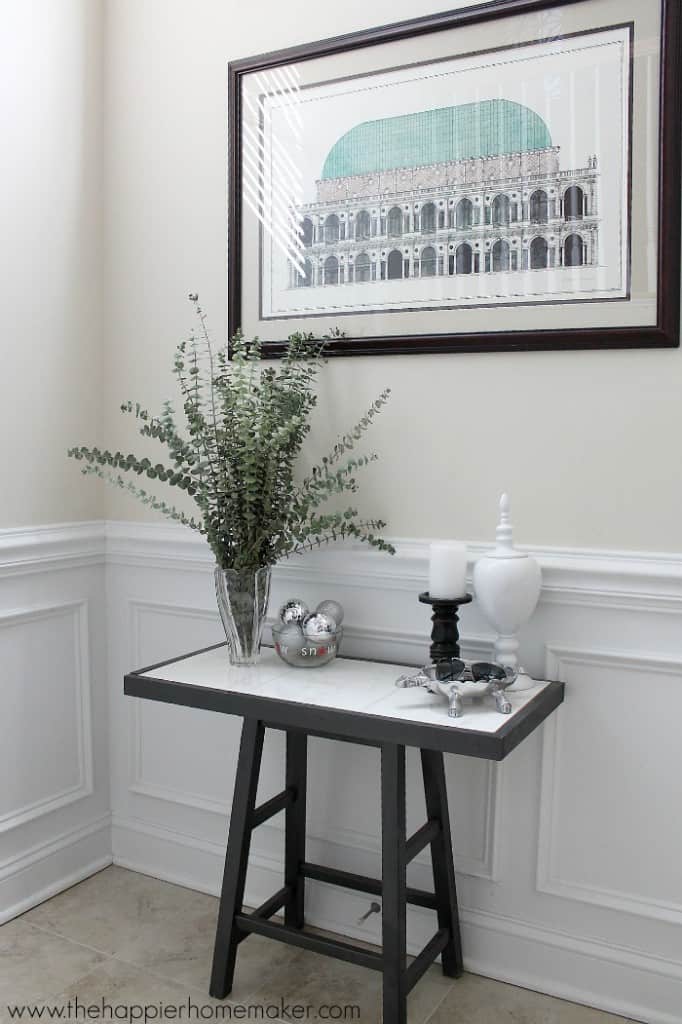 This year's decor is decidedly understated-I've stuck with my simple, clean, and neutral aesthetic, as you can see as soon as you come in the house at the entryway. Some fresh eucalyptus and small bowl of ornaments are the only holiday touches I added to our barstool-turned-table.
Up the stairs and into the main living room and if you remember the previous home tour-you can see quickly that we put our old sectional back in this space-albiet without the chaise lounge which would not fit. (See the full sectional in last year's holiday home tour at our old home.)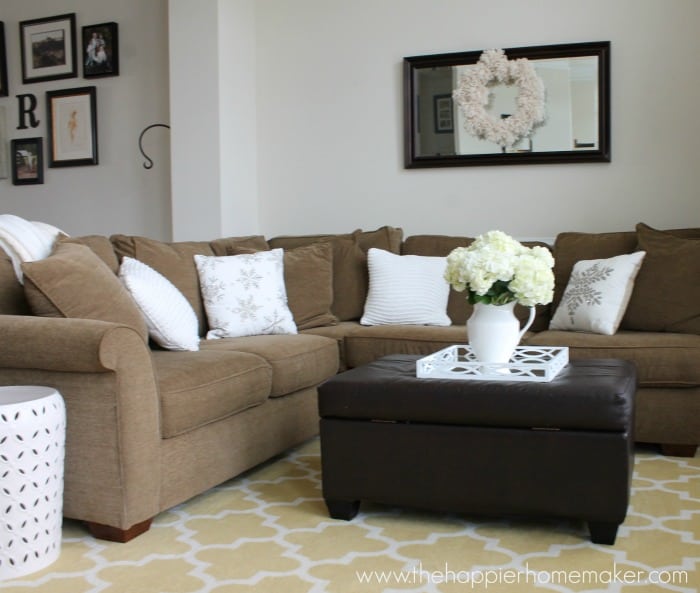 I picked up the crocheted and sequin snowflake pillows at Target recently, and of course I love my white hydrangea bouquets-I've noticed that over the years they have become my favorite arrangement to have around the house.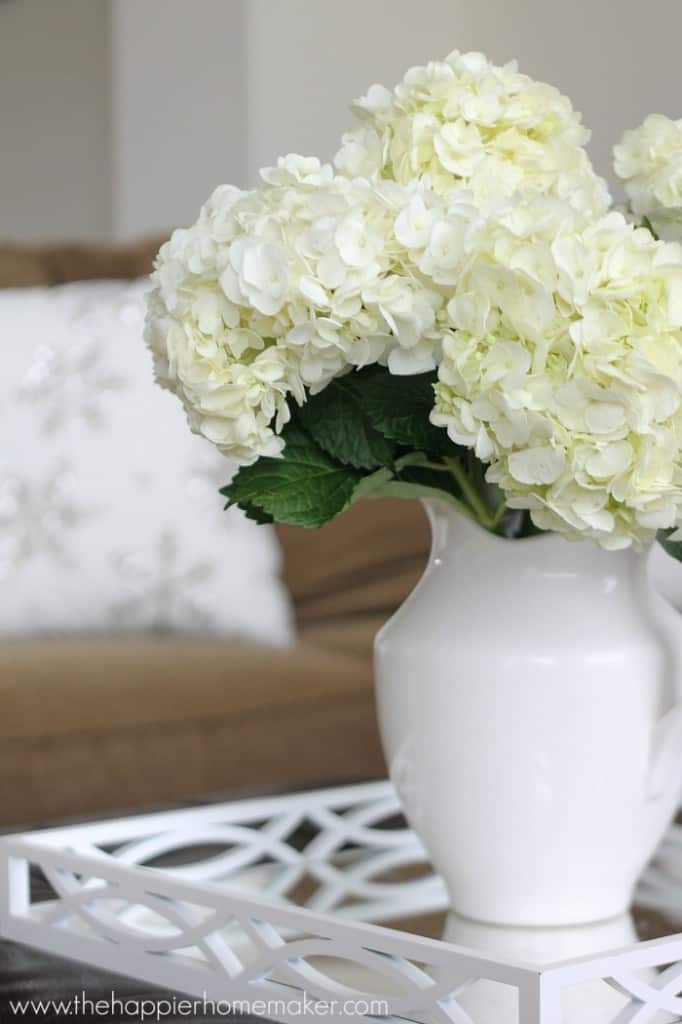 Can I show you one of my favorite things? I bought this throw blanket at Target last month and I LOVE it-one side is cable knit and the other side is fleece-it's laying on my lap as I type this post right now-so cozy for chilly nights!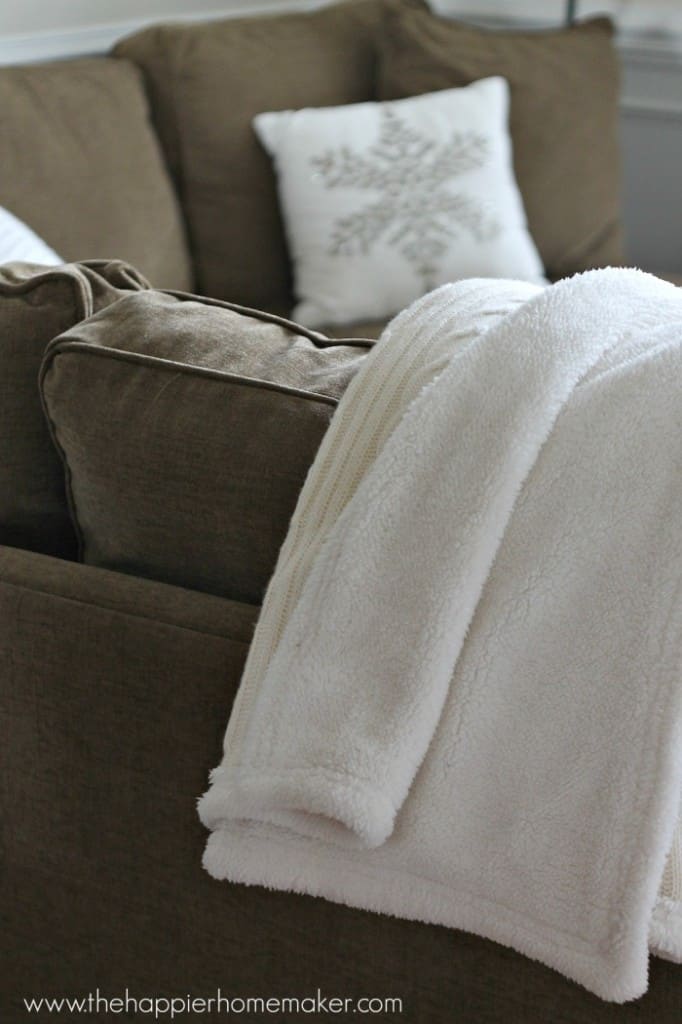 We're a little tighter on space in this home so the only place for the Christmas tree to logically fit was in a corner of the dining room just off the living room.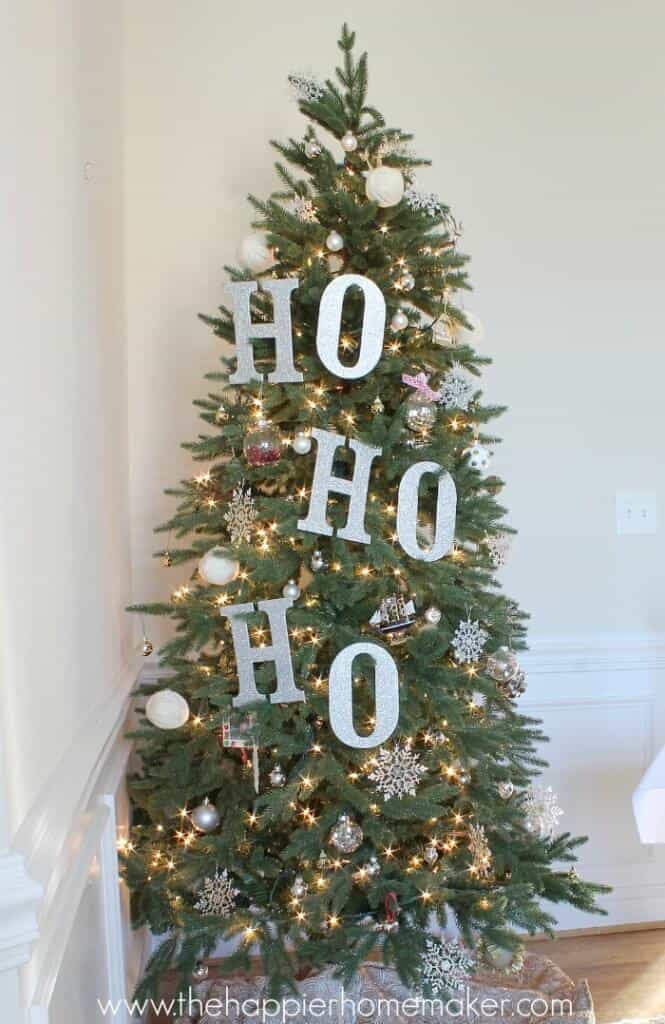 With the 12 Days of Christmas Ornaments I participated in with 11 other bloggers (that's 144 ornament ideas by the way!) I had plenty to decorate the tree this year! You can see all of my DIY ornaments from this year and years past here. The "Ho, Ho, Ho" letters were a purchase from years ago that I found in a bottom of a box...my boys liked when I tried them out on the tree so there they will stay!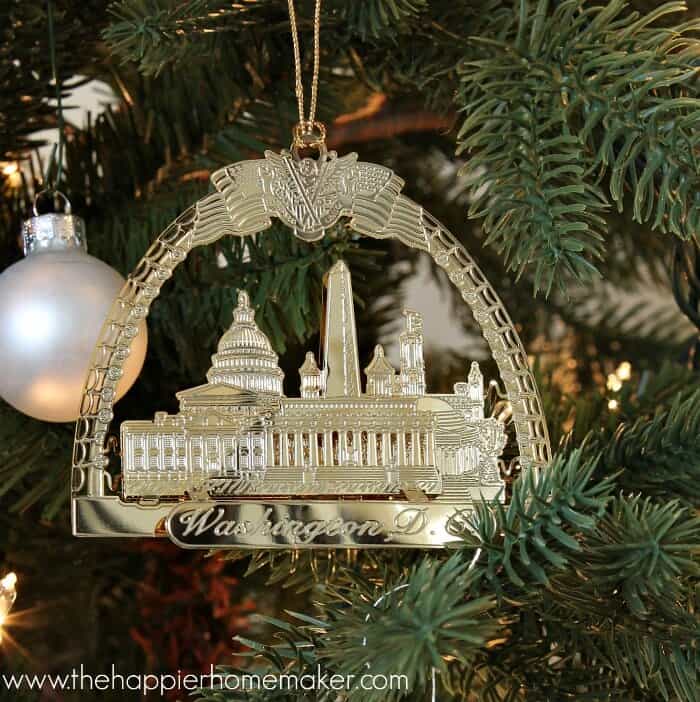 In addition to our homemade ornaments our family has a fun tradition of picking up ornaments from all the places we live and travel over the years-my husband and I started when we were newly married and living in Europe. This is the first year this Washington DC ornament will grace our tree-we bought it when we first came to the area this year!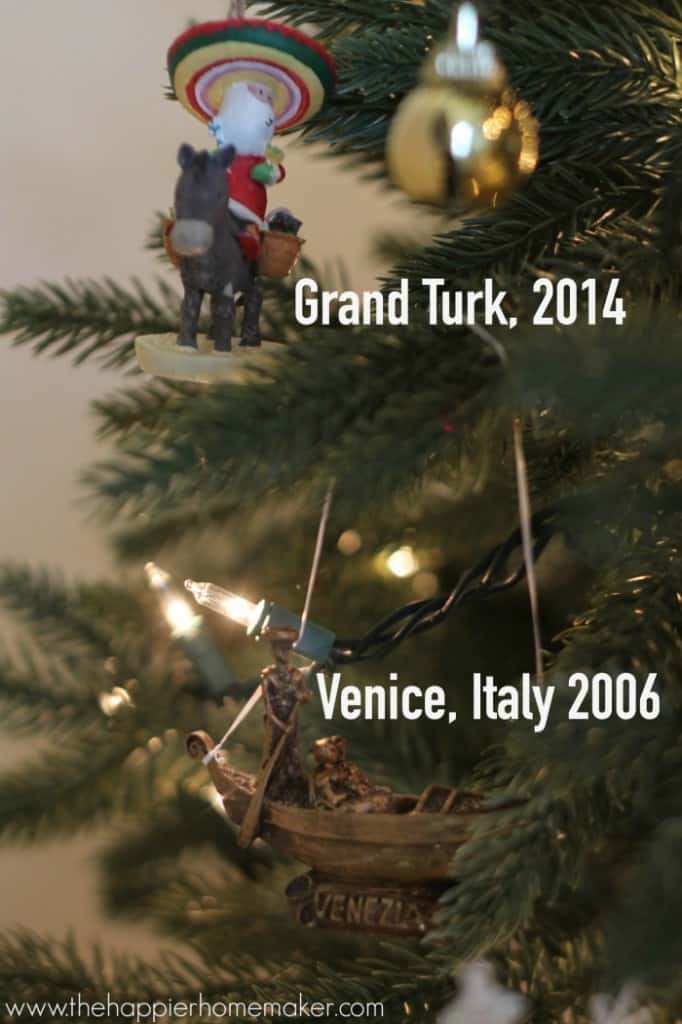 The Venice ornament was the first one my husband and I bought together-he was stationed in Vicenza, Italy when we met and got married. The one above that is one we picked up on a cruise earlier this year visiting Grand Turk-there were wild donkeys roaming about all over the island so this Santa on a donkey makes me smile!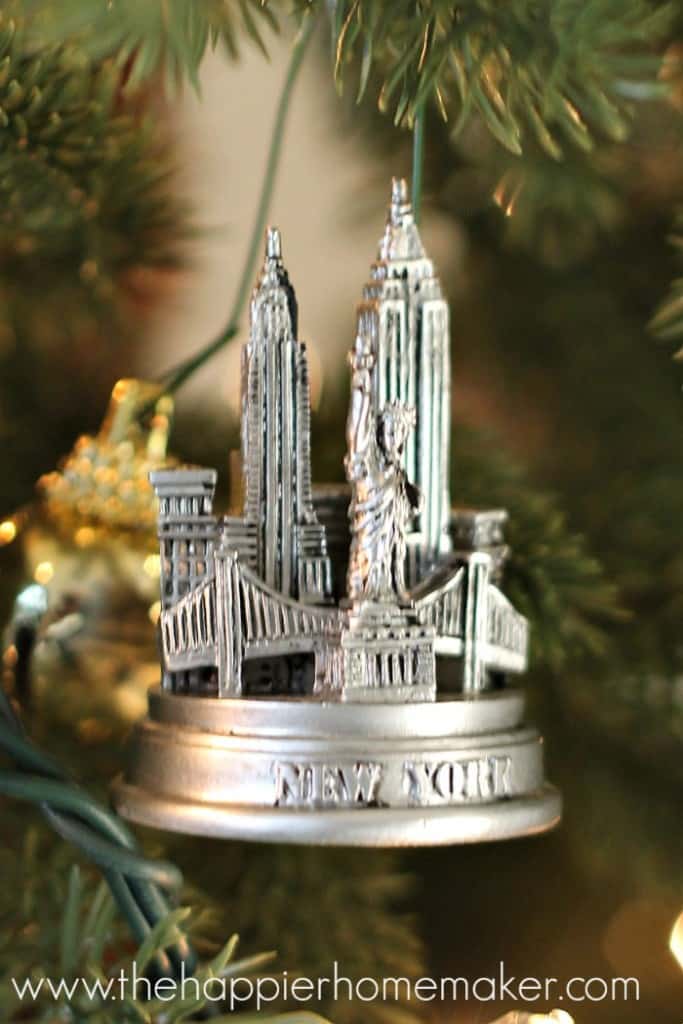 I love this ornament too...in the summer of 2013 my little blog here had grown enough that I was able to afford to surprise my husband with a trip to New York City-his first time visiting. It was amazing!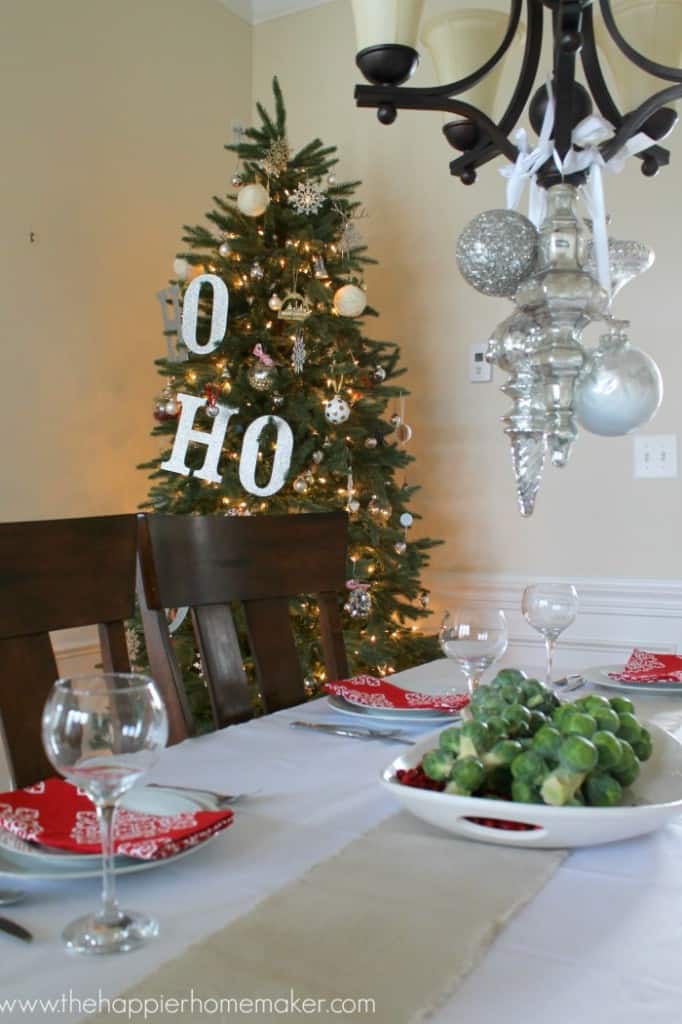 It's a little odd having the tree in the dining room but it's nice to be able to see it while we eat and still see it from the living room as well. Do you like my brussel spout and cranberry centerpiece? I saw the brussel sprouts at Trader Joe's when I was buying flowers last week and loved that they were on the stalk-I don't care for eating them much but my husband does so I used that as an excuse to buy them!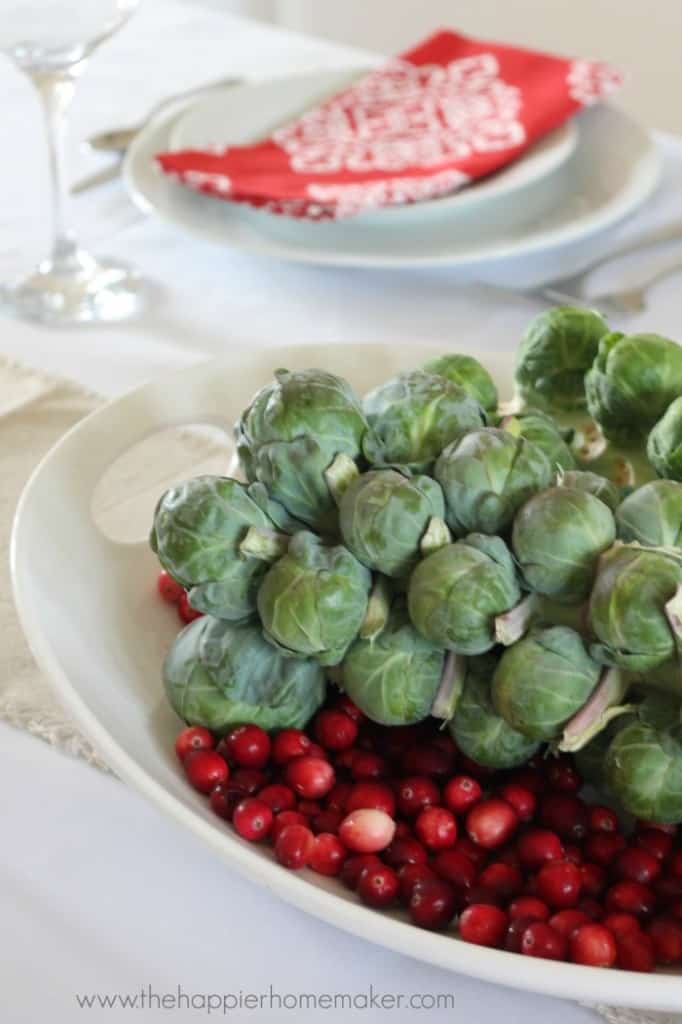 They are so pretty-who knew?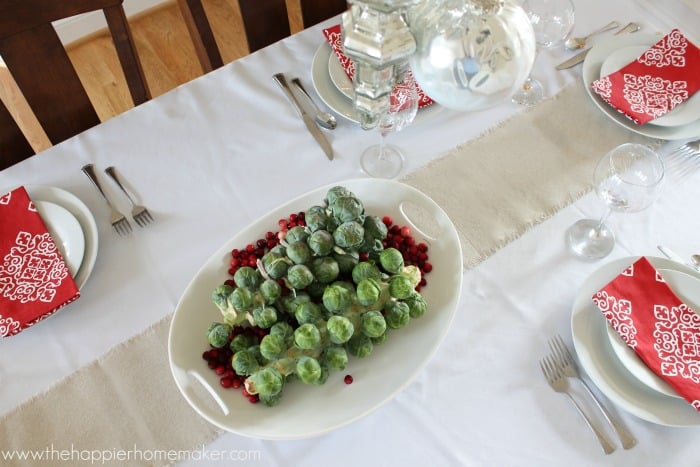 Those pretty red napkins were a find at Homegoods recently-we always use cloth napkins and I'm a bit of a hoarder of them-I love picking up new designs...I excuse it by the savings I keep from not buying paper napkins!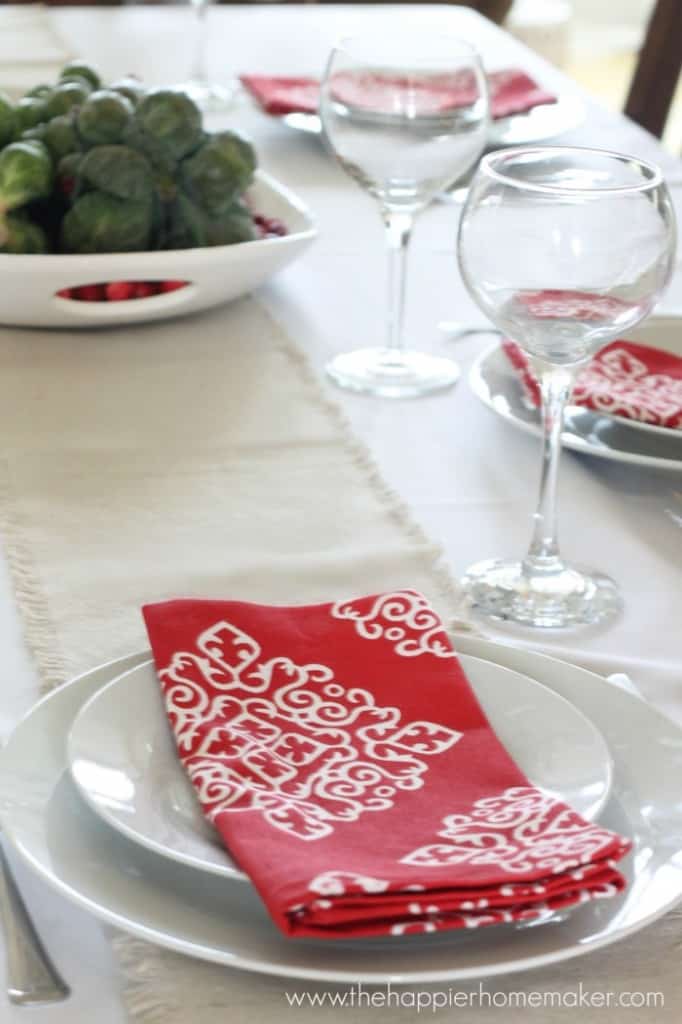 Did you see the ornaments hung from the chandelier? This is one of my favorite things I've done with the decor this year...I think it's lovely.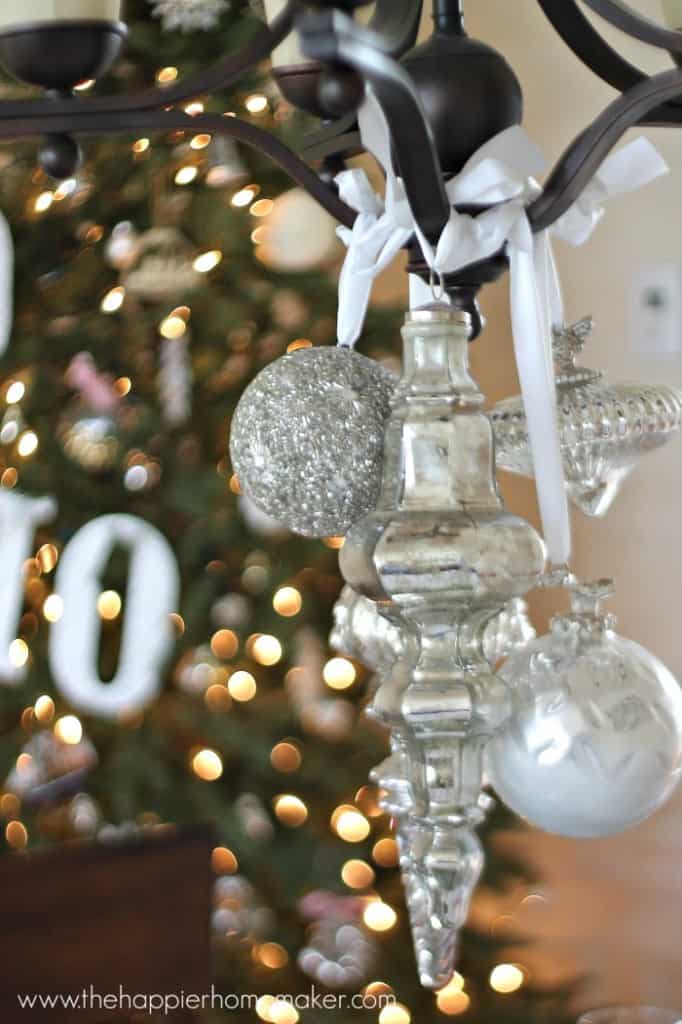 The ornaments were another Homegoods find as well...it's been nice living near a Homegoods since our move in May!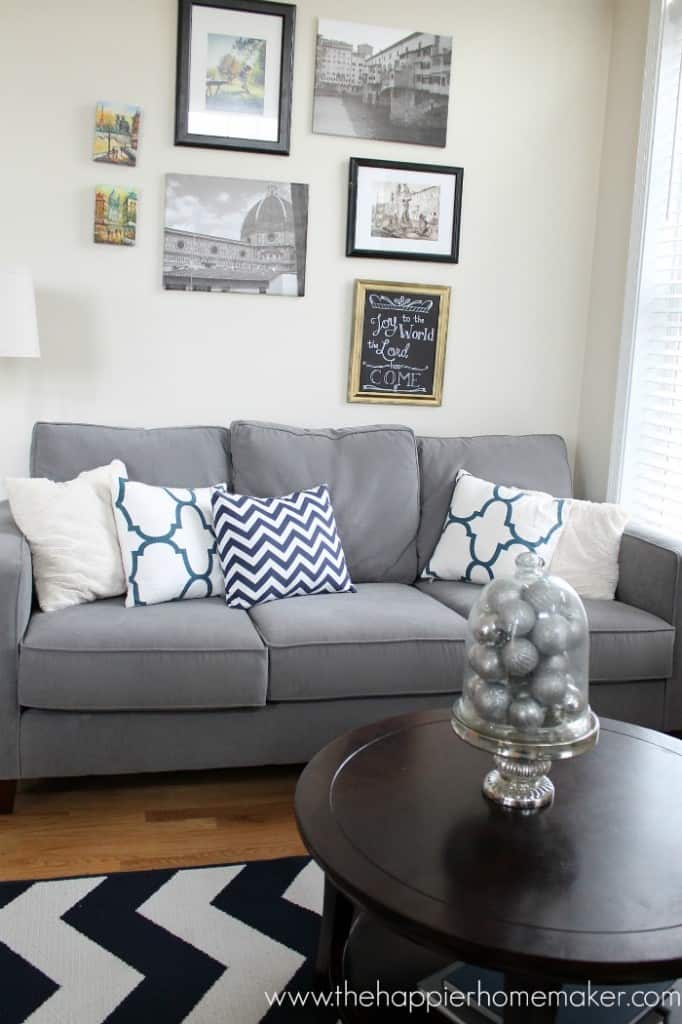 The couch that we originally put in the living room is now in the family room along with the chevron rug that used to reside on the back porch. I added my faux chalkboard art from years past to the gallery wall and added a cloche of ornaments to the coffee table-I love that my youngest is now old enough to not mess with anything I put within his reach!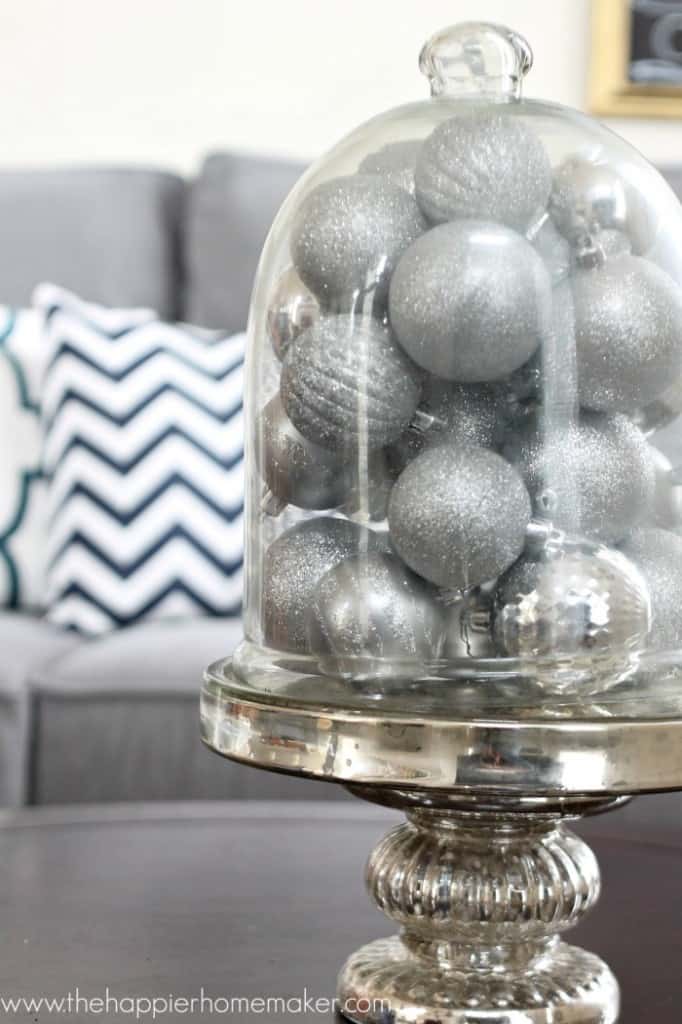 The other side of this room has the fireplace and Christmas mantel that I had shared with you a couple of weeks ago.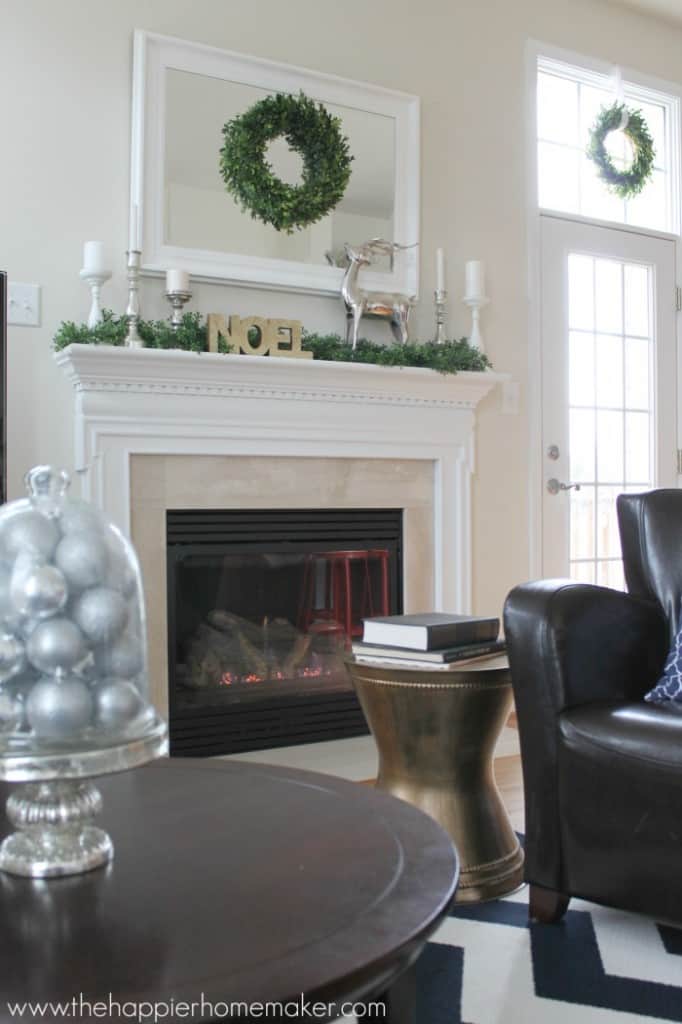 And to wrap up what may be my longest post ever-one more area of the house...the stairwell made me happy this year in that I had a banister for the first time to add some faux boxwood to!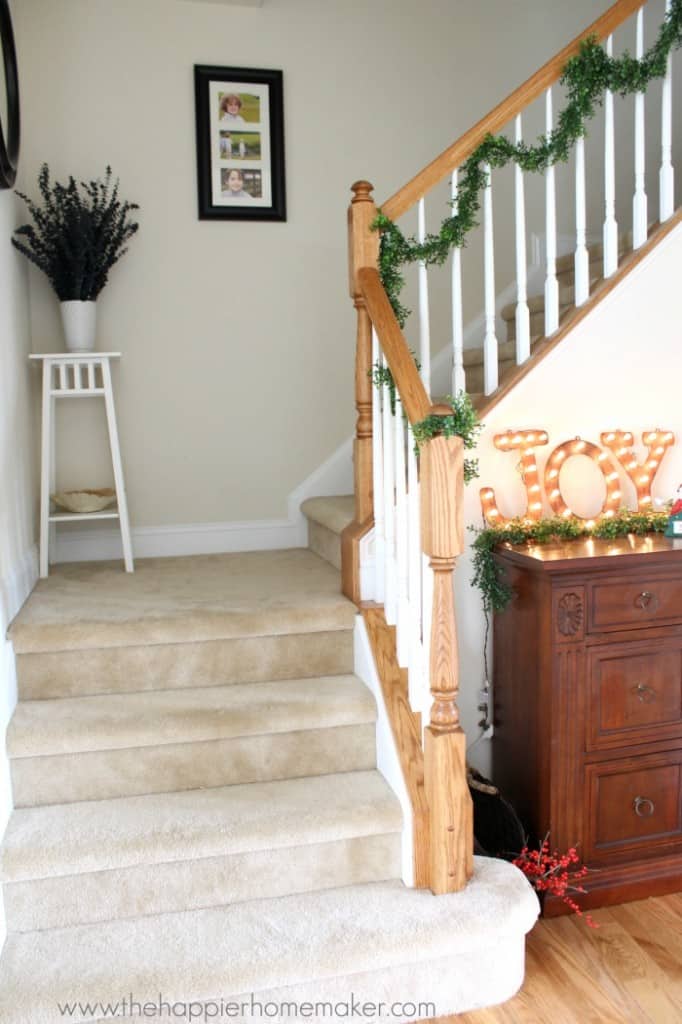 Aren't those marquee letters cute-another Target find recently!
Wow! I commend you if you stuck with me that long! I hope you enjoyed the tour!