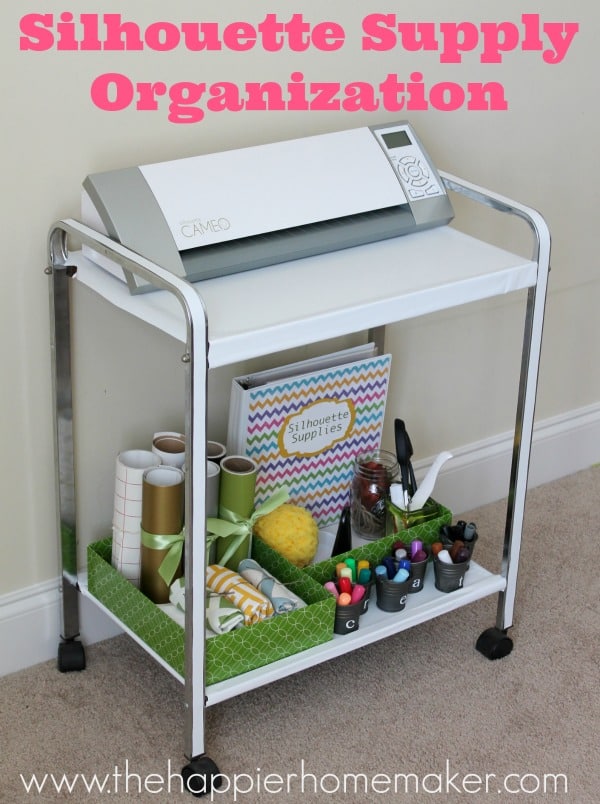 Hey there party people! Did you see my post Saturday about the Silhouette sale going on right now? You can save 30% on most supplies with the code HAPPIER.  You can probably tell that I am loving every minute of being a new Silhouette owner right? I'm a woman obsessed I tell you!  So obsessed I joined a Silhouette Challenge Facebook group to help inspire me and this month's challenge was an organizing project.  What better thing to organize with my new Silhouette than all those new Silhouette supplies I had crowding up my desk?
When I first brought my Silhouette Cameo home to my craft room I put it on my desk, but my desk floats in the middle of the room and along with all the supplies I had stocked up on at the last sale I was barely able to use my desk at all.  Then I found a super cheap rolling cart at my local thrift shop and I knew I had found the solution to my cluttered craft area!
While it wasn't the prettiest thing in the world I knew a little paint could spruce it up.  Unfortunately you can't spray paint during an Artic Freeze so I did the next best thing in the meantime-I gave it a contact paper makeover (remember my old contact paper decorated desk?)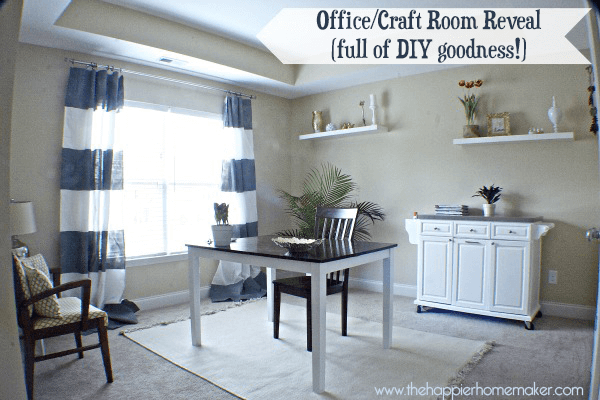 Once that dark veneer was covered the cart looked a thousand times better and matched my rolling kitchen island I also use in my craft area.  My Silhouette machine fits exactly on the top of the cart and I can roll it around if I need it at my desk or leave it against the wall when it's not in use.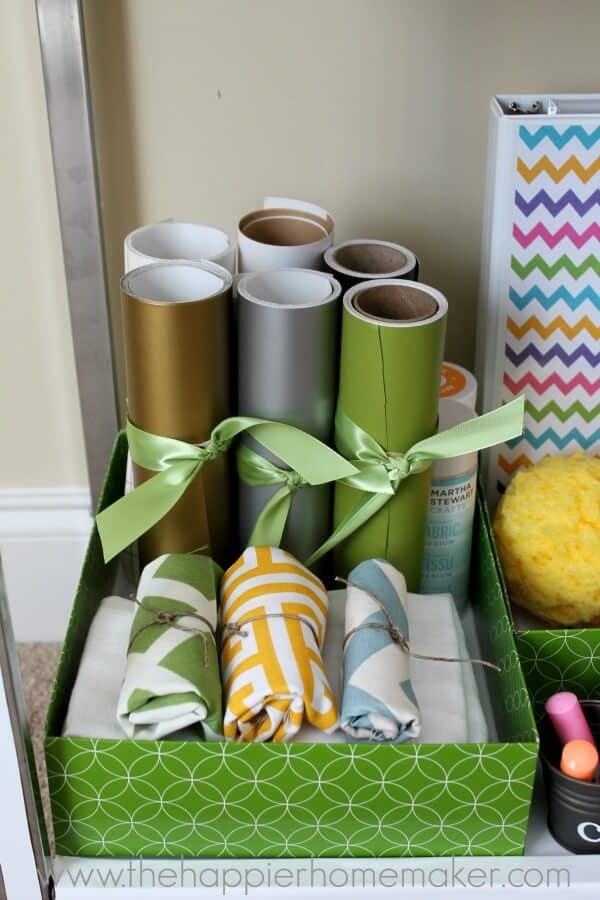 On the lower shelf of the cart I wanted to organize my new supplies in a pretty way but also functional-I'm one of those people that needs to see my "stuff" in order to get inspired to use it!  I used the box my fabric ink starter kit came in to hold many of my supplies-it already had such a pretty and cheerful design on it!  The box on the left holds my vinyl and transfer paper (tied up with a pretty ribbon to cover the rubberbands of course!) It also holds some fabric scraps I'm going to be using in an upcoming project as well as some fabric medium and fabric decoupage medium I recently bought.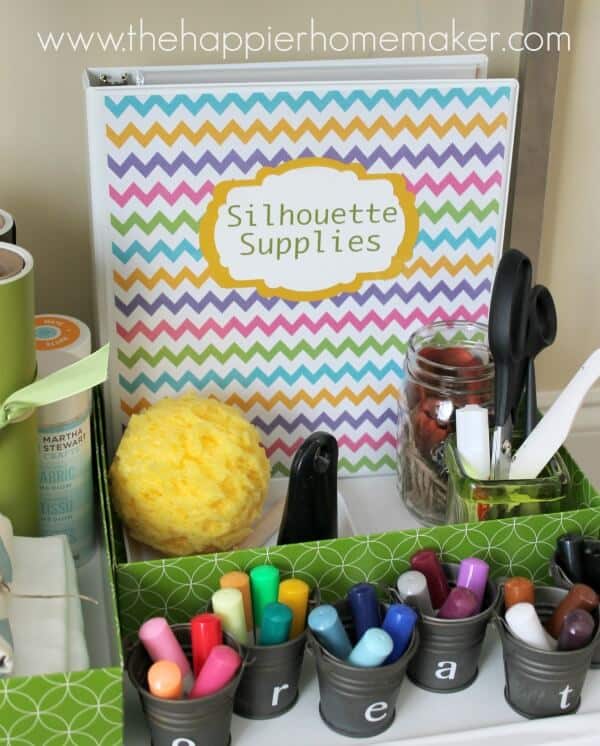 The box on the right holds the my fabric ink supplies, Some ribbon and twine in a mason jar and my necessary tools-hook, bone folder, scissors, etc.  I also whipped up this great binder as a solution to a lot of my clutter.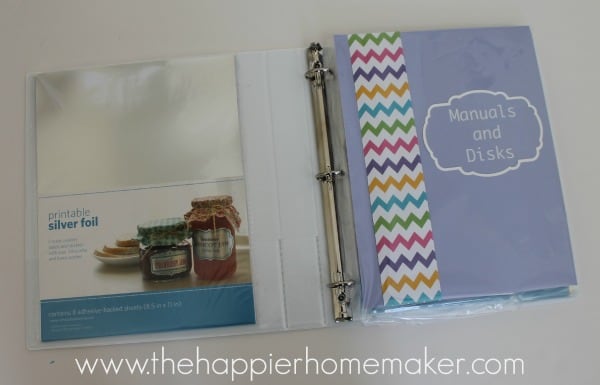 Inside the binder I have my printable foils in the pockets.  I used a plastic pocket to store all of my Silhouette manuals and the CDs that came with various things I've purchased.
Another plastic pocket contains my fabric interfacing and some other materials I plan on using in upcoming projects.  Pretty cool huh?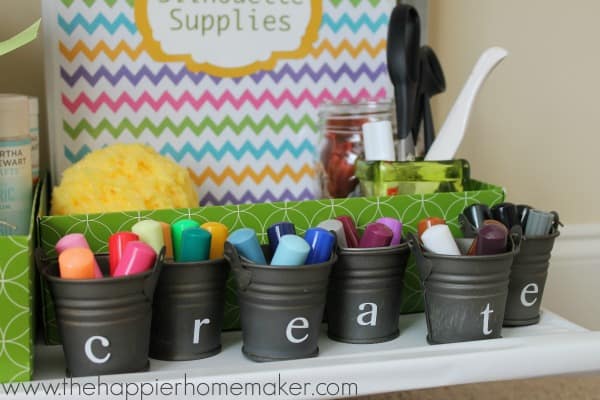 Probably my favorite thing though are these cute miniature buckets I'm using to store my sketch pens and spare blades.  It was so fast to cut out the "create" letters and stick them on there and it inspires me every time I catch a glimpse!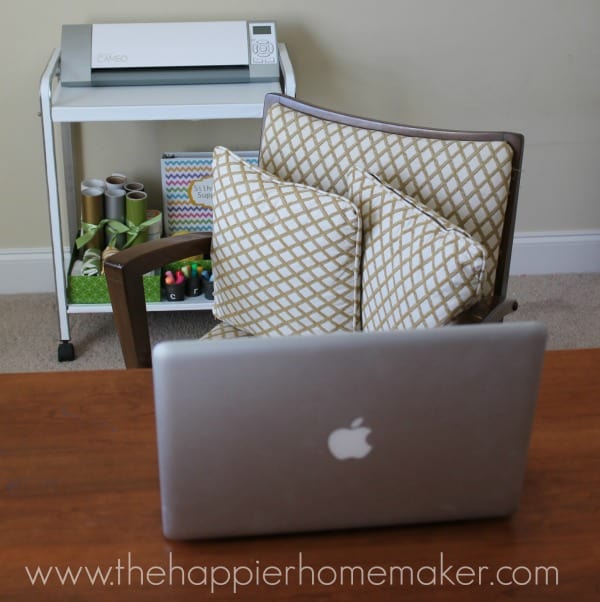 I'm beyond excited to have this awesome new tool in my crafting arsenal and now have it be super easy to work with because everything is organized and accessible!