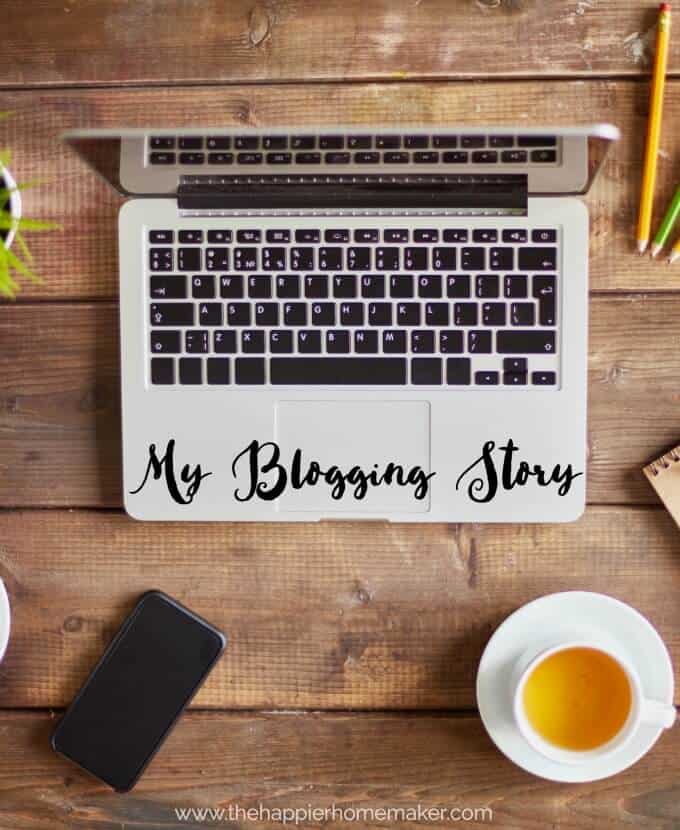 I'm not sure why really, but I've been wanting to share lately the path I've taken to get to this point of being what I consider a "professional" blogger.  I also recognize that in the big picture of the blogging world I don't share very much about myself personally compared to others.  Part of that is keeping the privacy of myself and my family,  and for safety reasons.  Part of it is also that I'm a pretty big introvert as well so it feels odd to "talk" about myself.  And then I also think that the vast majority of you arrive here for a reason-looking for a recipe, a DIY tutorial, decor inspiration, etc.
That being said, I think it's nice to have a concept of who is behind the blog posts you read and of course there is the curiosity that blogging for a full time income seems to evoke since it's a rare and new profession! Blogging for income was nothing I intended when I started my first blog seven years ago, or even when I started The Happier Homemaker in 2011. Regardless this blog has really changed my life in ways big and small and has been such a blessing to our family! Here is how I got there....
What's a Blog?
Way back in the olden' days of 2008 I was a new-ish military spouse and new mother when my husband and I moved to a remote Army Ranger camp in Florida. Like 17  miles out in the middle of the woods with just a handful of neighbors remote!
Our oldest son was only 5 months old when we moved and we were far from family so at the time I was emailing pictures to eager grandparents to share his rapid growth and milestones.  My neighbor recommended that I start a blog to share pictures and I had no idea what that was.  She showed me hers, a free blog on Blogger, and helped me figure out how to set up my own.  It was a great way to share our day to day life with family and friends and many of my friends soon had blogs of their own as well, however slowly Facebook became the preferred way to keep up with everyone and that blog fell by the wayside.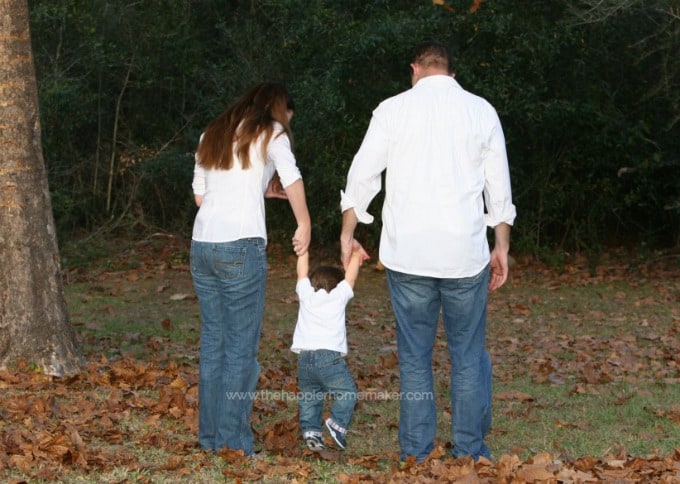 Charity and Craftiness
After my second son was born just 17 months after our first I was deep in the trenches of motherhood! We had been married 3 years and had "2 under 2" and despite having about zero free time I had a craving for a hobby.  I was watching The Martha Stewart show one day near the holidays (with one baby nursing and the other playing on the floor!) and I saw a segment showing heat embossing Christmas cards with stamps.  I was mesmerized and stocked up on stamping supplies so I could make my own, you know, since I had so much time on my hands! I joined a popular multi-level marketing stamping company and I also started contributing to a charity that made cards for the elderly in nursing homes. In time I sat on their board of directors and coordinated contributions to VA facilities and other military seniors.
Somewhere in all that time we moved from Florida to Kansas (hello climate change!) and I started a second blog, this one called "The Saucy Stamper" and showing off my stamping creations.  It was a fun hobby for me that I could do during my boy's nap time and I really enjoyed having a creative outlet. I never made a lick of money off the stamping company though-I'm not a good salesperson at all-but I did enjoy myself and even came in as a runner up in a national stamping and scrapbooking competition! (That blog is still up but I haven't maintained it in years!)
Another Move, Another Baby
We only lived in Kansas a year and then we were off to North Carolina. The charity I worked with disbanded and we got the news that my husband would be deploying to Iraq for 12 months.  I had been desperately praying and trying for a third baby for a year and it just wasn't happening...each month was another disappointment and with the deployment looming my husband and I decided that if we didn't get pregnant before he left we would stop trying-we didn't want a huge gap between children as our first two are so close together.  He was scheduled to leave the first week of January so we planned a family trip to Disneyworld in mid-December.  Two days before we left I found out I was pregnant which was fantastic-it also meant I was exhausted and nauseous our entire trip! Despite how happy I was to complete our family with a third baby I was secretly wondering inside how in the world I was going to manage a year alone, pregnant, with a two and four year old and no local family.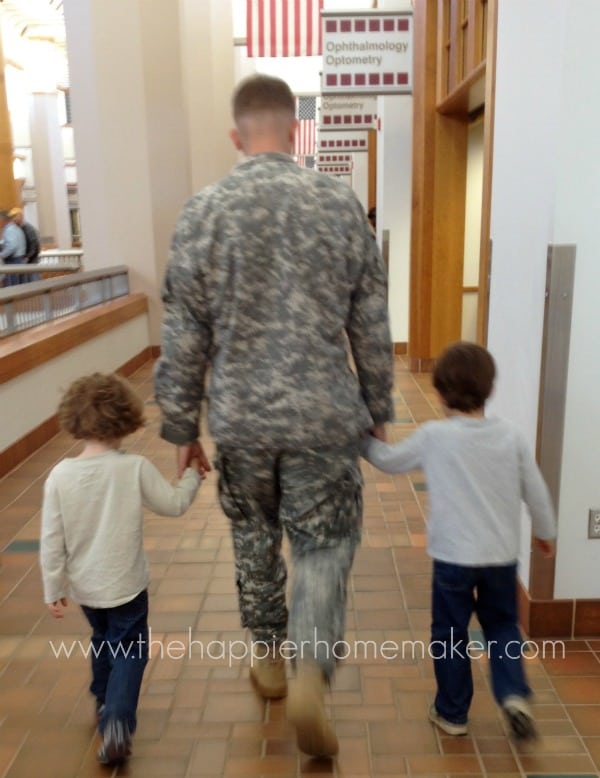 I was seven weeks pregnant when my husband left.  It was hard.  I can't even type this up without the feelings of that early morning welling up in my throat and my eyes watering.  We had been through deployments before but not since having our boys.  My husband was heartbroken to leave his children and I was heartbroken to see him go, knowing I wouldn't see him again until close to our due date when he'd be home on leave. But as we military wives know, you can't dwell on the sadness, you have to put on your big girl panties and take care of your family.  So that's what I did.
Another Blog
About three months into the deployment I was getting a little stir crazy.  Many days I didn't talk to anyone but my toddler and preschooler and I needed an outlet.  A friend has sent me a project she thought I would like on the Tatertots & Jello blog and I started delving into the world of DIY and lifestyle blogs in the evenings after my boys were in bed.
In April of 2011 I started this blog, The Happier Homemaker, so I could have my own little piece of the blogging world. I called it The Happier Homemaker because I was just that-a very happy homemaker-I loved everything about caring for my home and being a stay at home mom! When the blog first started I shared mostly homemaking thoughts and rambles, a few very poorly photographed (but tasty) recipes, and lots of the things I was doing on a day to day basis-activities the kids and I did, little craft projects, etc.  Much like my first family blog it was on the free Blogger platform and served as more of a diary and way to share with family. (I've since made some of those posts private as they shared family details and pictures of my children I felt uncomfortable with having out there once the blog "grew up!")
Baby Time
My older two boys had both been born via C-section so we knew well in advance when our third would be born and were able to arrange for my husband to arrive home for his two weeks of leave five days before the delivery date.  Or so we thought.  The week before my C-section date my Braxton Hicks contractions started to get really painful.  I went to my doctor where they assured me they were nothing to be concerned about.  My oldest was breech so I had never actually felt labor pains with either of my first two pregnancies so I had no idea what they were supposed to feel like.  Despite being told they were not labor contractions I really felt in my gut that something was going on.  I spent most of that Wednesday on the phone with a friend who lived about 30 minutes away and had offered to take my boys in case I needed to go into the hospital.  My husband had just left Iraq on a plane bound for Kuwait to start the process of getting home.
At two in the morning I just knew I needed to go to the hospital-I didn't want to end up on one of those shows where the lady has a baby in her bathroom! The pain was so intense I knew it couldn't be false labor.  I packed my sleepy preschoolers and drove thirty minutes to my friend's house to drop them off, then drove myself another twenty minutes to the hospital.  They hooked me to the monitors and sure enough, some fearsome contractions were in effect.  Ohmygoodness that stuff hurt-you natural birth mamas have my utmost respect!! I knew the dangers of labor after two C-sections (and I had some other medical risk factors) and I was pretty scared and being by myself wasn't helping.  I actually burst into tears when my doctor arrived I was so happy to have someone I knew there with me! Luckily I was in a military hospital that was used to these situations so they were awesome!
By this time my husband had arrived in Kuwait and was really stressing out that I was in the hospital and it was clear that baby was going to be born before he got home.
To be continued tomorrow....