Update dated 90s paint with more modern grays like Sherwin Williams Agreeable Gray and Dorian Gray!
When we purchased our home in 2017 and knew we would immediately need to have it painted. The entire house was painted in very dated colors like lime green and dark red.
Can you imagine trying to make that color palette work? Because we were moving from overseas and wouldn't receive our furniture for weeks we took the plunge and hired a painter to come in and give the entire house a paint overhaul.
While he was at it, we also asked him to get rid of the dated TV alcove over the fireplace (do they even make square televisions anymore??)
Originally we had planned on painting the entire house agreeable gray but our painter suggested doing the bedroom and kitchen/eat in dining area slightly different shades to give the house more dimension. We took his advice and were very happy with the results!
Does the living room look like a different place without the lime green and red??
The dining room was a very dark brown color. (The drapes came with the house as well.)
So much better!
The master bedroom was a burnt orange color.
It looked much more serene after painting. And yes, that's an air mattress, that's what we get to sleep on for two months every time the Army moves us overseas and back!
The master bath was the same orange color.
It looked much better after the paint!
The upstairs bonus room had the same dark paint as the dining room. It made the room look very closed in and dark.
The agreeable gray paint really opened up the room.
Probably the biggest transformation was the kitchen area.
I'm in love with how much the paint made a difference in the home. Here's a picture of the eat-in kitchen area after our furniture made its way to us form England!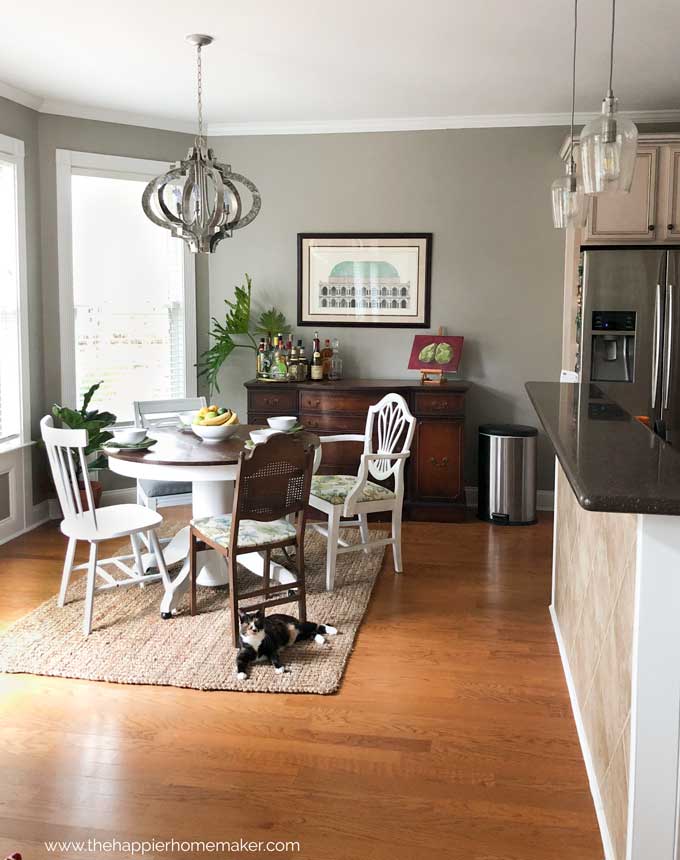 We'll have a full home tour coming soon, thanks for stopping by!