Updated for the 2023-2024 school year! Taking first day of school pictures is a back to school tradition! These free first day of school printable signs are the perfect way to capture back to school memories. (With matching last day of school signs for the end of the year!)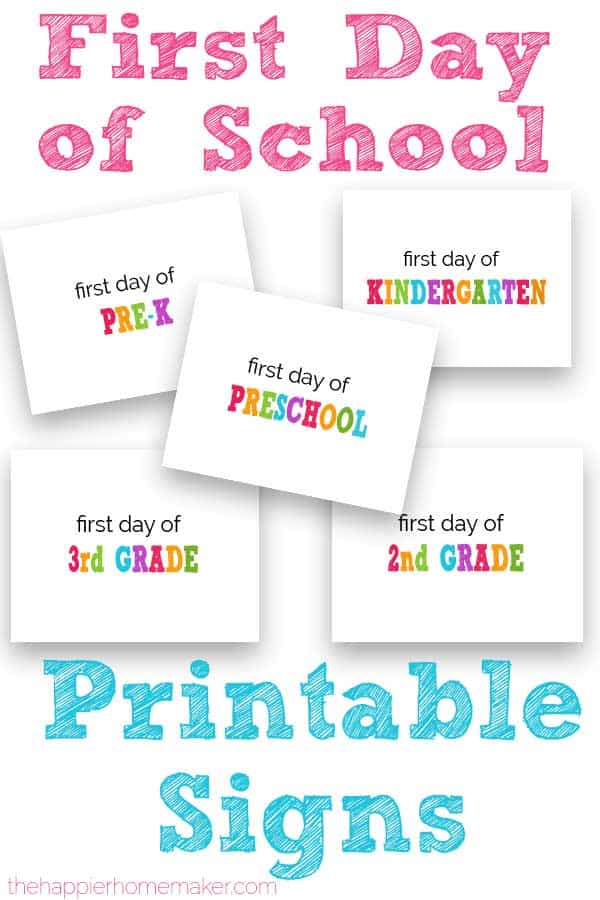 It's crazy, right? Back to school time is just around the corner! Our school district here in Georgia starts school the first week of August (so early!) so we're already in back to school planning mode at our house.
I was prepping our requisite first day of school signs for my three boys this week and since I had already made three different grades for my own kids I decided to finish it out and make signs for all the grades so I could share with you all!
You might also want to check out these room mom/room parent printables!
There are two versions of the signs for each grade, first day of school signs with no specific year, and updated first day of school 2023-2024 signs with the years printed on them. Print your choice!
*My printables are copyrighted, please use for personal use only, do not resell or distribute directly*
Printing suggestions
The pdf files are sized at 8.5 by 11 inches so you can print on a standard letter size paper. I suggest cardstock if you are going to have your child hold the paper by itself, so it is less flimsy and doesn't get wrinkled. You can also trim it down to 8 by 10 and pop it in an inexpensive frame as well. If your color printer isn't the greatest at home, it's very inexpensive to have them printed at your local shipping or office supply store. (I use a local UPS store for mine and have always been pleased with the results.)
To print your First Day of School Sign, simply click on the link below for the grade you want and download the pdf file to your computer. See the video below for a step by step tutorial for downloading and printing printables from my website.
First and Last Day of School Printable Signs
UPDATE: I have made matching Last Day of School Printables as your request! Click here for the matching Last Day Printable Set.
Free Printable First Day of School Signs 2023-2024
Free Printable First Day of School Signs (without years)
When does school start in your town? Am I the only one that thinks the first week of August is crazy early??
Get Exclusive Printables for Subscribers!
Join our community to get subscriber-only bonus printables straight to your inbox every month!