I can hardly believe that the school year is coming to an end already. One of our biggest challenges at home during the summer is limiting screen time. Left to their own devices my boys would be absorbed in YouTube videos and video games all day long. In order to keep screen time in check, I made this Summer Screen Time Rules printable and thought I would share it with you too!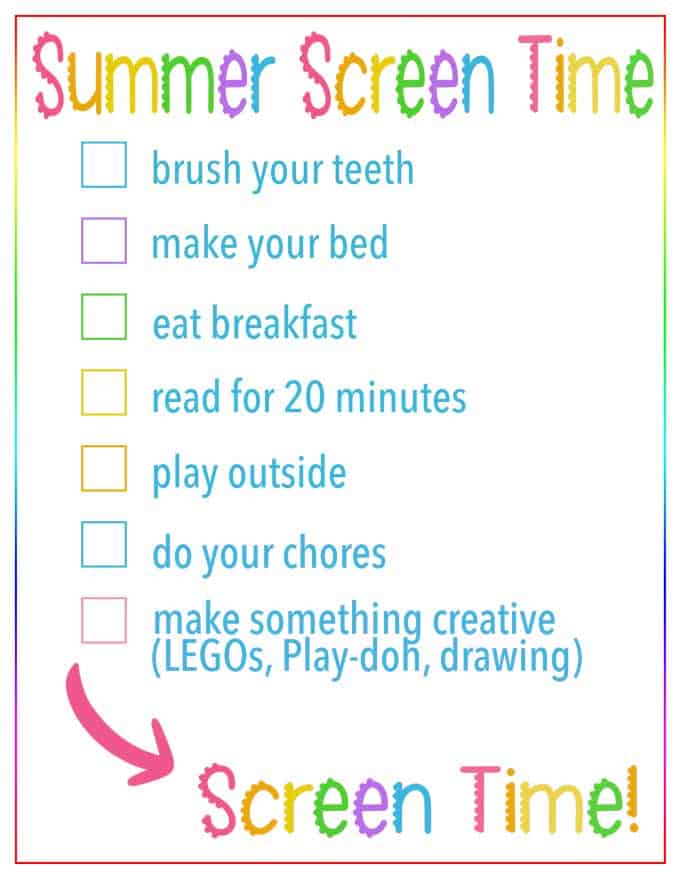 Summer Screen Time Rules
In our home we make our boys read, play outside, and do their chores in addition to the basic self-care items before having screen time in the summer. Here are the expectations:
Need more help with the kids and chores? See my online course, Mom's Chore Toolbox!
Creative challenge ideas
I also like to add in a creative challenge. Somedays I'll challenge them to create a particular LEGO build, or draw something challenging. Just a little something to keep them creative before the screens come out!
Environment challenge: I give my three boys an environment (artic, rainforest, etc) and then assign each a role: predator, herbivore, omnivore and they go and build imaginary LEGO animals to fit the role. When they are finished they come and show me and tell me all about their animals.
Drawing: I'll ask them to draw something and then each time they are done I ask them to add something zany to the drawing. Example: Draw a T-rex, now draw a raccoon chasing it, draw a lava pit the dinosaur is trying to avoid, make it start snowing, now draw a spaceship about to land nearby....the crazier the better! My boys think this game is hilarious and can draw for a long time (until mom runs out of funny ideas!)
Sculpting: use clay or playdoh to sculpt an animal (real or imaginary), a piece of art, or something functional like a pencil holder or coin bowl.
With my kids, the sillier the creative challenge, the longer they stay engaged! And when I challenge them, they stay engaged rather than get bored with the activity.
I recommend printing on regular printer paper or cardstock and laminating the rules so you can use them day after day, then wipe clean at the end of the day. If you need help downloading and printing these printables, please watch the video below for a step by step tutorial.
[adthrive-in-post-video-player video-id="omI89QuD" upload-date="2019-03-06T19:37:26.000Z" name="How to Print Printable" description="Step by step tutorial whoing how to download and print free printables on my website."]
Are your kids as screen-obsessed as mine are? How do you limit screen time in your home?
More printables you might like: