A LEGO Dinosaur party is the perfect celebration for little builders who also love Jurassic Park. Get inspired by these DIY ideas for games, favors, and decorations.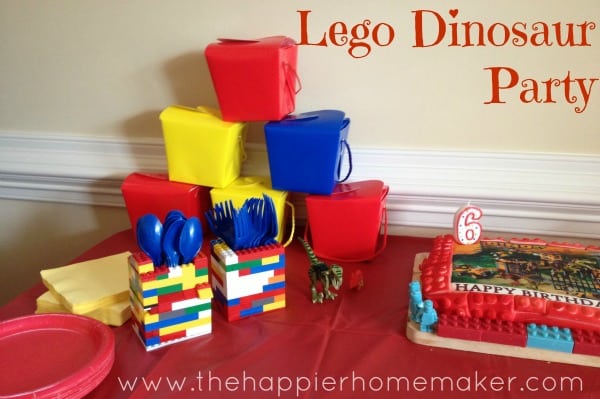 Okay y'all...let me preface this by saying I'm not a "party" blogger. This post will not have beautiful perfect pictures of a perfectly themed party. But-I can tell you that we all had a blast and hopefully some of these ideas will be useful for someone else!
Like I mentioned yesterday my oldest son asked for a "Lego Dinosaur" party for his birthday. He's obsessed with all things Lego and Jurassic Park so it made sense! I've already shared the Lego crayons and chocolates we made for favors (they were packaged up in those boxes in the picture above.) By the way, aren't those lego cutlery holders cute!?
Today I'm going to show you the rest of the party...these are mostly iPhone pictures too (I was busy at the party!) so forgive the photography!
I ordered an edible cake topper from Etsy because it actually had a dinosaur lego theme. My hubby was making fun of me for slacking off in the cake making dept (last year I made Jack a space shuttle cake that was shaped like an actual space shuttle...) so I felt the need to up the anty a little. I made some marshmallow fondant and created little lego rbicks for the border. Definitely not the prettiest cake I've ever made by far but oh well. It tasted good!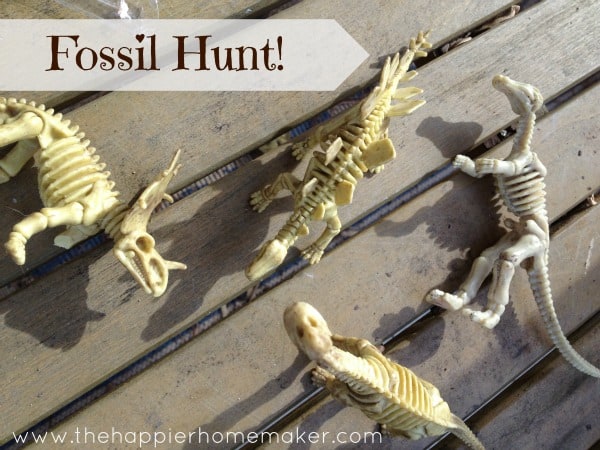 I was a little nervous about having a bunch of 6 year olds at the house going crazy so I packed the party full of directed fun. We had a bouncy house set up in the yard for the kids to play in as everyone arrived. Once everyone was there we started with a "dinosaur fossil hunt." We had hidden a bunch of fossils around the yard so I gathered the kids up and told them they were dinosaur hunters and had to find the fossils and bring them to me. We had about twice the fossil as kids so everyone was able to find at least one.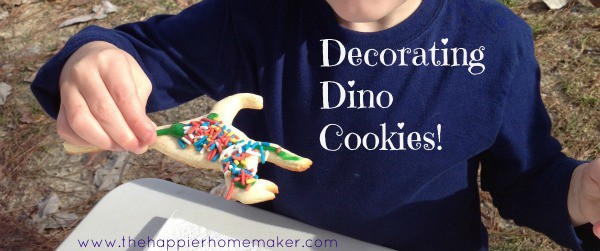 After they played a bit more we moved on to dinosaur cookie decorating. (We did this outside to control the mess!) The boys and I had made dinosaur shaped sugar cookies the day before and I bought some tubes of cookie icing and pulled out my sprinkle stash and let the kids go crazy. It was a hit. With some grown ups as well! 😉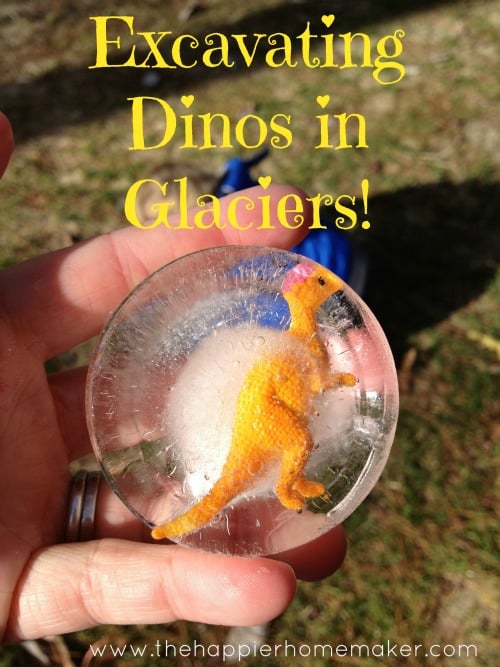 A little more play and it was time to excavate some dinosaurs out of glaciers! The day before we took some dollar store tiny dinos and froze them in some water in plastic cups. Then we gave each kid a cube with a dino in it and let them smash them on the concrete patio to "bust" their dinos out of the glaciers. **I do this activity with my kids in the summer a lot but when it's just my boys we freeze lots of dinos in a big bowl of ice and let them chip away with butter knives. It's a hit, you should try it!**
Last but not least was the pinata. A friend suggested this DIY and I was really happy at how easy it was. I just took an empty diaper box, spray painted it red then wrapped it in party streamers. Some construction paper circles on dimensional stickers finished it off. The kids loved it and it was the perfect way to finish off the party.
Overall I thought the party went really well...but I'm definitely glad I have five months to prepare for the next birthday in the family!