Wondering how to grow your hair long? These tips will help you prevent damage and keep your hair healthy, long, and strong!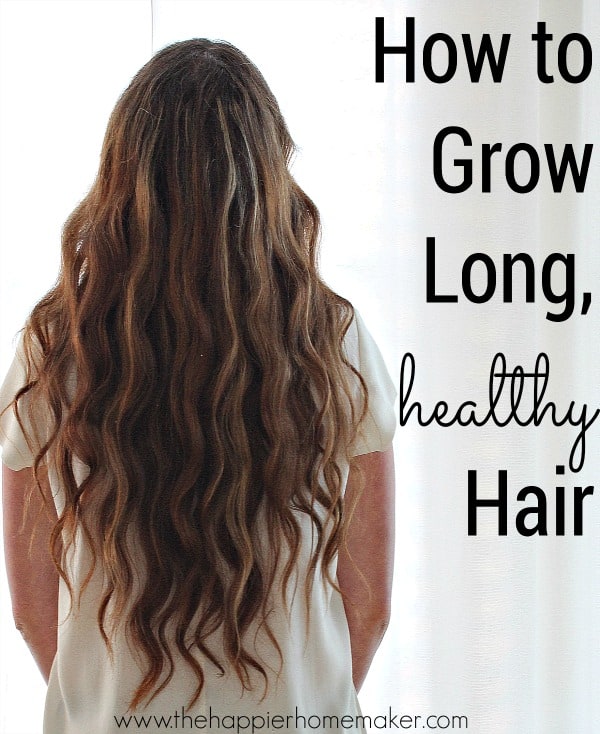 I get a lot of compliments on my hair, and questions about how to grow hair long, but that hasn't always been the case. I used to cut my hair to shoulder length at the first sign of summer every year...don't even get me started on the hair massacre that occurred with each of my first two pregnancies-Florida in the summer while pregnant is not conducive to keeping a long hairstyle!
About 4 years ago we moved from Kansas to North Carolina...the cooler Kansas summer had encouraged me to grow my hair out that year. A few months after our move and just two weeks before my husband deployed for a year, we found out we were expecting our third son. My husband looooves my hair long and was nervous I'd chop it all off while he was deployed so I promised him I'd continue to grow it out while he was gone, despite being due in late summer and the sweltering North Carolina heat!
I kept my promise and now three years later I'm so glad I did! I love keeping my hair this long and wanted to share some of my tips for keeping my hair growing long and growing healthy!
Take Care of Your Ends
While it seems counter-productive to cut your hair when you're trying to grow it out, trimming damaged ends helps prevent those split ends from traveling up the length of your hair. I trim my hair every 3-6 months and only the bare minimum my stylist thinks is necessary.
Take Vitamins
If you're not getting the nutrients your body needs there's no way your hair will grow healthy. Take a multivitamin daily and if you need extra help gaining length consider adding a Biotin supplement. If you have trouble remembering to take your vitamins, switch to the chewable kinds-the tastiness helps me remember-I personally love these!
Don't Wash Daily
My Mom introduced me to the "no poo" movement the year my husband was deployed and I was growing my hair out. She gave me some Wen cleansing conditioner as a gift and I was transformed! I now wash my hair 2-3 times a week and use dry shampoo the other days and after workouts. It may take a few weeks for your hair to adjust to not washing as much but after that you shouldn't have an issue!
Use Hair Masks
I use regular hair masks to help restore the moisture in my hair and keep it strong and healthy. I've shared one of my favorite combinations before-avocado, egg, and coconut oil. I also regularly use plain coconut oil rubbed into my hair either overnight or just a bit before I wash my hair-it's crazy moisturizing and smells wonderful. If you try coconut oil and still feel your hair isn't getting enough moisturizer try avocado oil instead, it works better for some very dry hair types.
Minimize Heat Damage
I do curl my hair most days but I NEVER blow dry it. It's a pick and choose game. I shared my daily hair and makeup routine with you the other day and told you how I always wash my hair in the evenings so that it can air dry overnight and I can curl it in the mornings. This reduces the amount of heat I have to exposed to my hair. I also use a heat protecting spray before curling my hair and get keratin treatments a couple of times a year. (See my full keratin treatment before and after and review here.)
Minimize Elastic Damage
Oh those little elastic fiends...pulling your hair tightly back encourages an immense amount of damage and breakage. I can totally sympathize with needing your hair off your neck (it gets hot under there!) but try to use more gentle methods like loosely pulling hair into No Damage Elastics or claw hair clips.
Be Patient
The hardest part of growing my hair out was just resisting the urge to cut it. Even an inch here and there over the bare minimum of trims can seriously slow or halt your progress in adding length. Try to commit to leaving it alone for a year-experiment with new hairstyles as your length changes but resist the urge to cut it other than minor trims!!
Do you have long hair? Why or why not? Any more tips to grow long hair you'd add to mine?