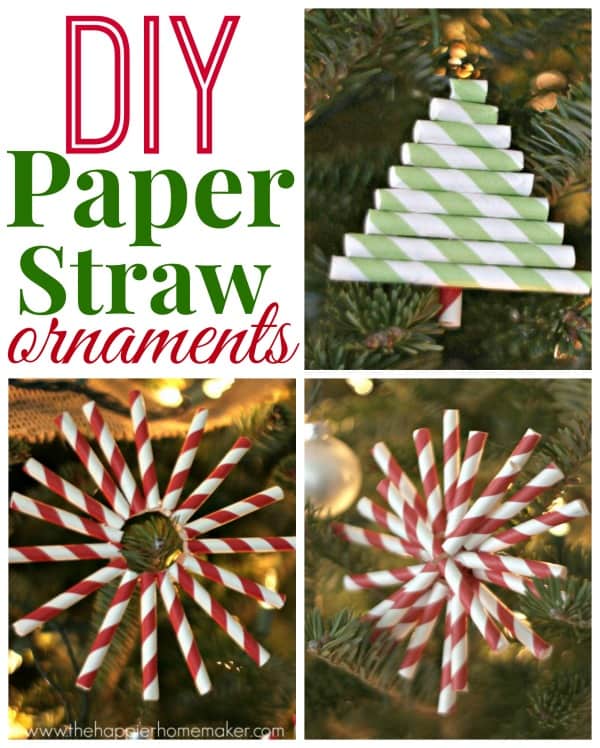 I'm so excited to share this simple Christmas ornament DIY tutorial today that is inexpensive and easy to make-Paper Straw Ornaments!
Supplies:
Paper Straws in your choice of colors/patterns
Scissors
Contact Paper
Hot Glue
Scrap of cardstock
The first ornament is what I like to call a sunburst style ornament.  To start cut your paper straws into quarters.
Take 6" by 6" square of contact paper and peel off the backing, lay paper straws in a circle shape making sure straws firmly touch each other at the center circle. The contact paper helps keep the straws in place until the glue can dry to hold the shape together.
Slowly line the inner circle with hot glue, being sure to bond the straws to each other.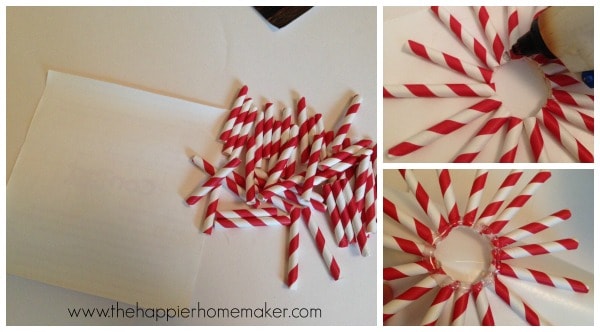 When the glue is dry carefully peel the ornament off of the contact paper!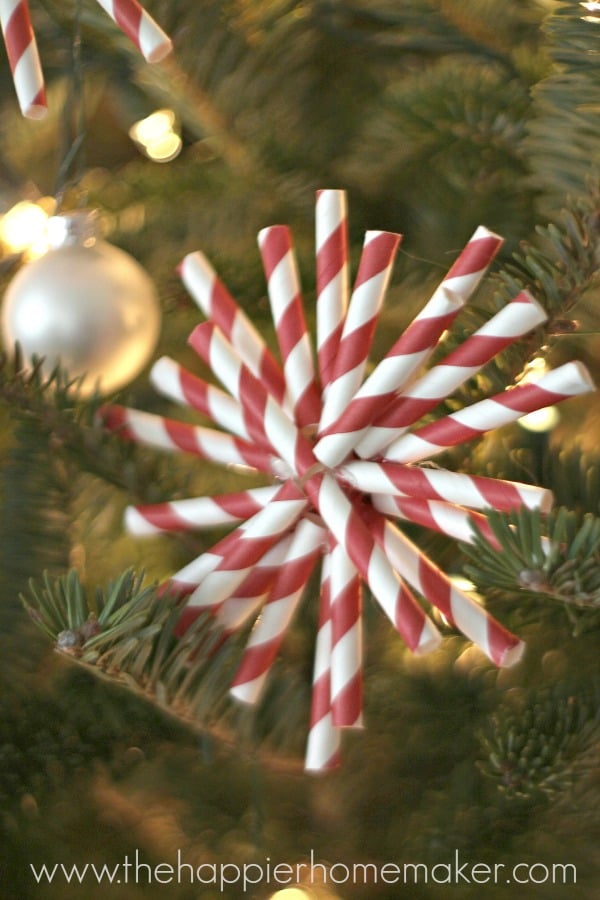 Next, we have a layered variation of the sunburst.  For this ornament begin by cutting your straws again into quarters.
Cut a small 1" square of cardstock, this will be the base of the sunburst.
Add a circle of hot glue to the cardstock and arrange your straw pieces into a circle. (I used 11 straw pieces on the bottom layer.) Let dry.

To add the second layer add a dot of glue to the end of a straw piece and position over the bottom layer in between the straws to "fill out" the sunburst design.  I found I needed to hold my finger on the straw until it dried a bit to keep it from falling down. Continue to add straws-I used five for my second layer.
To complete the sunburst add 4 more straws in a third layer to form a + shape over the previous layers and over the center of the sunburst.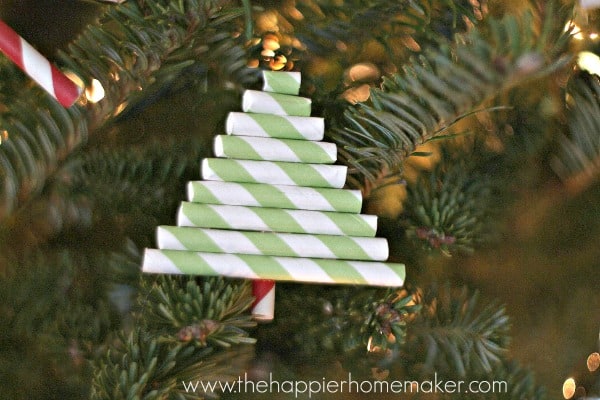 For the last ornament create a little Christmas tree! Start by cutting green paper straws-start with a 3" long piece and continue to cut each layer ¼" shorter until the last piece is ~¼" wide.
Like our first sunburst layer the straws on a scrap of contact paper and secure with hot glue.  To finish add a ½" "tree trunk" of red paper straw to the bottom!
I nestled my ornaments in the branches of my tree without hangars but if you would like to add hangars I recommend using a needle and thread to add a loop of thread to the top of the ornament.
I love that these ornaments can be made so quickly and for less than $10! You can really get creative with your colors and vary the sizes as well to create your own versions of these!